Rutgers Board Approves Barbara and Gary Rodkin Academic Success Center
Center to consolidate academic support services for Athletics, house training facilities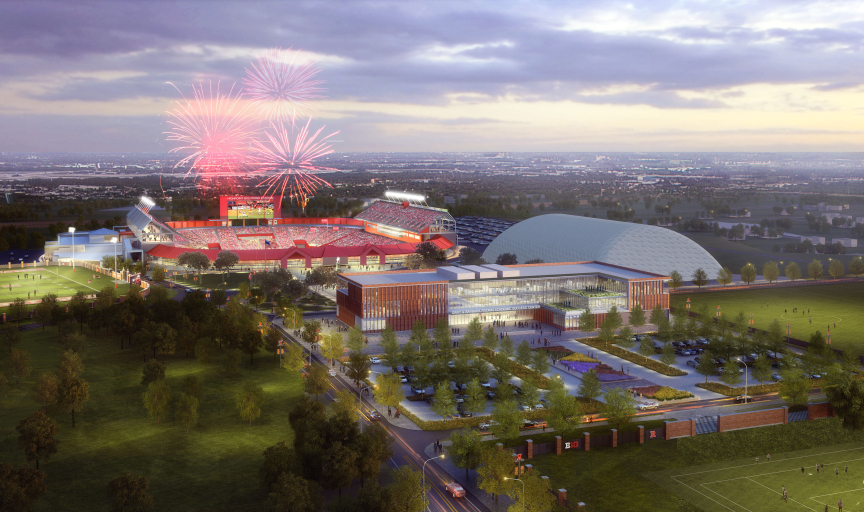 The Rutgers University Board of Governors today approved the name and construction of the Barbara and Gary Rodkin Academic Success Center.
The center, made possible with a $15 million gift from the Rodkins – the largest gift in Rutgers athletics history – will consolidate all academic support services for athletics in a single building on Busch campus, house training facilities for the men's and women's soccer and lacrosse programs and offices for athletics' administration.
"Today's vote and the gift from Gary and Barbara Rodkin signals a big step toward helping our student-athletes achieve academic success at our university," said Rutgers President Robert Barchi. "One of our major goals is to improve academic resources for all of our students, and the Rodkins' generous gift makes this important commitment to our student-athletes possible."
In addition to establishing the center name, the board's vote approves spending of up to $65 million to build both the football game-day locker room and the 80,000-square-foot building that will serve more than 700 student-athletes. Project costs will be covered through fundraising and contributions from the New Jersey Economic Development Authority's Economic Redevelopment and Growth Program.
"Providing our student-athletes the resources to achieve success in the classroom, on the playing fields and in life is fundamental to our mission," said Director of Athletics Pat Hobbs. "Last year, a record 249 Scarlet Knights earned Big Ten All-Academic honors. Today's resolution not only supports this success but serves to enhance it. The generosity of Gary and Barbara will empower our young men and women each and every day."
Gary and Barbara Rodkin provided the cornerstone contribution to enable Rutgers to achieve its goal of a state-of-the-art student-athlete academic support program. Both Rutgers graduates, Gary (Rutgers College '74) and Barbara (Douglass College '76), have been major supporters of programs across the university, including Rutgers Future Scholars, Douglass Residential College, Rutgers Honors College, an endowed chair at the School of Engineering, the Center for Social Justice and LGBT Emergency Fund, and the Big Ten Build.
As the couple noted when they announced their gift in February, their family story began at Rutgers and they are eager to help Rutgers student-athletes excel in athletics and academics so they can succeed on the playing fields and in their future careers.
"The great state universities pride themselves on excellence, both in academics and athletics," Gary Rodkin said at the time. "Being a successful student-athlete is a difficult balancing act. These young men and women represent us. We feel a responsibility to help provide the resources necessary for them to achieve on the playing surface and in the classroom."
The center will serve all student-athletes and provide a range of resources. It will support environments for academic advising, learning specialists, one-on-one and group tutoring, workshops and seminars, team study halls and a computer lab. The facility will also include an expansive lounge area to foster peer-to-peer learning among student-athletes from all sports.
The Barbara and Gary Rodkin Academic Success Center will be the second facility to rise via "R B1G Build," a comprehensive campaign launched on Jan. 20, 2016, to raise $100 million for new or upgraded facilities. The initiative has raised $98,379,432 via both public and private support so far.
Construction of the center is expected to begin in spring 2019.