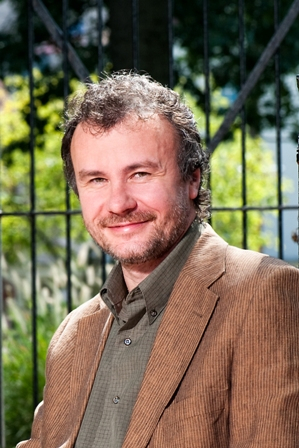 CAMDEN — On the surface, glaciers are massive bodies of ice that continue to slowly carve out the Earth's landscape, but what goes unseen beneath these frozen rivers are entire communities of microbial life that could be playing a key role in glacial melting.
"Glaciers are an interesting thing to study to try and understand an entire ecosystem in its full complexity, from microorganisms to algae to animals," says Andrey Grigoriev, a professor of biology at Rutgers–Camden.  "We want to determine what species live there and to figure out the structure of the glacial ecosystem."
In the first stage of his project, Grigoriev is taking an intimate look at Alaska's Byron Glacier, located some 48 miles south of Anchorage (and more than 4,000 miles from Rutgers–Camden). 
Grigoriev isn't travelling there, but is obtaining samples through collaborations with Alaska Pacific University and the Earth Microbiome Project, a multidisciplinary, multi-institutional effort to analyze microbial communities across the globe. He is conducting this research with Sulbha Choudhari, a doctoral student in computational and integrative biology at Rutgers–Camden.
When the samples are obtained, the microorganisms' genomes are sequenced and analyzed to paint a clearer picture of what lives in the glacial ice and how its inhabitants interact with each other and with the environment.
The work has uncovered a diverse microbial community of 2,500 species of bacteria and archaea. The latter are representatives of a kingdom of single-cell microorganisms that so far have escaped detection in glacier metagenomes (the genetic material present in an environmental sample) in the northern hemisphere. 
Grigoriev says the analysis has revealed a much larger microbial community than he had anticipated.
"About 50 years ago, researchers found a few hundred species of algae within glaciers and less than 40 species of bacteria, while a recent glacier metagenome projects found less than 80 bacterial species," says Grigoriev, who notes that there is still much to learn from this larger sample and from the next stage of the analysis, which entails looking at the genes expressed by the cold-withstanding community.
"We want to know if there is any information we can learn in terms of their adaptation and also in terms of climate change," he continues. "Glaciers are beacons of global climate change and in Alaska alone there are 100,000 glaciers that are losing ice at a very high rate. Just imaginebillions of tons of ice disappearing every year."
The microbial communities could provide more insight into glacial recession or melting.
"We want to know more about the role microorganisms play in this process," Grigoriev says. "Pigmented microorganisms and algae that swim up to the surface in summer could change the surface albedo, or reflection coefficient, and contribute to the melting rates. We may not be able to control the process but we should at least take a snapshot of a system and try to understand how it sustains life. And while ice is being lost here on Earth, what about finding it on other planets?"
A seasoned researcher with experience in bioinformatics and computational and systems biology, Grigoriev is noted in Russia, the United Kingdom, Germany, and the United States for his research innovations. His research advances the applications of computational approaches to a wide range of life science disciplines and has appeared in numerous publica­tions.
Grigoriev, a Medford resident, earned his bachelor's and master's degrees in physics from the Moscow Engineering Physics Institute in Russia. He received his doctoral degree in molecular biology from the Institute of Genetics and Selection of Industrial Microorganisms in Russia.
His other research projects include analysis of genome rearrangements and studies of the role of small RNA in cellular processes.