As Rutgers was getting ready to launch the nation's largest study of health care workers exposed to COVID-19 and clinical trials for treatments, transportation would become the lynchpin making it possible to move forward.
Drivers from Marken, a subsidiary of UPS Healthcare division, have been delivering nasopharyngeal swabs and blood collected from nurses and other health care workers exposed to COVID-19 who are enrolled in clinical trials at Rutgers Cancer Institute of New Jersey, Robert Wood Johnson University Hospital in New Brunswick, and University Hospital in Newark.
Their work makes it possible for the research to advance. Marken, which ships biological samples throughout the world, agreed to provide the service to Rutgers for free.
"This is a ground-breaking study that went from concept to full recruitment in 14 days. Such a monumental task could not have been accomplished without an incredibly dedicated team of investigators and our Marken and UPS Express Critical colleagues who have provided critical logistics," said Reynold A. Panettieri, vice chancellor for Translational Medicine and Science at Rutgers University, who is leading the study of health care workers.
Since they began transporting on March 30, drivers have made 500 deliveries and counting, traveling an average 150 miles a day. They know they are transporting and carrying the deadly coronavirus to the hands of Rutgers researchers. Their mission of mobilizing serial biosamples is a key component in the race to stop the spread of the virus.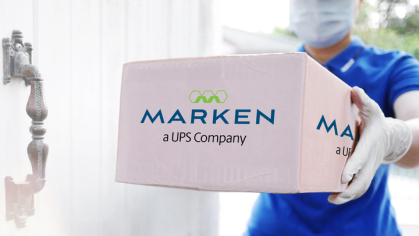 The partnership came together quickly. Kara Moore, director of Corporate Intelligence and Assessment for Rutgers' Corporate Engagement Center, Panettieri and Dan Bell, senior vice president for the Americas Region at Marken, reached an agreement for Marken to transport the samples for the Rutgers COVID-19 trials as a pro bono gift to Rutgers.
"We produced very specific guidelines and trainings. We had open conversations with the drivers, evaluated possible scenarios and challenges,'' said Bell. "We motivate our drivers because we know that this might save a life, might help develop a medicine. It is not just to 'go pick up a box'."