Stephanie Jones-Rogers is one of nine scholars from around the globe to receive the prestigious 2023 Dan David Prize
Stephanie Jones-Rogers came to Rutgers University-New Brunswick to study psychology, but classes with groundbreaking historians such as Deborah Gray White – who is credited with opening a new field of study into women slaves in the south – set her on a completely different path.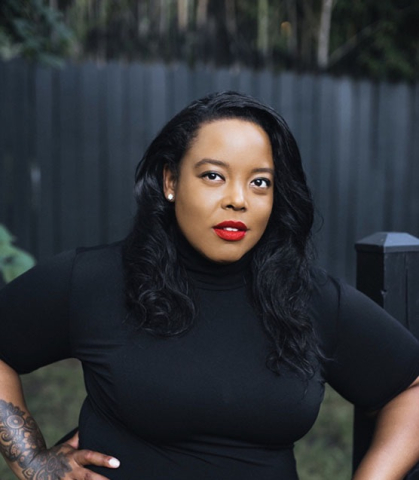 Jones-Rogers is recipient of the Dan David Prize, one of the most prestigious awards in the field of history. It is designed to be a MacArthur-style "genius grant" that awards $300,000 to support further research. Past winners have included Canadian author Margaret Atwood, cellist Yo-Yo Ma and top U.S. infectious disease expert Anthony Fauci.
The author of the critically acclaimed book They Were Her Property: White Women as Slave Owners in the American South, Jones-Rogers was recognized for her work on women's social, economic and legal relationships to enslaved people and to the slave trade in the trans-Atlantic world, topics she started exploring as an undergraduate at Rutgers.
"Looking back is just as significant as looking forward," said Jones-Rogers, who grew up in Newark. "Having the opportunity to provide a broader context about women, gender and slavery to explain why things are happening as they are today is an honor. It's crucial to make the information publicly available for all."
Her first book, which received numerous awards including the Los Angeles Times Book Prize for history and the Harriet Tubman Prize from the Lapidus Center for the Historical Analysis of Transatlantic Slavery was regarded as "a vital contribution to our understanding of our past and present" by the New York Times. It draws on the testimonies of enslaved and formerly enslaved individuals, legal, financial and military records, as well as an array of other narrative sources to show how white married women – a group historically seen as legally disempowered and economically dispossessed – exercised extraordinary power in and over enslaved African-Americans' lives. 
The selection committee praised Jones-Rogers for "using slave narratives in new and sophisticated ways, which not only serve to challenge existing historical views, but also to open up a new set of questions for all fields in which oral histories are used."
Jones-Rogers will use the prize to continue working on her second book, Women of the Trade, which reorients our understanding of the British Atlantic slave trade by connecting the separate and shared histories of English, African and Afro-English women, free and captive, across three continents, chronicling their lives and charting their travels and ties to the Atlantic slave trade.
"What I'm learning is that these women are deeply entwined with the institution of slavery in a way we haven't really considered before," said Jones-Rogers, who is the Chancellor's Professor of History at the University of California, Berkeley. "They support the trade by producing, manufacturing, and then selling certain goods to the traders who actually buy those enslaved people."
In addition to White, Jones-Rogers credits elective women's and gender studies courses under Professor Emeritus Harriet Davidson  and classes with preeminent scholar Kim Butler, for encouraging her to explore new ideas and think more about women in slavery.
"Those courses were fundamental and instrumental in how I thought about women," she said. "Despite my initial desire to pursue a different career, I never lost sight of my desire to contribute to these important issues."
She stayed in touch with her mentors after graduation and began to think more seriously about women's history and the history of American slavery.
Jones-Rogers returned to New Brunswick in 2007 to complete her doctorate and study under White after earning her master's degree in American History from Rutgers University-Newark. Her doctoral dissertation, which become the basis for They Were Her Property, won the Lerner-Scott Prize, which is given annually by the Organization of American Historians for the best doctoral dissertation in U.S. women's history.
She said: "I could not imagine a better place than Rutgers to study history and a more supportive mentor than Professor Gray White who supported me in every way – not just professionally, but emotionally. These were extremely difficult topics to research."
Jones-Rogers said being honored with the Dan David Prize couldn't come at a better time. Her latest project goes back further in time and crosses three continents. It will reconstruct the lives of hundreds of British women and girls who traveled to the African littoral on Royal African Company slave ships, picking up captives on African soil, and settled in the company's forts and castles before 1750.
She will research archival documents in the coming year using her California home as a research base. However, the enormous undertaking will require access to other vital sources that are in London and Ghana.
"You can't know what's there unless you go there and actually look through the records," said Jones-Rogers. "I'm looking forward to having the opportunity to do that."
An associate professor in the Department of History at UC Berkeley, Jones-Rogers focuses her research primarily on gender and American slavery and colonial and 19th century legal and economic history, especially regarding women, systems of bondage and the slave trade. 
The Dan David Prize, endowed by the Dan David Foundation and based at Tel Aviv University in Israel, was first established in 2001 by the late entrepreneur and philanthropist Dan David, to reward innovative and interdisciplinary work that contributed to humanity. 
Jones-Rogers and the other 2023 winners will be honored at the Dan David Prize award ceremony in May in Tel Aviv. To learn more about the Dan David Prize and the 2023 winners, visit www.dandavidprize.org