Roxane Gay and Gloria Steinem Unpack the Media, Reproductive Justice and Equal Rights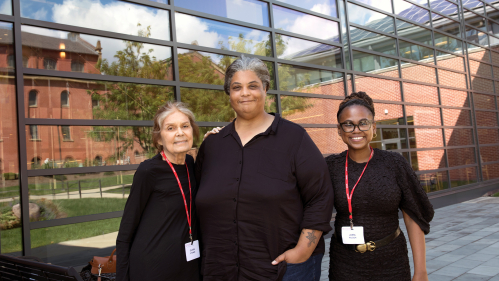 Event launches Gay's service as Rutgers' Gloria Steinem Endowed Chair in Media, Culture and Feminist Studies
New York Times bestselling author and cultural critic Roxane Gay tackled many pressing issues in the news centered around civil rights, reproductive rights and social justice during a wide-ranging conversation with feminist icon Gloria Steinem in her first event as a member of the Rutgers faculty.
The discussion between two of the country's most prominent modern feminist figures served as the launch of Gay's three-year service as the university's Gloria Steinem Endowed Chair in Media, Culture and Feminist Studies. The Nebraska native will teach, organize public events for the Rutgers community and lead workshops to explore writing on cultural criticism, trauma, creating change and writing across differences. 
Their talk covered the media's complicated role, modern feminism, cultural shifts and radical change following major U.S. Supreme Court decisions including the recent ruling to overturn Roe v. Wade. Gay and Steinem spoke of the intersections and importance of writing, journalism and media and their impact on democracy.
Feminist activist and writer Jamia Wilson moderated the dialogue, which drew an exuberant audience of more than 250 students, faculty and staff.
"We've been talking about feminism and doing the work of feminism for decades," said Gay, a writer, professor, editor and New York Times contributing opinion writer. "But it cannot only be feminists who bear this responsibility when it's a cultural problem to address."
She added that the media can influence progress in feminism or lack thereof, noting news coverage after the death in custody of a 22-year-old Iranian woman detained for breaking hijab laws.
"It's why we are currently having these conversations about trans equality, women's bodies and our right to be unlegislated," Gay said. "It's rarely the most necessary conversation [on TV]."
Steinem has devoted more than five decades to advancing women's and human rights globally. In 2013, she received the Presidential Medal of Freedom, the highest honor the United States bestows on a citizen who is not in the military.
"Each group of us and each individual has something special and unique to bring to the conversation on reproductive freedom and reproductive justice," Steinem said. "All of us will have a more global view and accurate, minute view of what is happening around us, and it will be very useful in helping us understand history in a way that we have not yet."
On reproductive rights, Gay said: "There's not a lot to be optimistic about but I am deeply encouraged by the number of people who said overturning Roe v. Wade went too far. It's good to know that exists for people, especially women in conservative states like Kansas. I think we will see interesting results in November and some unexpected results."
The endowed position came at a moment when Gay felt ready to leave academia behind in pursuit of other opportunities.
"I thought this time in my life was done, but it is an honor to make Rutgers my last academic home," she said.
Chancellor-Provost Francine Conway of Rutgers­-New Brunswick noted that the Gloria Steinem Endowed Chair exists "to immerse our university community in debate and scholarship" and called Gay's adept thinking "what our moment in history needs."
Rutgers President Jonathan Holloway added: "Learning from Roxane Gay will be a transformative experience for our students."
Gay is the author of several books, including Ayiti, An Untamed State; The New York Times bestselling Bad Feminist, the nationally bestselling Difficult Women and The New York Times bestselling Hunger. Her writing appears in Best American Mystery Stories 2014, Best American Short Stories 2012, Best Sex Writing 2012, A Public Space, McSweeney's, Tin House, Oxford American, American Short Fiction and Virginia Quarterly Review. 
She holds a doctorate degree in rhetoric and technical communication from Michigan Technological University and has years of experience teaching creative, professional and technical writing at higher education institutions. In 2019, Gay was a presidential fellow in the Women and Gender Studies Department at Yale University, teaching a course on writing trauma. Gay also has taught at Occidental College, Michigan Technological University, Florida Atlantic University, Eastern Illinois University and Purdue University, where she received tenure.
The Gloria Steinem Endowed Chair represents a collaboration between Rutgers-New Brunswick's School of Communication and Information, Institute for Women's Leadership and Department of Women's, Gender, and Sexuality Studies in the School of Arts and Sciences.
Funded by more than 425 donors, including a dozen foundations, the Steinem chair endowment was established to serve as a tribute to the groundbreaking leadership of Steinem. It was created to honor, retain and recruit eminent scholars and practitioners who will help immerse the university community in debate and scholarship about new media, social change and power structures. The chair launched in September 2018 with Naomi Klein serving as the inaugural occupant.