Rutgers Law–Camden student Gloria Melunis hopes to secure a position with a large firm serving high-end corporate clients after her year-long federal clerkship. When Melunis says she'll do something, she makes it happen.
This steadfast determination is evidenced throughout her undergraduate education, when she worked full-time as a waitress and earned full-tuition through the NJ Stars Merit Scholarship program.  
Her early ambitions to become an attorney however first surfaced during high school, when she competed in a mock trial competition. After ultimately earning a B.A. from Rowan University, Melunis continued waitressing at the Moshulu in Philadelphia, and began serving as a paralegal at Danziger Shapiro & Leavitt, P.C. to further her legal aspirations. Rutgers Law–Camden alumnus Adam Shapiro '97 encouraged Melunis to consider earning her law degree. His counsel was well received: Melunis would become an attorney; in addition, she would also become a roller girl.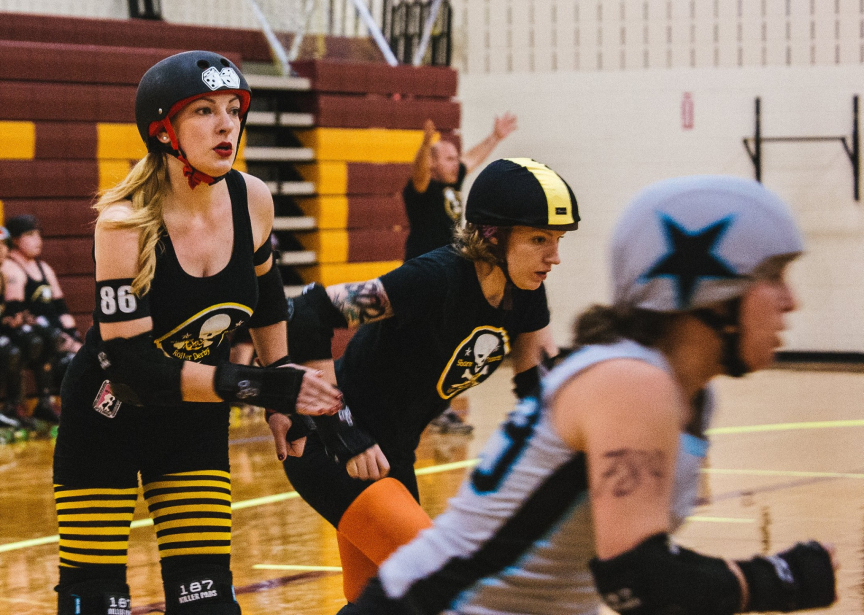 "I'd work as a paralegal, studying for the LSATs at the firm, then on nights and weekends I'd teach myself how to skate," says Melunis, who now competes with Shore Points Roller Derby in Hammonton.
 "It's an oasis outside of the typical law school environment," the Rutgers Law–Camden student says of roller derby. "I enjoy the camaraderie and the different types of people. Being around strong women really appeals to me."
Rutgers Law–Camden of course also has its share of strong and poised women, including Melunis, who has cultivated an impressive resume of her own during her legal education. The executive editor of the Rutgers Journal of Law & Public Policy, Melunis has served as a legal intern for the Children's Justice Clinic, president of OUTLaws, volunteer for the Pro Bono Bankruptcy Project, and was a quarter-finalist in the Hunter Moot Court Program, in which she earned an award for writing one of the best briefs.
"I respect the way she focuses her energy, creativity, and intellect to submit high-quality product," says Rutgers Law–Camden Clinical Professor Ruth Anne Robbins, who teaches the year-long five-credit course. "As a professor, I knew she was engaged—it was impossible to miss it. She understood how difficult the task is to transform analytical thinking into cogent communication."
After graduation, Melunis will begin a federal clerkship with the Honorable Andrew Altenburg, Jr., a United States Bankruptcy Judge in Camden. Melunis credits her being selected for this highly competitive position because of her previous judicial externship with the Honorable Gloria Burns, Chief United States Bankruptcy Judge. The Rutgers Law–Camden student also held summer legal internship positions at PNC Financial Services Group, Inc. and Comcast Cable Communications, L.L.C., experiences that cemented her interest to work with high-end corporate clients.  Since November, Melunis also has been serving as a law clerk at Nash Law, Firm L.L.C. in Gloucester Township.
Last week, Melunis received her J.D. and is rolling into an impressive legal career, one that is the result of her powerful work ethic.
"I'm not afraid to work hard," she says. "I understand what it is like to be pulled in different directions and still accomplish what I need to."