Barchi to take helm of Rutgers on Sept. 1, after successful tenures as Thomas Jefferson University president, University of Pennsylvania provost
NEW BRUNSWICK, N.J. – Dr. Robert L. Barchi – a renowned neuroscientist, respected educator and academic innovator, and successful fundraiser – has been named the 20th president of Rutgers, The State University of New Jersey.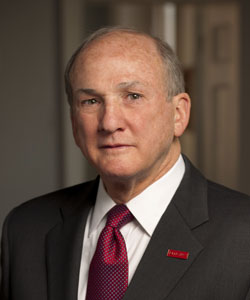 Barchi was selected today by the Rutgers University Board of Governors and then ratified by the Rutgers Board of Trustees. Barchi will begin serving as president of Rutgers on Sept. 1. The Board of Governors also voted today to name Barchi a University Professor at Rutgers with academic tenure.  
Barchi currently serves as president of Thomas Jefferson University, one of the nation's oldest and most respected health sciences universities. Barchi previously served as provost of the University of Pennsylvania; in that position, he was Penn's chief academic officer with oversight of the university's schools, athletic and academic programs, and students and faculty.
Ralph Izzo, chair of the Board of Governors, said Barchi's background and experience make him uniquely qualified to lead Rutgers at this critical time in the university's history.
"Robert Barchi combines the key qualifications that are necessary to serve as the next president of Rutgers: a successful tenure leading a highly regarded health sciences university; years of experience as the chief academic administrator of a world-class comprehensive research university; and a stellar reputation as a scientific researcher and an award-winning educator," Izzo said. "We look forward to many years of outstanding leadership from Dr. Barchi as he builds on Rutgers University's longstanding tradition of academic excellence."
Izzo also praised the presidential search committee for its efforts. The search committee – led by Chair Greg Brown, chairman and chief executive officer of Motorola Solutions, and Vice Chair Linda Stamato, co-director of Rutgers' Center for Negotiation and Conflict Resolution at the Edward J. Bloustein School of Planning and Public Policy – received more than 250 nominations and applications. The search committee held public forums on all three Rutgers campuses and narrowed the pool to 70 active candidates before recommending a diverse slate of four finalists to the Board of Governors and Board of Trustees.
Born in Philadelphia, Barchi spent his formative years living in Westfield, N.J. He received his B.S. and M.S. degrees from Georgetown University, and his Ph.D. and M.D. degrees from the University of Pennsylvania. He is board certified as a specialist in neurology.
Barchi has served as president of Thomas Jefferson University since 2004. Under his leadership, the university grew from three to six schools, and enrollment across the campus increased by 51 percent. The Center City Philadelphia campus has been transformed into a compact but welcoming academic environment, and fundraising has more than doubled in spite of the economic downturn. Since Barchi's arrival, 22 new endowed professorships and 50 endowed scholarships have been established, helping to ensure a healthy and diverse community of faculty and students.
Barchi began his career as a faculty member at the University of Pennsylvania in 1972, rising to become the David Mahoney Professor of Neurological Sciences within a decade. He was named the Fairhill Professor in 2002, a position that he still holds in emeritus status. In addition to his teaching, research and clinical work, he assumed a series of academic leadership positions with increasing responsibility.  
He was named provost of the University of Pennsylvania in 1999 and served in this capacity until 2004. In this role, Barchi had responsibility for the university's 12 schools and their academic programs and budgets, as well as for Penn's students and faculty. During his tenure, he worked with President Judith Rodin to reassert the primacy of the academic mission in the direction of the university. He recruited new leadership to nine of the 12 schools at Penn and established a number of universitywide interdisciplinary educational and research institutes. He also led the university through a comprehensive strategic planning process.

Barchi headed a research laboratory that was awarded continuous National Institutes of Health grant funding for more than 30 years, and he is widely respected for his pioneering work on the structure and function of voltage-gated ion channels and on the role these important molecules play in human disease. In 1993, he was elected to the Institute of Medicine of the National Academy of Sciences in recognition of this work. He has also been elected to the American Society for Clinical Investigation and the Association of American Physicians, and named a fellow of the American Association for the Advancement of Science, the American Neurological Association and the American Academy of Neurology.
Barchi is married to Francis Harper Barchi, a senior fellow in the Center for Bioethics at the University of Pennsylvania, where she is engaged in education and research activities relating to international research ethics. She has worked extensively in Botswana, Tanzania and Guatemala. Francis Barchi holds a Ph.D. in social welfare, a master's in bioethics and a master's in nonprofit leadership from the University of Pennsylvania, and a bachelor's degree from Smith College. She is the former executive vice president of the Dana Foundation in New York, a post she assumed following a 20-year span as president of her own company providing protocol and strategic communication services for international clients.
President Barchi will succeed Richard L. McCormick, who has served as Rutgers University's president since 2002. President McCormick announced in May 2011 that he plans to return to the Rutgers faculty as a University Professor this summer.
Izzo recognized President McCormick for his service to Rutgers. "The legacy of Rutgers University's many accomplishments under Dick McCormick's leadership will last far beyond his tenure as president," Izzo said. "We thank him for a job well done."
Established in 1766, Rutgers, The State University of New Jersey, is America's eighth oldest institution of higher learning and one of the nation's premier public research universities. Serving more than 58,000 students on campuses in Camden, Newark and New Brunswick, Rutgers is one of only two New Jersey institutions represented in the prestigious Association of American Universities.
Watch Dr. Barchi's speech in its entirety here.
Media Contact: Greg Trevor
732-932-7084, ext. 623
E-mail: gtrevor@ur.rutgers.edu