Raising Backyard Chickens Brings Food Revolution to New Jersey Towns
Creating a better tasting egg – like a fine wine – is all about the method of production, a Rutgers researcher says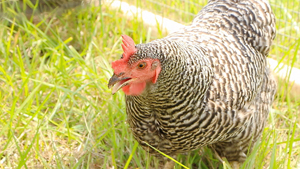 'Some say food is food, milk is milk, eggs are eggs, but would anyone say that about wine? It's all about method of production. My focus is on producing food of exceptional quality that is a pleasure to eat and also very nutritious.'

 

– Joseph Heckman 

 

 
Rutgers is contributing to a growing food revolution by teaching Central Jersey residents a skill not usually associated with dense suburban living: How to raise chickens in their backyard.
The Rutgers Cooperative Extension of Middlesex County recently offered a workshop to meet a renewed interest from area residents who want to grow their own food. The class, taught by Joseph Heckman, a Rutgers professor of soil science, was filled to capacity by a diverse crowd that spanned generations and levels of experience.
Heckman offered advice on everything from types of chicken coops to the nutritional benefits of raising food on pasture. The class was one of the first in a new series called the Backyard Farmers Workshop the cooperative extension is offering to meet a new demand.
"People are becoming more focused on eating right," said Bill Hlubik, professor and agricultural agent for Rutgers Cooperative Extension and the Director of  the Middlesex County EARTH Center. "They want to know where their food is coming from, and they want the best tasting and most nutritious food they can find.''
Hlubik and other Rutgers colleagues plan to roll out a more extensive series of backyard farmer workshops next year.  The program will combine hands-on and online classes on a range of topics from raising chickens, bees and cattle to growing strawberries and other small-scale farming. The workshops will be offered at the EARTH Center in South Brunswick and other local farms as part of the cooperative extension's mission to share Rutgers' research with the public. The cooperative extension is the outreach arm of the Rutgers New Jersey Agricultural Experiment Station.
"The goal is help people become self-sufficient, healthier and understand the value of hard work that goes into producing their own fruits and vegetables and raising animals such as chickens,'' Hlubik said.
Heckman, who has been raising chickens for about 10 years as part of his research, told the class that once they start eating eggs from chickens raised on pasture, they won't be able to go back to store bought.
"Some say food is food, milk is milk, eggs are eggs, but would anyone say that about wine?'' Heckman said. "It's all about method of production. My focus is on producing food of exceptional quality that is a pleasure to eat and also very nutritious.''
He also recommends raising chickens as an ideal family activity. He shared stories of how his 11-year-old daughter enjoys helping care for the chickens, shows them off to visitors and excels at capturing any that try to escape.
He told the class that there is evidence that milk, meat and eggs from pasture raised animals is more nutritious than food from animals raised for mass consumption in confined spaces. And there is almost no property too small for raising chickens.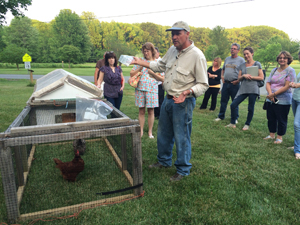 "There is a lot that can be done on a postage stamp lot in towns that allow residents to keep chickens,'' Heckman said. "Within six months from when you get chicks, you will have eggs,'' he said. "It doesn't take very long.''
He assured members of the class that they should not get discouraged by the books and magazines which describe the problems they might encounter.
"It's like having children,'' Heckman said. "You can read all the books, but just like if you are a good mom or dad, if you are a good farmer and you observe your animals they teach you how to do it.''
The cooperative extension's class drew a mix of people including some who are already raising chickens and wanted new ideas to a young couple who live in a condo without a backyard.
"We have a 5-foot by 5-foot deck, but we are looking to purchase a home eventually and are looking to do sustainable agriculture to support ourselves in a responsible way,'' said Gary Markiewicz, 37, of South Brunswick.
The couple's ultimate goal is to turn their interest producing their own food into a business with a market and farm to table café. Taking the class made Markiewicz and his fiancé feel more confident about their ambition.
''The information I got from this class, and knowing that if I did have any questions in the future they would be happy to provide guidance, really helps,'' Markiewicz said.
Heckman told the class there is only one danger in raising chickens: It can be a gateway into a life of farming.
"Once you get chickens look out,'' Heckman said. "The next thing you might want is a cow then you might want some pigs and then you might want some honeybees. This is how it starts.''
---
For media inquiries contact Andrea Alexander at 848-932-0556 or aalexander@ucm.rutgers.edu