Highlights university's commitment to students' access to an affordable and excellent education, leading life-changing research and making a difference in the world
President Jonathan Holloway outlined the ways he is committing Rutgers to help repair the fabric of our democracy by preparing students for their role as citizens and expanding a culture of public service at the university during his second annual stakeholder address delivered at the New Brunswick Performing Arts Center.
"Higher education is one of America's most powerful instruments for addressing the nation's challenges," Holloway said as he detailed efforts to make public service central to Rutgers' identity and to engage students in crucial discussions on citizenship, free speech and public discourse.
"Citizenship is a challenge to engage in discussion and debate, but it also is a call to service," he said. "My goal is that Rutgers University becomes synonymous with service – that every student who wants to serve has the resources and opportunities to do that."
The president's annual stakeholder address provides an opportunity to share Rutgers' achievements and milestones and to reaffirm the university's commitment to help more students have access to an affordable and excellent education, to lead life-changing research, to create a community built on respect and to make a meaningful difference in the world.
In his fourth year as Rutgers' president, Holloway praised the university's alumni, students, faculty, staff, donors, board members and government partners for all they do to make the university flourish.
"We take pride in being identified as an academic powerhouse, ranked among the best schools in the Big Ten Conference, with nationally recognized programs in everything from nursing and public health to African American and women's history, from digital librarianship to urban planning to supply chain logistics to criminology," Holloway said. "Just as we take pride in this recognition, we remain deeply committed to access and opportunity."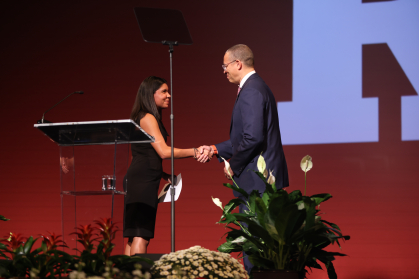 Holloway noted that a three-year challenge he announced at his November 2021 inauguration to raise $50 million to address the financial need of students has been reached a year ahead of schedule. Nearly 14,000 donors contributed $53.9 million to the Scarlet Promise Initiative – a mix of programs and funds to ensure that students can pursue a Rutgers education regardless of financial means. "And we're not done yet," he said.
Meanwhile, Rutgers achieved a record year for research last year, generating $929 million in revenue from public and private sources covering more than 4,200 sponsored awards. 
"Behind those numbers, most important, are the opportunities they create for improving our world: solving the opioid crisis; preventing Alzheimer's; enhancing storm severity predictions; creating sustainable jobs; and so much more," Holloway said.
The president noted one of the most gratifying highlights of the year is the recognition of Rutgers' excellence by the university's peers. Rutgers has risen significantly in the U.S. News & World Report rankings during the president's tenure, with all three campuses rated highly as engines of social mobility.
"Rutgers aspires to improve itself, but it does not chase the rankings like some schools may do. We are always focused on ensuring that our students graduate on time, with minimal debt, prepared for successful careers – and now the rankings recognize this," he said. "In other words, we didn't chase the rankings; the rankings chased us."
A Time of Great Promise
Despite undeniable financial challenges that Rutgers and other universities face, Holloway said the university's commitment to major capital projects signals a time of great promise. He cited renovation plans for the Medical Science Building in Newark and Rutgers-Newark's historic Conklin Hall, as well as construction of the HELIX – the New Jersey Health and Life Science Exchange in downtown New Brunswick – the Cooper Street Gateway Project in Camden and the impressive array of sustainable energy projects installed across the university.
Throughout his address, Holloway spotlighted remarkable advances by Rutgers faculty, noting grants awarded just in the past few months for researchers to study irreversible retinal damage, black holes, and the relationship between minimum wage policies and maternal health.
In noting the tremendous achievements of Rutgers students – with many earning prestigious fellowships and scholarships – he called out the actions of students committed to service during their college experience. Holloway applauded Cliff Omoruyi, the outstanding men's basketball center and senior majoring in information technology and informatics. Omoruyi donated the $25,000 in endorsement fees he earned to the Salvation Army in Newark to renovate its basketball court. Omoruyi's legal guardian has volunteered at the Salvation Army in Newark since the basketball star first arrived in the United States from Nigeria as a teenager.
Holloway also saluted G Bellon, a social work major at Rutgers-Camden and a scholar-athlete, who has been a Scarlet Service intern twice, this past summer serving in Washington, D.C., as part of the growing paid internship initiative Holloway launched so students can work in nonprofit and other public service settings to serve people who face challenges different from their own.
"I want to harness that spirit and that hard work. I want to make it grow," Holloway said. "I want to make it easy to be a part of these programs and to make ours a better world and to make ourselves better people."
Read the transcript of President Holloway's address.