Rutgers will establish an Office of Climate Action and work to eliminate greenhouse gases before the university's 275th anniversary
In his second address to the University Senate on Sept. 24, President Jonathan Holloway announced the university's commitment to a Climate Action Plan and the formation of the Office of Climate Action that will lead the university's efforts to achieve carbon neutrality by 2040. The office also will mobilize the university's strengths to advance just, equitable climate solutions across the university and New Jersey and to work toward the United States goal of achieving national net-zero greenhouse gas emissions no later than 2050.
The climate action plan was developed by the President's Task Force on Carbon Neutrality and Climate Resilience, a universitywide committee co-chaired by Rutgers climate scientist Bob Kopp and supply chain sustainability expert Kevin Lyons. The plan – the culmination of 21 months of effort – outlines a strategy that will guide Rutgers through the next three decades. 
"Achieving these imperative goals will involve everyone in our university community and every aspect – from the day-to-day operations of the institution and our approach to facilities, policy and financial decision-making to Rutgers' cutting-edge teaching, clinical services and research. Our success will also depend on our continued commitment to and strong relationships with our local communities, and the everyday actions of each one of us," Holloway said. "I thank all who contributed to this plan, including those who served on the task force and related committees and all Rutgers community members who participated in the public Climate Task Force Town Halls and advocated for change."
Holloway announced that Kopp and Lyons will codirect the new Office of Climate Action, with Angela Oberg, an assistant teaching professor in the Department of Human Ecology at the School of Environmental and Biological Sciences and administrative director of the president's task force, serving as associate director. The office, which will be housed in the Office of University Strategy, will lead the universitywide effort to achieve key milestones, including:
Eliminating greenhouse gas emissions associated with the university's grid electricity purchases, reducing carbon dioxide emissions from on-campus fossil fuel consumption by 20% and reducing greenhouse gas emissions associated with commuting, travel and the supply chain by 30% by 2030.

Eliminating emissions from on-campus fossil fuel combustion and becoming carbon neutral by 2040.

Becoming carbon negative – ensuring Rutgers removes more greenhouse gases than it emits into the atmosphere –

by the university's 275th anniversary in 2041.
"By making climate action – both within the university and more broadly – a key strategic priority, Rutgers has the opportunity to scale our efforts and join research and teaching to national, state and community climate action," said Kopp, a professor in the Department of Earth and Planetary Science at the School of Arts and Sciences.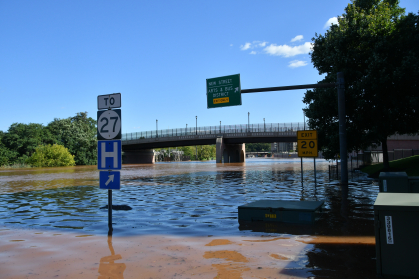 To ensure the university meets its commitments, the office will engage internal and external partners in the implementation of the climate action plan and guide climate mobilization efforts across academic and operational units. The office will also work across campuses and with local communities to develop comprehensive climate adaptation plans, build a culture of sustainability that integrates climate action into academic research and teaching, and partner with Rutgers units, departments, centers and institutes already working toward climate action and sustainability to amplify and expand existing efforts.
"Rutgers is a national leader in linking climate research to community needs and was also an early pioneer of on-campus renewable energy," said Lyons, associate professor of professional practice at Rutgers Business School-Newark and New Brunswick and associate director of the Rutgers Energy Institute. He noted the university's decision to divest from fossil fuels was a clear signal of its commitment to climate action, public health and social justice. 
However, the climate action plan also acknowledges that the university is both part of the problem and the solution, Lyons said. Annually, the university emits greenhouse gases equivalent to about 470,000 metric tons of carbon dioxide, enough to cause about $24 million of damage to global society each year. It also plays a key role in developing technologies to avoid emissions and helps communities in New Jersey respond to climate change.
Kopp said the office will lead the way in reducing Rutgers' vulnerability to climate impacts and contribute to sustainable and climate-positive economic development in the state.
"Hurricane Ida reminded New Jersey how critical it is to both stabilize the global climate and adapt to the changes we've already locked in. Rutgers' Climate Action Plan isn't just about putting our own house in order – it's about mobilizing all the strengths of the university to address one of the most critical challenges humankind faces," Kopp said. "The Office of Climate Action is going to create the systems that will hold the university accountable for its progress and commitment in this space."