Partho Sengupta Joins Cardiovascular Team at Rutgers Robert Wood Johnson Medical School
Unveils Plans for Technology and Innovation Hub by Fall 2021 to Deliver New Models of Care to the Community
Partho Sengupta will join Robert Wood Johnson University Hospital (RWJUH) and Rutgers Robert Wood Johnson Medical School (RWJMS) as the Henry Rutgers Professor of Cardiology and chief of the Division of Cardiology at RWJMS, and chief of Cardiology at RWJUH, effective July 1, 2021. He will work closely with Anthony Altobelli, clinical chief of Cardiology, RWJUH, and Mark Russo, chief of Cardiovascular and Thoracic Surgery, RWJUH, and associate professor of surgery and chief of the Division of Cardiac Surgery, RWJMS, to lead one of the largest cardiovascular and thoracic services in the region.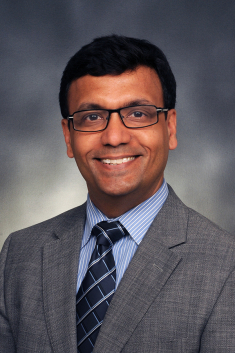 Altobelli, Russo and Sengupta will work together to advance the vision of a technology-enabled cardiovascular service that optimizes patient health, from prevention and education, to clinical care, to translational research that will bring new models of care to our communities. "Their collaboration will build upon the outstanding clinical enterprise established by RWJBarnabas Health and Rutgers more than two years ago, and reinforces the goal to jointly operate a world-class academic health system and provide communities with expanded access to the highest-quality primary and specialty care providers," adds Andy Anderson, president and chief executive officer of the Combined Medical Group of RWJBarnabas Health and Rutgers Health.
"Throughout his career, Sengupta has demonstrated stellar leadership, a history of grant-funded research with innovation in cardiac imaging, and medical education on a global platform. Together, we are now positioned to advance cardiology in Central New Jersey and nationwide," said Fredric E. Wondisford, professor and chair, Department of Medicine, Robert Wood Johnson Medical School, and chief of medical service for Robert Wood Johnson University Hospital.
"RWJUH treats high volumes of complex cardiothoracic conditions with the most advanced interventions that are available today," explains Bill Arnold, president and CEO, RWJUH. "Dr. Sengupta will lead a digital transformation for cardiology that will enhance all aspects of the patient journey by leveraging Artificial Intelligence (AI) capabilities, robotics and much more to help promote early detection and support our vision for healthier communities. An innovation hub will be designed to serve as a gathering place for our RWJUH faculty, community physicians and staff to bring together diverse minds and opinions of those who want to help solve healthcare challenges using technology and innovation."    
Sengupta brings his passion for technology-enabled education and care, and his experience in building a robust network of cardiologists in the community, to enhancing the hub of cardiovascular innovation and clinical care in the New Brunswick academic medical center. In addition, he brings his vision for transformation and innovation in cardiology.
"I am excited to play a role in sharing a vision of technology-enabled care on a global scale, promoting new knowledge generation through precision medicine and individualized patient interventions," says Sengupta.
Sengupta joins the division from West Virginia School of Medicine and WVU Heart and Vascular Institute, where he served as the Abnash C. Jain Chair of Cardiology, chief of the Division of Cardiology,director of Cardiovascular Imaging, and director of Cardiovascular Innovation. His previous appointments include Mount Sinai School of Medicine, University of California, Irvine, and the Mayo Clinic.