Bingru Huang selected by Rutgers Board of Governors on Oct. 12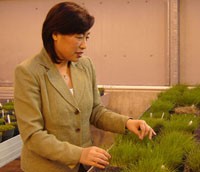 NEW BRUNSWICK, N.J. – Bingru Huang, a professor in turfgrass stress physiology, was approved as the Ralph Geiger Endowed Chair in Turfgrass Science by the Rutgers University Board of Governors (BOG) on Oct. 12.
Huang joined the faculty in the Department of Plant Biology and Pathology at the School of Environmental and Biological Sciences in 2000 and has served as the Director of the Graduate Program in Plant Biology. As the new Geiger chair, Huang succeeds Bruce Clarke, director of the Rutgers' Center for Turfgrass Science and the inaugural holder of the endowed chair in 2005.
"Bingru Huang is among a cadre of outstanding young scientists at Rutgers who are enthusiastically and deeply engaged in teaching and mentoring our students," said Robert M. Goodman, executive dean of Agriculture and Natural Resources at Rutgers. "Her particular expertise in turfgrass tolerance to environmental stresses was highly sought by Rutgers and has led to fruitful collaborations with several institutions across the globe," added Goodman.
The BOG resolution praised Huang for having "greatly expanded our understanding of how environmental stress affects plant health through her outstanding work, which has solved complex problems in basic research and applied that research to practical problems in turfgrass management."
"Being selected as the chair is a tremendous honor and I look forward to being able to strengthen the already excellent turfgrass program at Rutgers and to grow the university's collaborations with international partners," said Huang.
Since 2003, Huang began establishing partnerships with institutions in several countries, including Australia, Israel, Norway, and her native China. Under a collaborative arrangement with the Norwegian Institute for Agricultural and Environmental Research, she co-launched the project, "Velvet green: Winter hardiness and management of velvet bentgrass on putting greens in northern environments," funded by the Research Council of Norway's North American and Norwegian Initiative. The project involved bringing Norwegian graduate students in turfgrass science to Rutgers for research and study.
In her native China, Huang used her considerable connections to establish deep ties with premiere universities, including Shanghai Jiao Tong University and Beijing Forestry University, and to enhance Rutgers international reputation. She has obtained multiple grants, totaling nearly 3.0 million yuan (approximately $450,000), from the Chinese Natural Science Foundation and the United States Department of Agriculture's International Science and Education to support her international collaboration in research and teaching. As a Chang Jiang Scholar selected by the Chinese Ministry of Education, Huang helped to establish a turfgrass stress physiology lab in Shanghai Jiao Tong University that focuses research on water-saving and low-input turfgrass management in urban environments in China.
In addition, Huang has been integral in developing a 2+2 dual degree program in plant science between Rutgers and Shanghai Jiao Tong University. Students from Shanghai Jiao Tong University who are admitted into the program take courses for the first two years in China and then transfer into the School of Environmental and Biological Sciences as juniors. These students complete the requirements of the college and the major into which they have been admitted. Similar articulation agreements have been expanded to other partner institutions in China and the 2+2 program has been expanded to other majors such as food science and environmental sciences.
Huang earned her Ph.D. from Texas Tech University. Prior to coming to Rutgers, she was an assistant professor at Kansas State University for four years.
The Ralph Geiger Endowed Chair in Turfgrass Science was funded by a nearly $2 million endowment from Ralph Geiger, an avid golfer and philanthropist who has donated generously to the Rutgers Center for Turfgrass Science. Income from the endowment has been used to promote turfgrass teaching, extension and research. Approximately $20,000 per year has funded undergraduate, graduate and two-year certificate program scholarships.
The Rutgers Center for Turfgrass Science is regarded as one of the premier research, teaching, and outreach institutions in the world and its cultivars can be found everywhere from New York's Central Park to the White House and Lambeau Field, home of the Green Bay Packers.


Media Contact: Paula Walcott-Quintin
848-932-4204
E-mail: quintin@aesop.rutgers.edu