Governor, state officials celebrate creation of a more comprehensive state research university
Rutgers ushered in a new era in New Jersey today energized by an expanded mission of medical education that promises to turn the university into an academic powerhouse.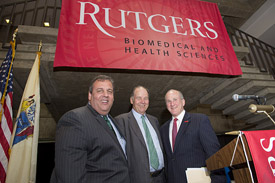 "The limitless future of health care delivery and discovery in New Jersey starts today," Rutgers President Robert L. Barchi told those gathered at Robert Wood Johnson Medical School in Piscataway. Hundreds of guests turned out to celebrate as most of the former University of Medicine and Dentistry of New Jersey became part of Rutgers.
Joined by Gov. Chris Christie and legislators from across the state, Barchi told the crowd of 600 that the new Rutgers is ready to lead the way in health care education, training and medical research.
"Now there is no excuse for giving New Jersey anything less than a world-class university," Barchi said.  "I can tell you that Rutgers is ready to deliver."
Over the past decade, several governors have attempted to restructure higher education in the state, but it was Christie who finally succeeded with bipartisan support. Sen. Joseph Vitale, Assemblyman John Wisniewski and Assembly Speaker Sheila Oliver accompanied Christie and also spoke at the ceremony in Piscataway. Former Gov. Tom Kean, a leader in higher education reform, received a standing ovation when he appeared with Christie.
"Today is a historic moment in the history of our state, and the history of Rutgers University," said Christie, who last year signed the New Jersey Medical and Health Sciences Education Restructuring Act. The act incorporated seven of UMDNJ's eight schools as well as the Cancer Institute of New Jersey and University Behavioral Health Care into the new Rutgers Biomedical and Health Sciences (RBHS).
Christie said that decades of politics got in the way of a desperately needed restructuring of New Jersey's higher education system. "Together we seized an opportunity to take higher education to the next level in this state," he said. "The real gems of the UMDNJ system will now shine even brighter in this new arrangement."
Sen. Joseph Vitale said he was excited about the new posiblities of a combined Rutgers."This merger will create world opportunities to acheive and advance our burgeoning biotech industry through the collaboration with an even stronger Rutgers,'' Vitale said.
Assemblyman John Wisniewski, lead sponsor of the restructing act and a Rutgers alumnus, reflected on how the university's role in the world is a source of pride."Today after literally more than a decade of work, Rutgers University takes a great leap into a very bright future,'' Wisniewski said. "Our state and state university are enhanced and the prestige of our university will only grow.''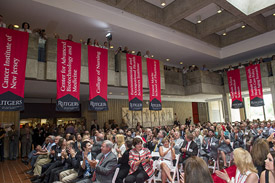 Separate commemorations took place in Newark to recognize the new Rutgers Health Sciences Campus in the city as well as an independent University Hospital.
James Gonzalez, president and CEO of University Hospital in Newark, and Senate President Stephen M. Sweeney, joined Barchi and others to mark the historic occasion.
Speaking later that day at the Rutgers School of Dental Medicine in Newark, Assembly Speaker Sheila Y. Oliver, said the new Rutgers will improve the city, serve residents and become a nationwide model for the future of health care.
"As I saw the Rutgers signage, I got a sense of what we have created right in the center of Newark," Oliver said. "In this marriage between Rutgers and UMDNJ, I do believe even greater things will happen here. . .This is the year we got it right.''
Sen. Stephen M. Sweeney also spoke of the integration as a move that will help revitalize Newark. "Its presence here is important to the economy,'' he said.
Earlier in the day in Piscataway, Barchi said that the restructuring is bigger than Rutgers. The university is eager to establish public-private partnerships that will address New Jersey's health care needs and create jobs within the industry.
Christie expressed his gratitude to Barchi and Rutgers staff for bringing together two major education institutions in less than a year, calling it "nothing short of extraordinary."
The president thanked Christopher J. Molloy, who as of July 1 will serve as the new interim chancellor of Rutgers Biomedical and Health Sciences, and former UMDNJ President Denise Rodgers – who will become vice chancellor for interprofessional programs at RBHS and director of Rutgers' Urban Health and Wellness Institute.
Both Christie and Barchi also recognized Kean, who chaired the Higher Education Task Force that provided a blueprint for strengthening New Jersey's institutions of higher learning, including bringing medical education to Rutgers. "Rutgers will be forever changed because of your commitment," Barchi told Kean.
At the end of the ceremony in Piscataway, students and faculty unfurled the red and black banners displaying the schools, centers and institutes that are part of RBHS from the second-floor balcony to loud applause.
-- Robin Lally and Carla Cantor