New BOLD Center Prepares Douglass Students for Success in the Workplace
The initiative at Rutgers Douglass Residential College combines career, leadership and wellness programs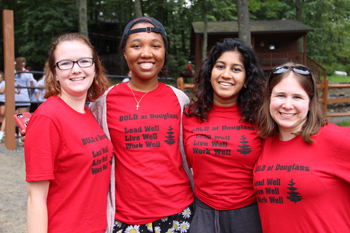 'It's really an open and welcoming environment. It's like you are talking to a friend who wants you to do well. They know who you are, they know your strengths and weaknesses so they know how to help you.

 

– Celese Lindsey

 
The BOLD Center at Rutgers Douglass Residential College is helping students find the job of their dreams while making sure they can enjoy their success when it happens.
Since opening this fall, the center has brought together existing career and leadership programs with a new wellness initiative to help students cope with the challenges they may encounter along their job path.
In addition to cover letter and resume writing help, a leadership retreat, externship program and career conference, the center has launched a new Friday morning "coffee and chat" that has covered topics including mindfulness and happiness. Discussions about meditation and emotional intelligence – which includes the ability to navigate conflict – are being considered for the spring.
"We want students to get and succeed in the job of their dreams,'' said Leslie Danehy, an assistant dean and director of the BOLD Center, which stands for Building Opportunities for Leadership and Development.
"But you can get going in your career and get so stressed out that it's hard to appreciate having that job,'' she said.
Celese Lindsey, a sophomore business major from Franklin Township in Gloucester County, visited the BOLD Center for help with her resume, sought out advice to prepare for a job interview via Skype and has attended the Friday morning coffee and chat.
"It's really an open and welcoming environment,'' Lindsey said. "It's like you are talking to a friend who wants you to do well. They know who you are, they know your strengths and weaknesses so they know how to help you.''
The BOLD Center, which has a mission to "position Douglass students for excellence in work and life" added wellness programs this semester after hearing about the need from students. The center works to address issues unique to women in the workplace that have been identified through research including the gender wage gap and barriers to leadership.
Other workshops offered through the center include the art of risk taking and negotiating for a higher salary. The center is planning a career conference in February that will bring professionals to campus for a day of panel discussions and breakout sessions for networking opportunities.
The BOLD Center has also placed 120 students in externships around the country including Google, the web-based animation company JibJab, the United Nations and several pharmaceutical companies. Before students begin their externships they attend workshops that cover everything from what to wear to how to ask questions to get the most out of their experience.
The BOLD center is quickly becoming a central part of Douglass and students say the benefits of the new wellness programs are reverberating throughout all aspects of their life.
"They are giving us great resources for things we can do when we get stressed out,'' said Brianna Bornstein, a first-year dietetics major.
"I think when you get overwhelmed you begin to doubt yourself and your abilities,'' Bornstein said. "These programs encourage us to take a step back from worrying about the future and focus on right now and take care of ourselves as students. It helps us manage our time without getting stressed.''
Bornstein has turned to mentors at the BOLD Center when she has questions about classes or doubts about her choice of major. And the lessons she took away from a recent networking workshop turned out to be invaluable when she met people who oversee the internship program in her department.
"It gave me a boost of confidence,'' Bornstein said. "I knew how to behave and it made me feel more comfortable talking to them.''
Margot Baruch, associate director of the BOLD Center, said they are working to help students find their own voice and build confidence.
"I think still today in 2016 women face multiple challenges both personally and professionally and what the BOLD Center strives to do is help students define and achieve their goals and aspirations,'' she said.