Naomi Klein, Gloria Steinem Discuss Media, Politics, #MeToo at Rutgers-New Brunswick
Event launches Klein's service as Rutgers' Gloria Steinem Endowed Chair in Media, Culture and Feminist Studies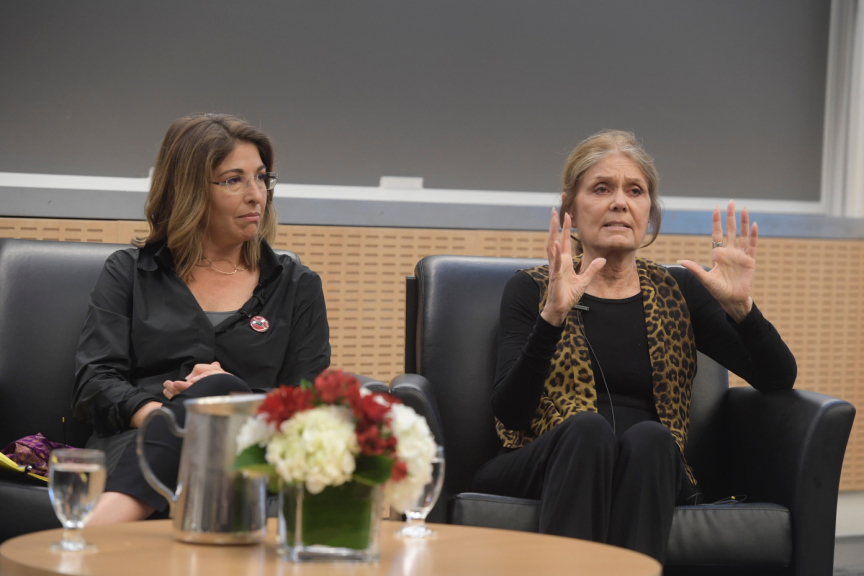 Naomi Klein and Gloria Steinem, two global thought leaders on social and economic injustice and equality, discussed the ways technology and new media are reshaping culture and power relationships, and the challenges ahead for progressive movements, during a wide-ranging public discussion today.
The event, held at Rutgers University-New Brunswick's College Avenue campus, served as the launch of Klein's service as the university's inaugural Gloria Steinem Endowed Chair in Media, Culture and Feminist Studies. Klein will teach, organize public events, conduct research and immerse students in debate and scholarship on the relationships between media, politics, market forces and democracy. 
The full, approximately two-hour event, can be viewed here.
In a conversation that covered modern feminism, the #MeToo movement against sexual harassment and violence, and other fights for social justice, Klein and Steinem spoke of the importance of bringing disparate social movements together to make a bigger impact on the culture, politics and public policy. 
Feminism should not be considered more important than fights for racial equity or LGBTQ rights, Klein said, noting that "there is untapped power in the convergence of movements" that are more powerful together than separate.
Steinem added, "There are false divisions in social movements. There is a Declaration of Independence; now we need a declaration of interdependence," Steinem said.
On #MeToo, Klein noted: "The feminist movement is what the world needs. There is a lot of bravery in women coming forward with allegations of abuse."
Steinem, one of the most prominent modern American feminists, has devoted more than four decades to advancing women's and human rights on a global scale. In 2013, she received the Presidential Medal of Freedom, the highest honor the United States bestows on a citizen who is not in the military.
Journalist Farai Chideya moderated the dialogue, which attracted more than 300 attendees. The event took place a day before the centennial celebration for Douglass Residential College, Rutgers-New Brunswick's intellectual community for undergraduate women.
Rutgers-New Brunswick interim chancellor Christopher Molloy, introducing the event, called Klein "a catalyst for change." Her best-selling explorations of social, economic and ecological injustice include The Battle for Paradise: Puerto Rico Takes On the Disaster Capitalists (2018), No Is Not Enough: Resisting the New Shock Politics and Winning the World We Need (2017), This Changes Everything: Capitalism vs. The Climate (2014), The Shock Doctrine: The Rise of Disaster Capitalism (2007) and No Logo (2000). Her work has been translated into more than 30 languages.
The Gloria Steinem Endowed Chair represents a collaboration between Rutgers–New Brunswick's School of Communication and Information, Institute for Women's Leadership and Department of Women's and Gender Studies in the School of Arts and Sciences.