Movie Critics Put Stock in 'Equity'
Rutgers Board of Governors member Candace Straight's input helped inform accurate portrayals in first female-driven Wall Street film
Equity pulls off a difficult balancing act with an elegance that should not be underestimated. It turns its unflappable gaze on a maddeningly complex reality and transforms it into a swift, clear and exciting story.

 

– A.O. Scott, New York Times movie critic
The reviews are in: Equity is definitely a worthwhile investment for moviegoers.
Critics are smitten with the unflinching realism and fully formed characters depicted in the first female-driven Wall Street film, which opened nationwide Aug. 12 and stars Breaking Bad's Anna Gunn as an investment banker who gets passed over for a promotion and becomes entangled in an IPO scandal.
That's because the film's on and off-screen team did their homework to understand the struggles of women navigating that male-dominated world. Equity actresses and writers Alysia Reiner and Sarah Megan Thomas sought out women like Candace Straight, who landed at Bankers Trust Company on Wall Street in 1969, when the finance industry was rife with gender discrimination.
"They didn't allow women in the credit training program because they didn't want to subject us to the hazards of traveling," said Straight, who was appointed to Rutgers' Board of Governors in 2011. "I went in the investment department instead because men and women were treated equally."
The Bloomfield resident went on to enjoy a successful professional life, working in mergers and acquisitions for Merck and partnering in a private equity fund before retiring in 1998. Her pioneering career was one of several charted in Melissa S. Fisher's 2012 book Wall Street Women.
Vulture movie reviewer Kevin Lincoln credits Straight with giving Equity its honest edge: "Straight helped introduce (Reiner and Thomas) to the sorts of women who they were hoping to portray, many of whom would ultimately help finance Equity – making it a film both about and of their world. The Big Short, this is not."  (Read the reviews in The New York Times and Vulture.) 
Straight signed on as the film's executive producer and opened her Rolodex for Reiner and Thomas, throwing several parties that connected them with 70 percent of their investors.  Among the nearly 30 women backing the movie, are two Rutgers alumna, Beverly Aisenbrey and Suzanne Curry.
The independent film written by Amy Fox, directed by Meera Menon and co-starring Reiner and Thomas, who also are co-producers, celebrated its world premiere at Sundance Film Festival and was purchased by Sony Classic in January.
"[Reiner and Thomas] wanted to make a great movie that featured women behind and in front of the camera. It's the first time it has ever happen in a Wall Street movie," said Straight. "As someone who worked hard on trying to break the glass ceiling and was past president on the Financial Women's Association of New York, the movie just spoke to me."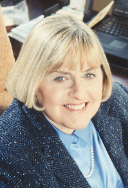 The movie's honest script and nuanced performances by Gunn, Reiner and Thomas resonates with reviewers as well, including NY Times' A.O. Scott, who wrote: "Equity pulls off a difficult balancing act with an elegance that should not be underestimated. It turns its unflappable gaze on a maddeningly complex reality and transforms it into a swift, clear and exciting story."
The Guardian's Suzanne McGee calls it "One of the summer's most memorable movies – and one of the best movies ever made about Wall Street." And the headline of Guy Lodge's review in Variety encourages audiences to "Meet the She-Wolves of Wall Street, as Meera Menon's sophomore feature puts a welcome feminine spin on the financial-crisis drama."