Michael Dweck Wants to Overhaul Your Sock and Underwear Drawer
Rutgers graduate named to Forbes '30 under 30' list in the retail & ecommerce category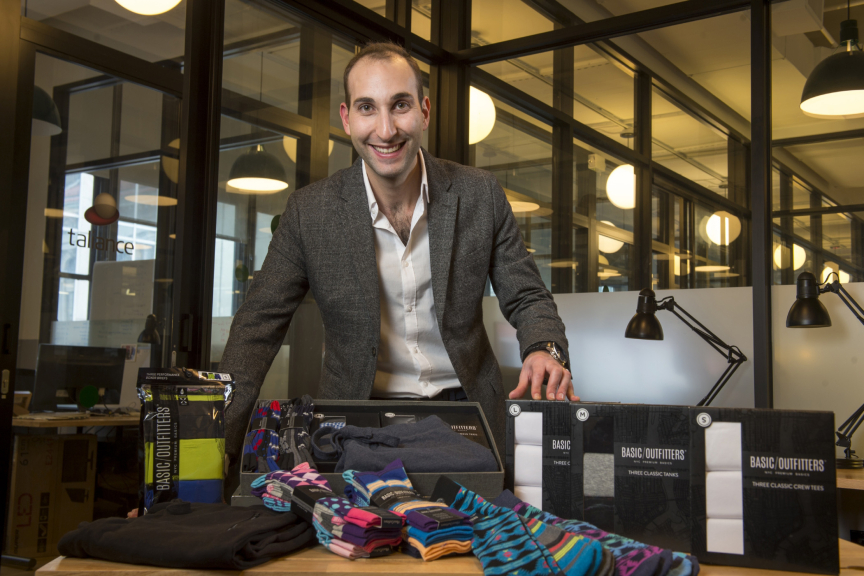 'I'd always learned in a very structured way, but when I went to Rutgers and became an American studies major, I learned that there were six sides to a story and many different approaches.Rutgers taught me how to learn, how to think –skills I use every day in business.'

 

– Michael Dweck
Michael Dweck and his wife, Laura, might never have launched Basic Outfitters – their ecommerce men's basics brand – had they not moved into a cramped apartment in Manhattan.  
Shortly after the couple married in 2014 and began sharing a dresser, Laura, a fashion designer, took one look at Michael's sock and underwear drawer and challenged him to throw out anything he hadn't worn in six months. "It turned out to be almost everything," Michael said.
Freshening up his basics attire turned out to be so time consuming and expensive that he would go on to found his own company. Now the 2009 Rutgers graduate is making his mark on the business, having recently been named with his wife to Forbes' 30 under 30 list in the retail & ecommerce category. 
The company's target: millennial men age 18-34 who via a few online clicks could give their underwear drawer a quick makeover with high-quality merchandise at a bargain.
Dweck developed a business plan while working as an operations manager for chemotherapy and surgical units at Memorial Sloan Kettering, and launched the company as a part-time venture out of the couple's apartment. Michael and Laura knew they were onto something when, right after the Forbes recognition in January, they appeared on ABC's Shark Tank and sales jumped tenfold in one month.
Today Basic Outfitters, which opened its online doors in November 2015, is growing at about 25 percent per month, with a product return rate of 1 percent (way below the average industry rate of 15 percent). Its signature service, Create-a-Drawer, allows customers to select up to three pairs of underwear, three undershirts, a pair of sweatpants and 10 pairs of socks and have them delivered to your doorstep – all for $60.
Like many entrepreneurs, Michael took a meandering path to success, which began at Rutgers.
"I loved learning facts and my approach was to download everything," Dweck said of his Rutgers experience. He took a lot of history classes, as well as some courses in communications and British literature, but his world changed when he stumbled upon "American Studies 101" taught by Angus Gillespie. He was drawn to the interdisciplinary approach of the field, which includes the study of history, sociology, literature, folklore and more.
"I'd always learned in a very structured way, but when I went to Rutgers and became an American studies major, I learned that there were six sides to a story and many different approaches," Dweck said. "Rutgers taught me how to learn, how to think –skills I use every day in business."
Those skills now help him resolve the countless challenges facing small startups, like raising money from investors and negotiating with manufacturers and distributors. He also got sound advice from his older brother, Aaron, who graduated from Rutgers Business School in 2004 and is now a real estate developer.
Michael and Laura have quit their day jobs to run the company full time and work out of a communal office space for startups, located in the fashion district in midtown Manhattan.
As for the future, the company plans to launch a Create-a-Drawer for women this fall and expand to an international market within two years. Eventually, they hope to broaden the Create-a-Drawer concept to Create-a-Dresser, adding shirts, pants and thermal undergarments.
Growing up in Oakhurst in Monmouth County, Michael never envisioned an entrepreneurial life. "I thought I would make my mark through a traditional route – I'd land a corporate job and gradually climb the ranks," said Dweck, who was raised in a tightknit Orthodox Jewish family, the youngest of six children.
"I never thought I'd be working in men's underwear. But I'm working alongside my wife, and we are an incredible team," he said.  "This may not be a high-tech venture, but we are changing the way people shop online.  It can be stressful and challenging, but it is all ours."   
---
For media inquiries, contact Carla Cantor at 848-932-0555 or ccantor@ucm.rutgers.edu