The Honors College student, a junior this fall, spent part of his summer in Mississippi, where he noticed similar health and social issues in underserved communities to those in his New Jersey hometown  
As Rutgers' first Delta Scholar, Casey Fortson ventured to Mississippi in June as part of a fellowship meant to open both his eyes and his heart. 
During his travels, the soon-to-be junior said he realized that three of the biggest health issues affecting underserved populations down south – hypertension, heart disease and diabetes – were the same plaguing his community in Trenton. 
"It was very interesting to me that two regions of the country with vastly different characteristics share these same health issues amongst vulnerable populations," said Fortson, an Honors College student at Rutgers University–New Brunswick who is pursuing a major in public health and a minor in political science. "My thought was, 'Why is that?' I think a lot of the time I was just really stunned to see how much different the culture and the landscape and the geography are, but how similar the underlying social issues were."
Fortson was selected to join the Delta Scholars, a nationally competitive program aimed at college sophomores and above. Described by organizers as a research-training and service-learning experience, the fellowship is an "academic and community-engagement program for talented and socially conscious college students interested in moving Mississippi and the Delta region towards a brighter, more just tomorrow."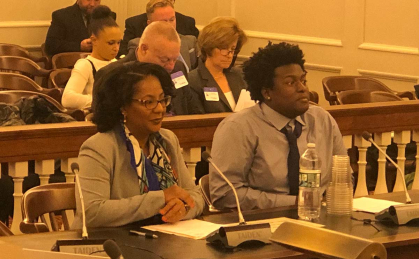 Delta Scholars – selected for their academic achievements and commitment to public service – attend a 12-day summer institute at Mississippi State University and the Delta region followed by a five-day trip to Boston and Harvard and Brandeis universities in the fall. 
It's a program that J.D. Bowers, who joined the Honors College as dean in July 2022, brought to Rutgers this year. 
Bowers described Delta Scholars as a program "that truly is a catalyst to other fellowships in that it gave the participants the real hard skills as well as the content skills in which they could elevate their own thinking, challenge their own ideas and still engage in some of the most meaningful service that I think there can be in our country." 
He said while New Jersey is a densely populated state, "we're also somewhat of an agricultural state," adding that "many of our urban populations lack the same things that the citizens of the Delta lack, which is access to medical care and legal care." 
Fortson is a recipient of the Lloyd C. Gardner Fellowship, a year-long program for juniors attending the Rutgers School of Arts and Sciences that aims to deepen student awareness of global issues and address pressing social issues through careers in policy, law, business, health, academia and politics. 
The 20-year-old also was invited to participate in the Rising Scholars program at Rutgers, which is designed to introduce students from underrepresented backgrounds to fellowship opportunities through the Office of Distinguished Fellowships. 
 
I think that when you're dealing with public service, it's really important to know that you're going to run into challenges, and those challenges only show us that there is potential for immense growth and development of the project.

Casey Fortson

Delta Scholar
At age 16, Fortson began interning for the office of Assemblywoman Verlina Reynolds-Jackson. During the summer of 2022, he became the lead intern, overseeing three high school interns in the assemblywoman's office. He also worked on a state bill that would, if passed, ensure a student representative is present for critical decision-making discussions about their school.
"I was doing everything from policy research to community outreach to public relations to sitting in on a meeting with her in the New Jersey State House," said Fortson. "So, that was where I really learned the foundations of public service and all the niches that come with it."  
Fortson added: "I think that when you're dealing with public service, it's really important to know that you're going to run into challenges, and those challenges only show us that there is potential for immense growth and development of the project. You know, you think that because you're doing something for the betterment of the community and the betterment of people in general that you shouldn't have to run into any challenges. You learn that challenges come with anything you do no matter how noble the cause is." 
Fortson, who is a fan of thrifting and enjoys visiting New York during his downtime, is one of the Honors College's Changemaking Mentors, student leaders who guide younger students, and has consulted with Honors College administrators on continued efforts to increase the recruitment and retention of underrepresented students.
As Rutgers' first-ever Delta Scholar, Fortson was "the most outstanding candidate we could have offered," Bowers said. 
"I don't think I've met any other honors student in my first year who quite had all the capacity to do a program like this," said Bowers. "Casey had already been involved in Trenton as a political intern. He has actively worked on service campaigns to supply needed equipment and care for those in his community." 
Bowers said Fortson's dedication to public health and looking at community issues through not only a medical lens, but a public policy one, "just brought to bear some significant perspectives that I thought would be enriching for the program." 
"I know it can change a person's professional trajectory, but I also was looking at whose personal trajectory could this really change and bolster," Bowers said. "It gave him a lot of deeper perspective on issues." 
"I was just really joyous to be named the Delta Scholar because I knew how much pride that Dean Bowers took in the program and how much he wanted to bring this perspective and this learning experience to New Jersey and specifically Rutgers Honors College," said Fortson, adding that he's interested in applying for law school and is considering pursuing a master's degree in public health.