Medical Student Reaches New Heights with Her Poetry
Zeynep Uzumcu's work gains global audience after three poems are published in JAMA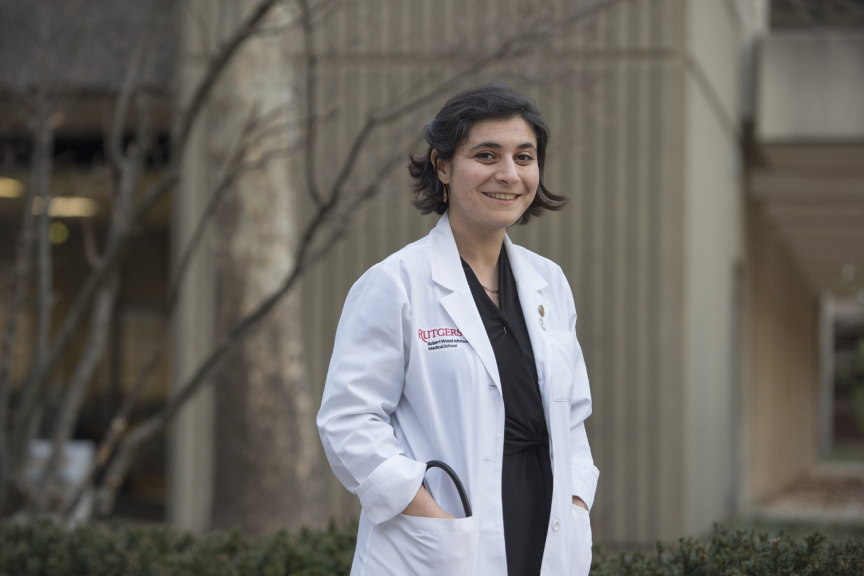 'I think medicine is about the human experience, not just for the patients, but also for the people who provide the care. We see the entire spectrum of human experience on a day-to-day basis. And many people find it helpful to reflect on what they've seen.'

 

– Zeynep Uzumcu
Zeynep Uzumcu arrived at Rutgers a decade ago convinced she would become a high school English teacher. But halfway through her freshman year, she asked herself: "Is Chaucer going to change the world?"
While working on a mobile health clinic in a poor neighborhood outside Washington, D.C. her junior year, Uzumcu discovered a field that seemed to have an immediate impact on people – medicine. For 10 days during spring break, she joined a medical team that gave a woman her first pap smear in a decade, tested diabetics for their blood sugar, and counseled uninsured patients who hadn't seen a doctor in years.
"It was inspiring to see how passionate the family medicine doctors were about community health and changing people's lives through just quality and accessible care," says Uzumcu, who decided to double major in English and chemistry in the School of Arts and Sciences and change her career path to medicine.
After entering Rutgers Robert Wood Johnson Medical School, however, Uzumcu held onto her passion for literature, and wrote poetry in the spare moments when she wasn't studying or seeing patients. Earlier this year, three of her poems gained a global audience when they were published in Journal of the American Medical Association (JAMA), the most widely circulated medical journal in the world.
Instead of describing the beauty of nature, the focus of her earlier poetry, the poems that appear in JAMA confront the disintegration of nature: diseases of the flesh, the origin of a cancerous cell and a patient's amputated leg. "It was an uneasy transition from writing about day-to-day things that you see around you  to writing about pathology and how things go wrong,"  say Uzumcu, how a third-year medical student.
In her first poem to appear in JAMA, "The Body," Uzumcu describes a painting by the Italian Baroque master, Michelangelo Merisi da Caravaggio, which depicts a young man holding a wine goblet with a platter of rotting fruit in front of him, a symbol of the decay that awaits him:
His eyes laugh at the looming vigil of living,
the barricade against pestilence.
He doesn't hear the constant roar
of the body's vanguard, the work
of dissolving intruder, to keep out
the coddling-moth, the flesh-mining disease,
mottling of grapes in senescence.
Her second poem in the series, "Section," begins by comparing cells to snowflakes – "each neighboring cell nestles the next one"  -- but ends with a disruption in the pattern: "And one cell, coaxed by the wheedle of time, / by insult, by the absurd, / gathers its pinwheel of / momentum, and finally / crashes out."
In her final poem in JAMA, "AKA," which stands for the medical procedure Above Knee Amputation, Uzumcu describes a patient whose pain in his leg is so severe when he is admitted to the hospital that he "asked us when we could just cut it off." After the amputation, the doctors feel immediate relief: "To see him so / diminished, but in / comfort, slurping a / brown bowl of his wife's soup in / the late afternoon."
During her four years in medical school, Uzumcu not only wrote poetry but also used her literary talent to transform the medical school's literary magazine, Arbor Vitae,  into a literary and arts blog. The online journal publishes prose, poetry and drawings.
"I think medicine is about the human experience, not just for the patients, but also for the people who provide the care," Uzumcu says. "We see the entire spectrum of human experience on a day-to-day basis. And many people find it helpful to reflect on what they've seen."
Uzumcu was born in Turkey but immigrated to New Jersey as an infant. Her family has deep ties to Rutgers: her father, Mehmet Uzumcu, is an associate professor in the Department of Animal Science; her brother, Hakan, graduated from the Mason Gross School of the Arts in 2011; and her sister, Meryem, will graduate in May with a degree in women's and gender studies and Middle Eastern studies from the School of Arts and Sciences and planning and public policy the Edward J. Bloustein School of Planning and Public Policy.
 Carol Terregino, the associate dean for admissions who met Uzumcu when she wanted to start the online literary magazine, calls her a "Renaissance student" who has applied her literary skills to a variety of projects at the medical school. "Zeynep is a positive force, a cup half-full individual, and she makes everything around her better," Terregino says. "She is a born leader and is truly one of our best."