Mastering the Glass Armonica Opens Doors for Rutgers Music Student
Jake Schlaerth's latest gig is playing throughout the score of the latest Wolverine film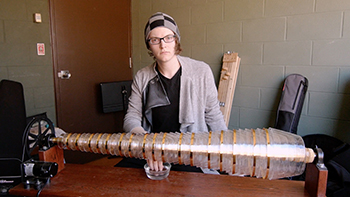 "It is haunting and has a supernatural quality to it, a really ethereal sound. People say it sounds like angels singing. I like it a lot. It's really creepy."

 

– Jake Schlaerth, Mason Gross School of the Arts graduate student
Less than two years ago percussionist Jake Schlaerth scored a
Mason Gross School of the Arts
fellowship to study an instrument he'd never laid a finger on: the glass armonica.
Tomorrow, when the final Wolverine movie, Logan, opens nationwide, the graduate student's name will appear in the credits for playing that instrument throughout the film's score.
When you're one of only a couple dozen of people in the country able to play a rare 18th-century instrument, opportunities have a way of finding you instead of the other way around.
"In the New York area there are thousands of percussionists who can play up and down," said Schlaerth, 25, who is studying for his master's degree in percussion. "It's a saturated market, but the market for glass armonica is not saturated. It's opened up a ton of different opportunities for me, including this Wolverine movie."
For anyone wondering 'A glass what now?' the glass armonica is said to be one of Benjamin Franklin's favorite inventions – a series of tuned quartz bowls mounted horizontally on a rotating spindle that's played by applying friction with wet fingertips. 
"It is haunting and has a supernatural quality to it, a really ethereal sound," Schlaerth said. "People say it sounds like angels singing. I like it a lot. It's really creepy."
---
Related Stories:
---
Mason Gross received its custom-made, 42-bowl glass armonica in 2011 from Col. Robert and Professor Charlotte Craig, who also fund the school's glass armonica fellowship – the only one of its kind at a university in the country.
That Schlaerth, who earned a bachelor's degree in percussion, performance and composition from Ohio University, had never played the instrument before arriving at Mason Gross didn't concern him.
"I have made it my specialty to play and invent strange instruments," said the Highland Park resident, who has been making music since sixth grade playing guitar, mallets, keyboard and other percussion instruments of his design including the turner winch and electric kalimbas.  "And the armonica is definitely a strange instrument."
How Schlaerth went from not being able to play a note to landing the Logan gig is a story of determination-meets-six-degrees-of-separation. 
"It's rare that I pick up an instrument and can't make a single sound. I thought, 'Wow this is going to be challenging,' " said Schlaerth, who's since logged 36 hours of lessons with Mason Gross instructor Dean Shostak – who also plays – and hundreds of hours practicing. "I'm getting kind of good at it now."
So this January when Logan composer, Marco Beltrami, fired off an email to industry musicians that he was in search of a glass armonica player, word trickled down to Schlaerth quickly.
"I didn't know what I was getting into," said Schlaerth. "I thought it was a student project and I wondered, 'Who is this Marco Beltrami?' "
Turns out Beltrami – who scored I Robot, Terminator 3 and all the Scream movies – is kind of a go-to guy in Hollywood when it comes to composing for action and horror productions.
Within hours of responding to Beltrami's request, Schlaerth was invited to fly out to Los Angeles with the Mason Gross glass armonica and record for three days. 
"I couldn't go," he said. "The instrument is huge and made out of glass. I can't check it, and I can't buy  it a seat because it's too heavy to carry by myself."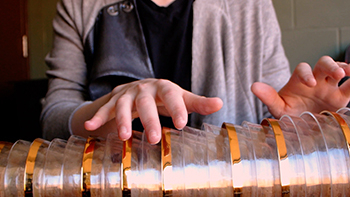 The next best option was for Schlaerth to record the music remotely at Mason Gross. It was the biggest break in his music career. The only problem was the invitation came at midnight, on a weekend, smack in the middle of winter break. 
"Usually you need two weeks notice to record in the studio," said Schlaerth, who credits Kevin Viscariello, the school's director of facilities, and recording studio manager Greg Mueller with expediting the process. "I ran around like crazy, and people helped me out to get into the studio on just two days notice."
He cranked out the score's 30 glass armonica pieces – some as short as two seconds, others as long as two minutes – during a five-hour recording session at Mason Gross, for which 20th Century Fox footed the bill and wrote Schlaerth a sizable check.
Shostak said he couldn't be more proud of Schlaerth and is excited to watch his student and the glass armonica share this shining moment. 
 "This is a real accomplishment to go from beginning an instrument to recording music for a feature film in just two years. Jake has worked so hard and deserves this," Shostak said. "The glass armonica is such a great choice for film scores.  Its unique sound is perfect to make the soundtrack stand out."
There's no way for Schlaerth  to know whether all the pieces he recorded ended up in the film or on the cutting room floor until he watches Logan with audiences tomorrow. But either way, Schlaerth said the experience is sure to open more doors for him – both as a glass armonica player and instrument inventor once he graduates in May.
"It's the top line on my resume for now," he said. "It's really cool."
---
For media inquiries, contact Lisa Intrabartola at 848-932-0554 or lintrabartola@ucm.rutgers.edu.