Marching Scarlet Knights Prepare for Macy's Thanksgiving Day Parade
The Marching Scarlet Knights are used to performing in front of tens of thousands in SHI Stadium where they can rally enthusiastic Rutgers fans as The Pride of New Jersey.
But on Thursday the Rutgers band will perform in front of a much larger audience on a national stage as they march down Fifth Avenue in the Macy's Thanksgiving Day Parade for an in-person crowd of 3.5 million – with another 27 million watching from the comfort of their couches.
For the 360 members of the band, it's a thrilling moment to show off the skills many have been working on since elementary school. They are preparing to wake hours before dawn to make the ride from New Brunswick to Manhattan and line up on the famous parade route somewhere between Snoopy and Santa Claus.
This marks the band's first performance in the parade in the band's 108-year history.
Todd Nichols, Director of University Bands, said the band is "beyond pumped," for their Macy's debut and ready to "show the country the amazing things they do." 
"I call it a bucket list event. It really is once in a lifetime," said Nichols, who doubled the size of the band since taking the helm. "This is the first time ever: first for the school, first for the band, first for me. It's really hard to put into words how much this means to me and our band family."
Before tuning in to the parade to share in the Rutgers pride, get to know some of the band members.
Amelia Ainbinder, Drum Major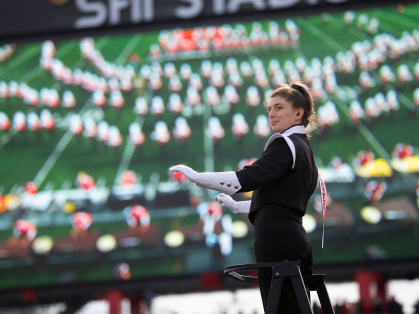 It takes a lot of time and training to lead a marching band lock step through halftime formations, bleacher rally routines and parade routes.
But Amelia Ainbinder knows her job as drum major tends to be oversimplified by most.
"People think all I do is wave my hands around," said the fifth-year senior from Mason Gross School of the Arts at Rutgers-New Brunswick.
If that's what millions of Macy's Thanksgiving Day Parade viewers think as they watch Ainbinder guiding the Marching Scarlet Knights down Manhattan's Fifth Avenue on Thursday – marking time with her hands – that's just fine by her.
"When I found out that we were going to get to play in the parade, I literally collapsed. I was so excited," said Ainbinder, 23, of Middletown. "It's always been such a big part of Thanksgiving for my family, and to think, I'm going to be in it. My family is going to watch me in the parade?! It's insanity."
This once-in-a-lifetime experience is a dream come true for the returning drum major who has been playing the clarinet since fourth grade and marching in bands since eighth grade. The performance, one of her last with the Marching Scarlet Knights, is the perfect way to cap off her five-year run with the band.
"Marching band just scratches the right itch in my brain. Everything has to be so timed, specific, organized and methodical, and I just love that aspect of it," she said.  "It has to be so precise – the act of memorizing the music to the drill, lining all that up, seeing how it's all connected and building that big picture – there is something so satisfying about it."
Ainbinder, like many of her marching band peers, considered music more of a hobby than a professional pursuit when she arrived at the university to study physics. But playing in the marching, pep and concert bands at the college level made her realize it was her passion. This spring she will earn her double major in music education and music performance and is looking forward to the day when she can share her love of music with the next generation as a teacher and marching band director.
"Being a drum major has deepened my love of the band and made me more excited to officially step into the role of being an educator," she said. "It's an amazing experience to watch everyone learn and grow, and to know you helped make that happen."
Daniel Dias, Baritone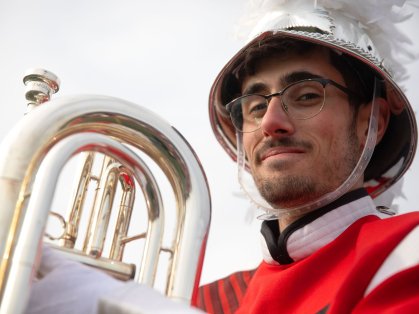 Music is Daniel Dias's hobby. History is his passion. He is able to pursue both with the Marching Scarlet Knights, where he plays baritone and is the band's first official historian since its founding 108 years ago.
The Avenel resident, 20, a junior history major in the School of Arts and Sciences at Rutgers-New Brunswick, works part-time as an archivist at the Woodbridge Library and was appointed to serve on the township's Historic Preservation Commission. After starting an archive while a student at Colonia High School and maintaining an existing archive for his Mu Beta Psi Music Fraternity at Rutgers, Dias sought to do the same for the Marching Scarlet Knights a couple years ago.
"I walked into the band director's office where some memorabilia was stored. It was 86 degrees, which is horrible for archival preservation," said Dias, describing the poor condition of photos from the 1920s-'40s he found along with a typed letter from the first band director appealing to then Rutgers president William Demarest to start a marching band in 1915. The original letter had been kept in a tight frame and was so badly damaged by light that the ink had almost worn off entirely from the paper.
"I was able to take all the materials home, popped them out of frames, scanned them at work, purchased archival boxes, cataloged everything, put them in folders, and now the band has an actual solidified archive," said Dias, who after graduating plans to pursue a degree in library science and become an archivist or curator for collections with a university or museum.

Since that first project, he's been in contact with band alumni, former directors and the Rutgers University archivist to try and beef up the band's collection. He is focusing especially this year on preserving all the memories associated with their Macy's Thanksgiving Day Parade performance, including photos, articles, music, a drumhead and $10,000 check presented to the band by Macy's last fall when they were invited to march in the parade.
But as much as documenting this process means to Dias, he is also looking forward to the thrill of swapping his historian's hat for his plumed Marching Scarlet Knights helmet as he blares his baritone (a low brass instrument) with his bandmates on Fifth Avenue this Thursday. Raised in a musical household, Dias started with the trumpet in fourth grade, playing all the way through high school in seated and marching bands, including as drum major at Colonia High School.
"It's an honor and privilege to be a part of something so monumental as this. It's such an American tradition," he said. "I have no doubts this will really cement the legacy we leave behind in this organization and show the university and everyone in the area that we are a really premiere organization that can represent Rutgers and the state."
Joe Marta, Sousaphone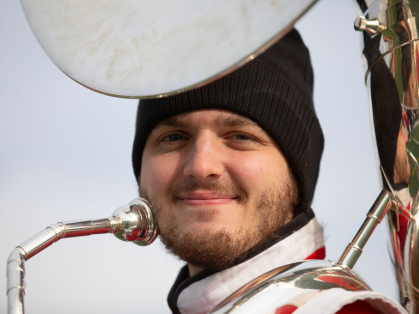 It makes Joe Marta smile when the sea of scarlet in SHI Stadium's student section starts to bounce and sway to hip-hop songs like Industry Baby and Swag Surfin' that he arranged for the Marching Scarlet Knights to play at home football games.
"Those pre-game fight songs come from historically Black colleges and New Orleans brass band tradition," said Marta. "You pack in as much energy and as much power as you can give it."
Since first picking up the trumpet in fourth grade and composing his first piece in fifth grade, Marta, 22, has accomplished much as a musician, composer and arranger. He's taught himself how to play – and repair – most brass instruments, performs trumpet with Rutgers Symphony Orchestra and Rutgers Wind Ensemble, and tuba with Rutgers University Brass Band, and placed as a national finalist for the 2021 American Prize Band/Wind Ensemble Division and as a state finalist in the 2019 NJMEA Young Composers Competition.
Even with his long list of accomplishments and performances, he's expecting the marching band's appearance in the Macy's Thanksgiving Day Parade to be a day he will never forget.
"I've done a few holiday or Memorial Day parades with my high school band, but that was for a couple thousand people," he said. "Now I'm just imagining millions of people in a giant crowd in New York City. That spectacle is just going to be an incredible experience, and I'm really excited to represent Rutgers for it."
He's also thankful he'll be carrying his sousaphone – not lugging the concert tuba he usually plays – the length of the 2.5-mile parade route.
"The tuba creates a very dark and beautiful sound, but is almost next to impossible to march with because you have to carry 20 or 30 pounds with just your arms," said Marta.
The sousaphone was designed at the behest of American composer and conductor John Philip Sousa to be easier to play when standing and marching. "It wraps around you. It's essentially a tuba designed to move around on the field. It has a slightly different sound and is easier to get louder because the bell is pointed right at the audience."
The Scotch Plains resident is studying for dual master's degrees in composition and trumpet performance, followed by a doctorate in composition from Mason Gross School of the Arts at Rutgers-New Brunswick. His goal is to perform, compose or arrange music professionally, but said he will always cherish his marching band memories.
"I think part of it is we go through so much together," said Marta. "Whether it's marching through a field in boiling heat in the summer or like the Wagner game this season in the '40s and pouring rain, we are trying to propel as much energy into the stands as possible. We have to band together and keep feeding each other energy."