Won is one of 18 scholars chosen for the competitive fellowship designed to enhance the understanding of Asia among potential American leaders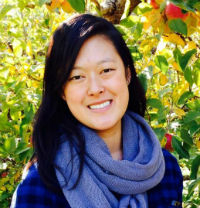 Diana Won learned early on during her undergraduate years at Rutgers University that she wants to be where the private sector and public policy meet to make good things happen.
A Fulbright student when she graduated from Rutgers' School of Arts and Sciences in 2011, the Closter, N.J. native is pursuing a master's degree in public policy at the Gerald Ford School at the University of Michigan. "In school, I'm focusing on international development and how the private sector can help drive some of the policy debates," Won says. Effective public-private partnerships and the alliances they create are among the best solutions to drive business while making sure business is not harmful to people, she says.
This year, Won will apply her academic experience in Asia. Won is the third Rutgers graduate in three consecutive years to be named a Luce Scholar, the Henry Luce Foundation announced. The competitive program – Won is one of 18 scholars chosen from among 156 candidates during a three-month, interview-intensive selection process – began in 1974 for potential American leaders to better understand Asia. The yearlong program provides stipends, intensive language training and individual professional placement in Asia. 
"The beauty of the fellowship is that there are a lot of options, and they work with you to find an individual placement," Won says.
The Luce Foundation works with The Asia Foundation to find the right fit for each scholar. "They really prepare people to get ready for their assignments – they spend up to two months on pretty intensive language training," says Arthur D. Casciato, director of the university's Office of Distinguished Fellowships. Luce seeks out scholars who do not have a lot of experience and knowledge of Asia, and they want them to be ready to get to work when they arrive for their assignments, Casciato says.
Rutgers' first Luce scholar in 2013 was Matthew Cortland, who was placed with the ASUS Corporation in Taiipei, Taiwan in his quest to gain technology skills to inform his educational career pursuits. Before becoming a Luce scholar, Cortland was a two-year Teach for America volunteer. Last year, Benjamin Chin was placed at the Thailand Institute of Justice in Bangkok. In recovery from addiction since he was 19, Chin has been committed since his undergraduate years at Rutgers to help others recover with the help of peer support programs around the world.
At Michigan, Won is working with the William Davidson Institute on a case study of Walmart's partnership with USAID on several initiatives, including efforts to help farmers and women entrepreneurs. The study will document how to build, scale and replicate similar programs, she says. She also is working with USAID to analyze its reach and use of social media to better meet its goals.
As a Rutgers honors student, Won majored in planning and policy at the Bloustein School of Planning and Public Policy, while minoring in Spanish and women and gender studies.  Working with Roland Anglin, director and associate research professor of the Joseph C. Cornwell Center for Metropolitan Studies, she focused on community and economic development. She interned at La Casa de Don Pedro in Newark, a community-based development corporation and social services provider, helping create a housing ownership guide for new families moving into housing. In addition to her grad school studies and outside projects in Michigan, she is working on a federal grant application for a neighborhood stabilization project for the agency's Newark community.
"While at Rutgers, I got to see what we learned in the classroom play out in a community organization," Won says. "There are a lot of opportunities at Rutgers. I definitely recognized that when I was there."
The Luce fellowship is yet another opportunity, one that arrived after leaving Rutgers. She is not sure where it will take her just yet in Asia, but Won says she is eager to work on either the private or public side of an Asian government to see what she has learned play out far away from her U.S. classrooms.