Longtime Spanish Teacher Follows in Footsteps of Three Sons Earning a Rutgers Degree
Nidza Bruno completes a master's degree at Rutgers-Camden she says has helped her stay hip to new technologies and teaching approaches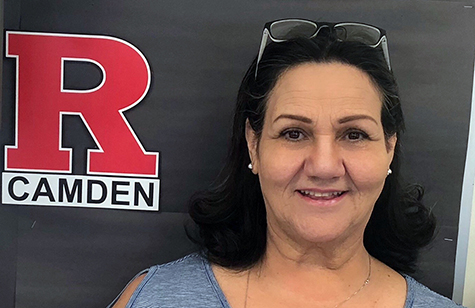 "A university like Rutgers-Camden has that feeling that no matter where you are the students are alive. I am very connected to this place; it's magic."

 

 

– Nidza Bruno
Thinking back to her earliest days as a teacher, Nidza Bruno has to laugh. You could say that she was wise beyond her years.
"I was the young girl in the neighborhood helping everyone with their homework," says the graduating Rutgers University-Camden senior. "And when it was time to take a break, we'd go on a field trip and watch cartoons."
Since those earliest days, the Bellmawr resident's desire to teach has always been coupled with her insatiable appetite to learn.
"Because that's what a teacher does – you want to know as much as possible and share what you know with others," says Bruno, a longtime Spanish teacher at Dr. Charles E. Brimm Medical Arts High School in Camden.
The lifelong learner and teacher will now celebrate her enduring, hand-in-hand pursuits as she graduates from Rutgers-Camden on May 17 with a Master of Arts in Teaching Spanish degree.
Bruno credits the master's program for helping her stay hip to new technologies and teaching approaches to deliver the subject matter and engage her students more effectively.
Today Bruno regularly utilizes multimedia tools to teach Spanish, such as video games to introduce grammar and vocabulary and group chat apps to stay connected with her students.
"For someone like me who has been teaching for so long, it's important to keep adapting to these new styles of teaching,'' says Bruno. "I could have all of the knowledge in the world, but if I don't have all the tools or the right approach, it's not going to mean anything to my students."
Things have changed a great deal since she began teaching Spanish in her native Guaynabo, Puerto Rico, in 1982, explaining that it was typical for students to read a book and be prepared to discuss the material in class.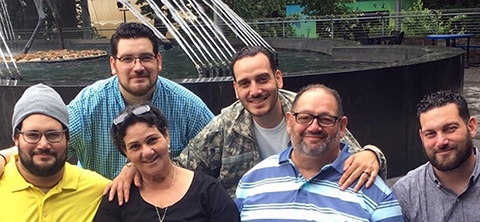 In 1994, Bruno relocated to Camden with her husband, Agustin, and their young sons, Agustin, Otoniel, Angel and Eduardo. Two years later, she started teaching Spanish at an elementary school level before transferring to the high school level shortly after.
As she adjusted to her new city, Rutgers-Camden became a home away from home. Bruno says she was drawn to the vitality of the campus as she and her young sons strolled the grounds and paused to sit on benches. All the while, she adds, she held out hope of one day returning to school and earning a master's degree.
"A university like Rutgers-Camden has that feeling that no matter where you are the students are alive. I could relate to that," says Bruno, who recalls seeing a blue jay for the first time on campus. "I am very connected to this place; it's magic."
In 2012, Agustin, an Army airborne veteran of the Iraq War, earned his bachelor's degree in Spanish from Rutgers-Camden. At his encouragement, mother and son began the master's program together.
"My sons would tell me that I could – and I should – do this – that I was the best teacher they have ever had," says Bruno, who joins three sons as Rutgers graduates. Angel graduated from Rutgers-Camden with a bachelor's degree in biology in 2009 and Otoniel earned a bachelor's degree in engineering from Rutgers-New Brunswick.
With the help and support of her husband, Bruno says, Rutgers-Camden was "my time to grow, to enjoy, and do what I wanted to do for my knowledge and my spirit." Among her most treasured experiences:  the opportunity to study Spanish at the University of Salamanca in Spain, one of the oldest and most esteemed universities in the world.
"I couldn't help but think of the many great writers who had attended this university," she says. "It was like walking on clouds."
Although she is now graduating, the mother, grandmother, wife and seasoned teacher – her personal greatest measures of success – is quick to point out that her days as a student are far from over.
"I am going to be a teacher and a student forever," she says. "I will never stop learning."