Rutgers' Wise Young and Army Capt. Boyd Melson fight to bring clinical trials to the United States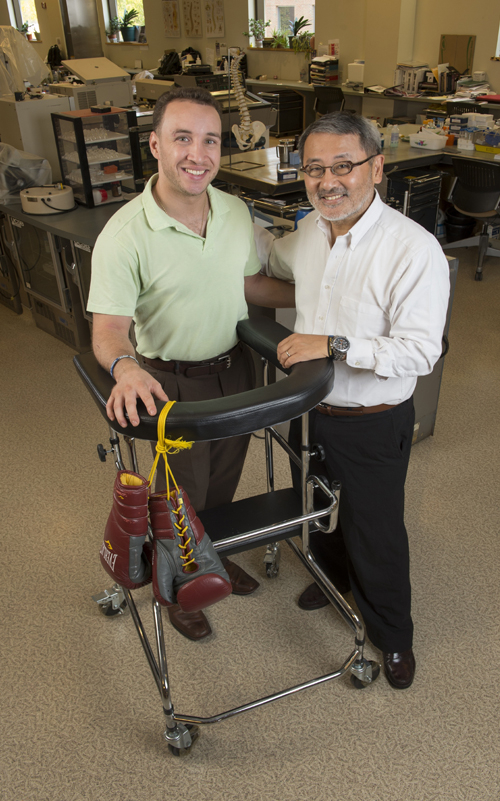 'Although I don't know what it is like when you push yourself and don't see results, I do know that if you quit, you'll never make your goal.'  – Boyd Melson
What would one of the world's leading researchers in spinal cord injury and a professional boxer have in common? Under normal circumstances not much.
But Wise Young, a Rutgers neuroscience professor who is searching for a cure for spinal cord injury, and Boyd Melson, a West Point graduate and Army captain who is dedicating his life and boxing prize money to help make this dream happen, are two men on the same mission.
"Wise is such a believer," says Melson, who met Young in 2005 with his then girlfriend and "forever soul mate" Christan Zaccagnino who became a quadriplegic at just 10-years-old after a backyard swimming pool diving accident. "I think I can help deliver this message and inspire a lot of different people to get involved in this fight."
The two men want to bring clinical trials from China to the United States – where 1.3 million people suffer with a spinal cord injury – by the end of next year.  Young has made close to 200 round-trips to China in the past decade. He has his sight on expanding the trials – in which stems cells from umbilical cord blood are injected into damaged spines of patients and lithium is used to help regenerate damaged nerve fibers – to Norway, India and the United States.
Young points to results in one of two China SCINet Phase II trials held in Kumming, the capital and largest city of Yunnan Province in southwest China, as a reason for hope.  While both groups of paralyzed patients in Kumming and Hong Kong received the stem cell transplant and lithium treatment, only those at the Army General Hospital in Kumming were involved in an extensive walking program that provided therapy six hours a day, six days a week for six months.
"Of the 20 patients transplanted, 15 are walking with minimal assistance, two are walking with no assistance and 17 patients are much better off than we thought they would be," says Young who will be publishing the research data this fall. "This was beyond our wildest expectations."
A staunch advocate of extensive physical and walking therapy for spinal cord regeneration, Young, the founding director of the W.M. Keck Center for Collaborative Neuroscience at Rutgers, thinks that Melson can add to the development of a walking program for the clinical trials he wants to bring to hospitals in New York, Philadelphia and New Jersey by researching various walking devices and adapting boxing exercises for potential use in physical therapy.
 "This is a guy who goes into the ring and gets punched and has trained his body to keep on going despite it all," says Young, who never saw a boxing match until he went to watch Melson fight a couple of years ago. "He is so enthusiastic and passionate and I believe he can help us develop the walking program we will need."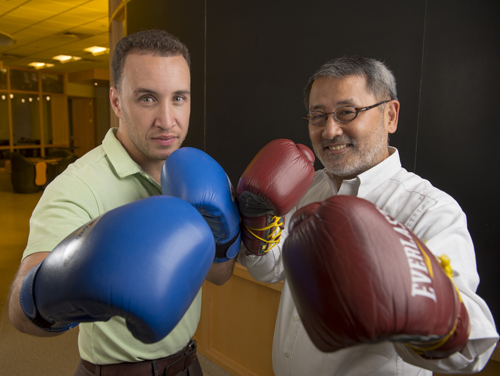 Melson, a former Olympic boxing alternate with an MBA, founded Team Fight to Walk in 2010 with his soul mate Zaccagnino to raise awareness of spinal cord injuries in the veteran and boxing communities. He works in conjunction with Just a Dollar Please, Young's nonprofit fundraising arm that is raising money to bring these clinical trials to the United States.
He also donates his boxing profits to spinal cord research. So far, this has amounted to about $230,000 after being matched, 2-1, by Johnson & Johnson, where he worked in sales before leaving last spring to devote full time to his professional boxing career. He is hoping that his message resonates with the boxing and veteran communities where thousands have been injured. His fans at ringside have included Academy Award winning actor Cuba Gooding Jr. and former NBA All-Star Larry Johnson.
Melson – whose next fight will be on Dec. 4 in Manhattan  – recently took on another role as a fellow with The Mission Continues, a nonprofit organization founded in 2007 by a Navy SEAL returning from Iraq. The organization offers post-9/11 veterans six-month fellowships to serve the community – allowing Melson to continue advocating for the spinal cord injury community by working with Young to select the walking devices needed once the clinical trials receive regulatory approvals.
"I really believe this is why I was put on this earth," says the 31-year-old optimist, who thinks that there will someday be a cure for spinal cord injury. "Although I don't know what it is like when you push yourself and don't see results, I do know that if you quit, you'll never make your goal."
Young is hoping that Melson's advocacy will continue to shed light on spinal cord injury research and attract donor dollars from those who support their efforts. It will cost about $150,000 for each person to enroll in clinical trials in the United States, he says, or about $6 million overall for 40 individuals to participate.
 "I want to convince doctors around the world that stems cells do something and that walking is a necessary part of the recovery," says Young, the Richard H. Shindell Chair in Neuroscience in the Department of Cell Biology and Neuroscience in the School of Arts and Sciences. "These clinical trials probably won't be the cure for spinal cord injury but they will provide us with a first shot."