Whether it's playing a round of Uno or Exploding Kittens, J.D. Bowers shuffles cards and socializes with students at Rutgers on Sunday evenings 
J.D. Bowers, dean of the Honors College at Rutgers University-New Brunswick, wanted to connect with his students outside of the academic realm.  
 
So, once a week for an hour or two, he puts all his cards on the table. 
The dean and a growing number of Honors College students gather most Sundays around 8:30 p.m. in Druskin Lounge for game night. They play Uno – a staple that Bowers said is easy to handle in a large group – along with other party games such as Blank Slate, Exploding Kittens, Joking Hazard, Ransom Notes and Taco Cat Goat Cheese Pizza.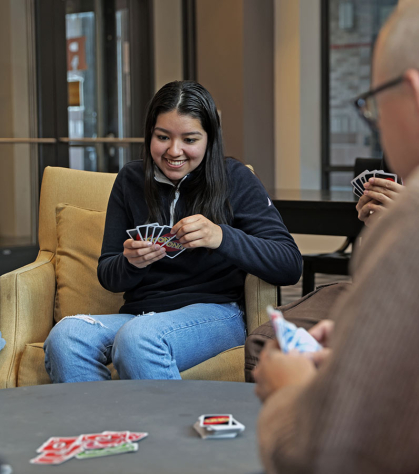 Bowers – who joined Rutgers in July – said this near-weekly event, which started in the fall with a handful of students, is catching on.  
"We've ended up with some game nights of 15, 16 of us sitting around playing," said Bowers, who lives at the Honors College along with students, including one who happens to be a card counter. "I've had to increase my number of Uno decks to three so that we have enough cards." 
The dean said the Sunday night activity is a time for casual conversation, a little meaningless competition, a channel to release stress, some life lessons – including "how to lose and be OK" – and camaraderie. The stakes are low (one night Bowers drove a group of winners to a nearby Wawa store) and the emphasis is all about fun, laughter and hanging out. 
"Plus, I get to hear about the comings and goings in the residence hall, give some academic and co-curricular advice when asked and keep my pulse on the minds and ideas of our youngest students," said Bowers, who added that game night is open to all Honors College students and has led to "the blending of several groups of friends into a much larger network."
Bowers said game night "is just a different way to decompress and not have to think about anything else other than, you know, 'What color am I going to call on my next Uno card?'" 
I think [Dean Bowers] unlocks the doors and then gives me the choice to open them.

Helene Horan

Honors College student
"I win, I lose, I draw just like everybody else – and we play it out," said Bowers, who has been known to wander the lounging areas to hand out candy and chocolate bars to the Honors College crowd. "And so that hopefully humanizes me. I hope it gives them the feeling that they can come to me with a lot of other things." 
Josh Ding, a first-year student who is studying cell biology and neuroscience at the School of Arts and Sciences, said he enjoys the camaraderie of game night and connecting with Bowers, noting the dean's "dad like" sense of humor. 
"It's just like a nice change," said Ding, who is from Queens, New York, and hopes to become a research physician. "You get to relax, sit down, have like a few rounds of Uno or any other game with the dean and some of your friends. You get to take a break from work." 
Helene Horan, a first-year Honors College student from Washington Township in southern New Jersey, joined game night because she was "looking for things to do around the Honors College and I've always loved board games."  
"There's this feeling of friendship when you're playing all the games," said Horan, whose favorite board games include Monopoly and Clue. "Everybody's bonding and competing in this really friendly way. I also like getting to know Dean Bowers." 
 
Horan, who is pursuing a double major in business management at the Rutgers Business School and English at the School of Arts and Sciences, said she appreciates the dean's efforts to connect with her and her peers. 
"I know that he lived in Hawaii for a time, and I've been learning how to speak Hawaiian, so it was nice to bond in that way," Horan said. "I know that he has a lot of friends around the country and in many different professions. He knows that what I want to do is own a bookstore, so he got me in contact with all these people he knows who own bookstores." 
Horan added: "I think he unlocks the doors and then gives me the choice to open them." 
Each year, Rutgers invites about 500 students to start their journey in higher education as members of the Honors College, located on the College Avenue campus. Through a shared experience focused on enriched academics and social impact, students from across disciplines live and learn together with the benefit of a network of support, including the Honors College staff, academic advisers, peer mentors and the faculty fellows, who also live at the Honors College alongside the students and the dean.  
The Honors College community features students from liberal arts and professional schools at Rutgers-New Brunswick, including the School of Arts and Sciences, the School of Environmental and Biological Sciences, the School of Engineering, Rutgers Business School, the Ernest Mario School of Pharmacy and the Mason Gross School of the Arts.