How Rutgers Alumnus James Gandolfini Changed Television
Rutgers remembers Gandolfini on the 20th anniversary of "The Sopranos" debut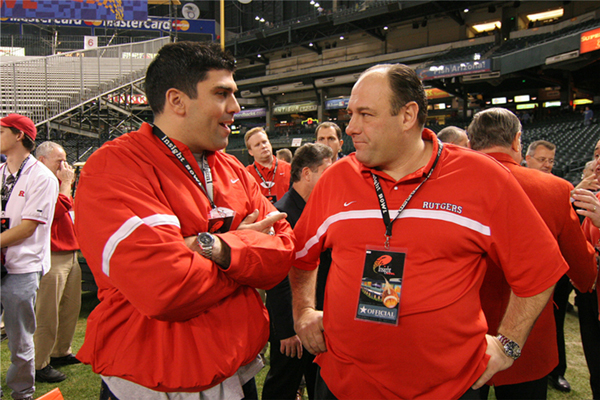 Twenty years ago, a man grudgingly showed up at a psychiatrist's office. And changed pop culture.
The patient was Tony Soprano, a TV character played by James Gandolfini – a 1983 Rutgers graduate, genuine Jersey guy and journeyman actor. The show was The Sopranos – which debuted on HBO 20 years ago this month.
Gandolfini, a dedicated Rutgers fan who could be spotted in the stands during football games at HighPoint.com Stadium during the height of his career, played a key role in transforming television and putting New Jersey, and his alma mater, on the map.
"Centering the show on a mob boss with mommy issues was an incredible innovation," says Jack Bratich, an associate professor in the Department of Journalism and Media at Rutgers' School of Communication and Information. "Watching him undergo psychoanalysis was an incredible development in pop culture – putting the sovereign protagonist into a position of vulnerability and submission, especially to a woman."
Gandolfini died of a heart attack in 2013 at the age of 51, but his legacy still looms large. Born in 1961, Gandolfini grew up working-class in Park Ridge. After he got his acceptance letter from Rutgers, he sat down at the kitchen table with his parents, wondering how to pay for it – and if he even wanted to go. He was a little scared, but he followed the lead of his two older sisters and attended Rutgers.
"Then I got there, and I thought, jeeze, 50,000 18-year-olds in one place – what the hell was I complaining about?" Gandolfini told me during one of the few times I interviewed him over the years. "This is great. I was around a lot of fun people and I had a ball. I had more fun than somebody probably should have."
Gandolfini was a communications major – and after graduation moved to Manhattan. One day he followed a friend to his acting class that was taught by a fellow Rutgers alumnus. "I was immediately interested and scared to death," he said. "So I ended up staying two years."
Rest in Peace, James Gandolfini. #Rutgers class of '83 and friend of #RFootball. Always part of #RFamily. pic.twitter.com/o3UlDPK1mE

— Rutgers Football (@RFootball) June 20, 2013
Of course, he was still intimidating as Tony Soprano – Gandolfini could loom sitting down. But he was smart enough to make Tony insecure, too, and painfully inhibited. Right from that first episode, it's clear Tony's full of feelings, but has no one to share them with.
And so, unable to be who he really is, Tony Soprano plays the part he's been assigned – the cold-hearted mob boss, the conscienceless killer. And, feeling miscast, he overcompensates, amping up the viciousness. If this is how the world sees him, then he will really give it something to watch.
Alan Sepinwall, a TV writer for Rolling Stone who cowrote a book with Matt Zoller Seitz about the show called The Sopranos Sessions, describes it as the most influential series since I Love Lucy.
"TV as we know it today wouldn't exist without Tony," says Sepinwall.
Or without Gandolfini, adds Seitz, who covers television for New York magazine and Vulture. He says the actor's own, unforced humanity was key to the series' success. "That made the show's attraction/repulsion dynamic possible," Seitz says. "Without a warm, appealing actor, it would have been all repulsion."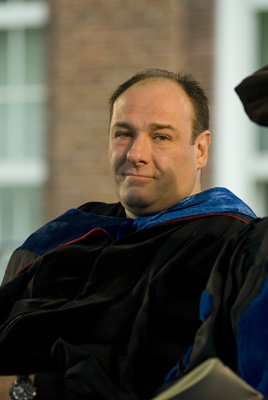 As his fame grew, Gandolfini maintained close ties to Rutgers. Soon after The Sopranos debut Gandolfini filmed a pair of commercials to promote the football program.
He was inducted in the Rutgers Hall of Fame in 2004 and served as honorary captain for Rutgers at the 2005 Insight Bowl, where he appeared at midfield for the pregame coin toss.
The push/pull dynamic that Gandolfini brought to The Sopranos was essential to the success of the show. Although The Sopranos thrived on bloody conflict, its greatest tension was internal. Screenwriter David Chase purposefully contrasted human characters and inhuman things, pulp thrills and arthouse style.
The writing led to a new kind of television, built around anti-heroes. But the performance is Gandolfini's own, complicated construction – an actor playing a character who is himself playing a character.
It made Gandolfini a star. It also had some critics hailing him as a sex symbol.
"Tony's a very passionate guy – he's passionate in everything he does," Gandolfini explained. "It's hard for people to let their passions go, but he does, and I think that's one of the things people find sexy about him."
Personally, however, Gandolfini – always wary of publicity – found the attention embarrassing. Sensitive about his looks, he typically made fun of himself before you could.
"The older I get, the funnier-looking I get, the more comedies I'm offered," he told me in 2012, a few years after The Sopranos ended.  "I'm starting to look like a toad, so I'll probably be getting even more soon."
His last lead role – a romantic one, in the wry comedy Enough Said, released posthumously – suggested some of the things he could have gone on to do, if he'd had the chance. We'll have to guess at the rest.
But we'll always have The Sopranos – a show that, 20 years after its premiere, 12 years after its infamous, final-episode cut-to-black, is still as vital, as violent, as essential as ever. 
---
Stephen Whitty is an entertainment writer who interviewed James Gandolfini as a movie critic for The Star-Ledger.