Helping Veterans Transition to Civilian Life
The director of the peer support network Vets4Warriors discusses challenges veterans face after leaving service – and how the public can help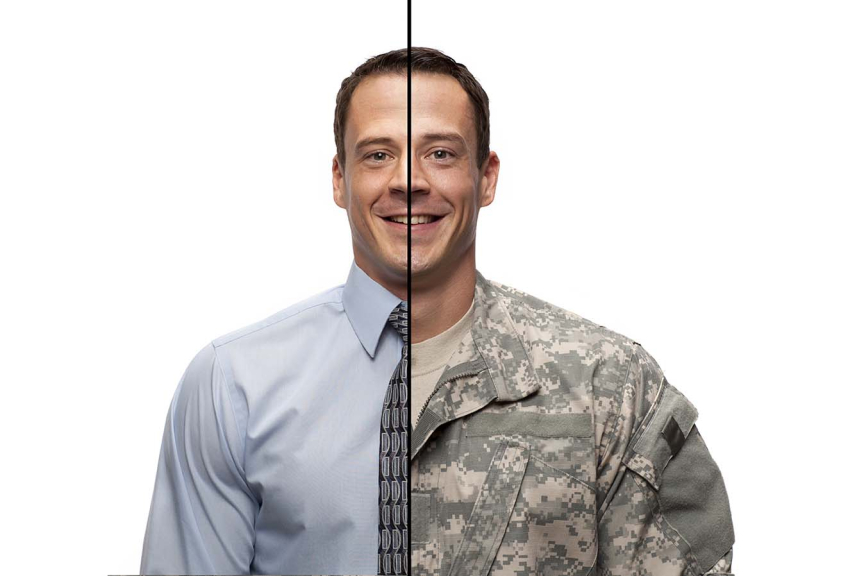 When people thank veterans for their service, they often are thinking of the commitment they made when they enlisted. They are less aware of the unique challenges veterans face transitioning from military service to civilian life. In 2016, there were 20.9 million veterans in the United States. Out of those, approximately 453,000 were unemployed, according to the Bureau of Labor Statistics. Returning veterans often find they have to reconnect and re-establish their roles with their families. They also struggle to obtain health care and navigate benefits.
Vets4Warriors – a confidential, national 24/7 peer support network for service members, veterans and their families operated out of Rutgers University Behavioral Health Care – helps ease this transition by providing solutions to physical, mental or social challenges before they turn into crises. Staffed by veterans trained in behavioral health, the network is available via phone (855-838-8255), live chat or text.
Rutgers Today spoke to Maj. General (ret.) Mark Graham, director of Vets4Warriors, about what the public should know about the challenges that veterans face – and how they can make the transition easier.
What are the main reasons people call Vets4Warriors?
Our peer support specialists make over 1,100 contacts each week with veterans, those on active duty and family members for reasons ranging from anxiety, loneliness, depression and post-traumatic stress disorder to financial and relationship issues. Often, callers just want to talk. Although we focus on peer support, we also connect callers to organizations that provide resources to help them get services such as health care, insurance, employment, housing and benefits. Our peers continue to follow up with callers for as long they need; we build relationships.
How are veterans uniquely positioned to help other veterans in need?
The military has a culture and structure that is different than the civilian world. There is a strong camaraderie and bond that forms in the military – whether a person has been deployed or not. When you're in the military, your unit becomes your second family. That bond is severed when people leave the service; our peer support specialists fill that role, providing an empathetic ear that can only be given by someone who has "been there."
Many veterans – whether they just retired from service or have been out for decades – have a difficult time disclosing that they are struggling because they do not want to appear "weak." However, when they call Vets4Warriors, they reach a peer who understands the culture and the connections made in the military. Since our conversations are confidential, outside of the military chain of command and answered immediately by a fellow veteran, we are able to establish an immediate trust. Peers don't judge or share what they are told; it all stays in the vault.
Whenever possible, we try to match callers to peers of the same gender and military branch. We also have military family members who can provide peer support to spouses and parents who are struggling with the demands that come with having a loved one who is serving or has just returned home.
Vets4Warriors is based on the Reciprocal Peer Support model, which was developed at Rutgers University Behavioral Health Care Call Center. The idea is that by helping callers, the peer support specialists likewise receive support back. They reinforce each other.
What challenges do veterans face when securing employment? How can civilians help?
Many veterans have never applied to civilian jobs; they must learn a whole new skill set – in short order. Creating a resume can be difficult. They don't know how to translate their military experience into civilian terms. They also are not used to listing their individual accomplishments; in the military, it's never "I," it's "we." Civilians can help by reviewing veterans' resumes to ensure they are presenting their skills effectively and in a way that can be understood.
Companies can be more attuned to how a veteran's experiences translate to the workforce. For example, the military builds leadership skills. A lot of responsibility is given to young men and women, which increases as they progress through the ranks. These leadership qualities as well as veterans' ability to be flexible and agile are skills that are important in the civilian workforce. Also, veterans have been trained to seek solutions from a variety of perspectives – another valuable skill. Once they are hired, companies need to understand that there will be temporary cultural and language differences. Helping the veteran employee adapt to the workplace and company culture will go a long way in retaining them longer term.
How can the public help ease the transition of returning veterans? 
Although veterans appreciate when people acknowledge their service, what they really want is to be given opportunities in the civilian world. Accept and welcome them into your community – where you live, work, worship and volunteer. Look for ways to engage them in your organizations; you'll find they are great teammates.