Groundbreaking Honors Paul Robeson's Legacy as Civil Rights Activist, Rutgers Scholar
University breaks ground on Robeson Plaza to celebrate 100 years since Robeson's 1919 graduation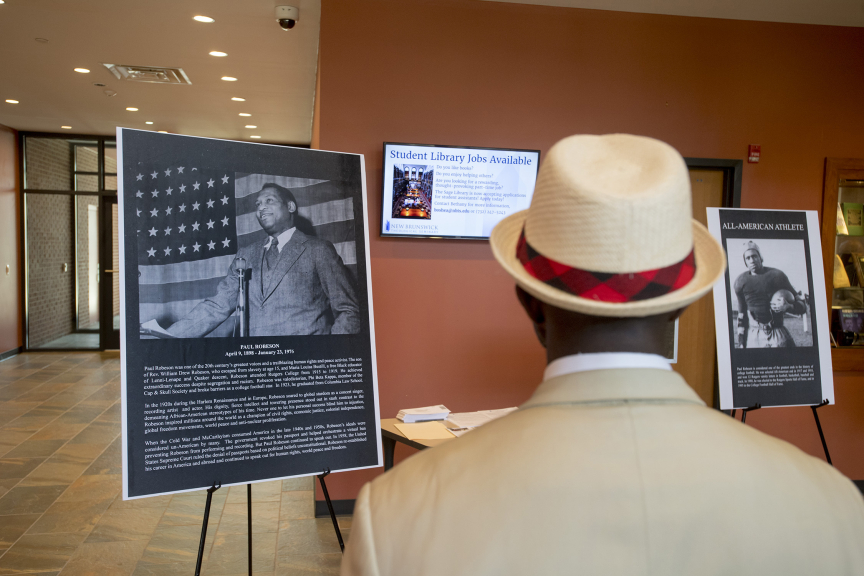 "This is someone who could have made a fortune, someone who could have been celebrated in every aspect of his life, whether as a professional athlete or a singer or a scholar, but he chose to be an activist, to stick up for causes that he believed in, although they were not popular at the time."

 

– President Robert Barchi
Paul Robeson, Rutgers University's most acclaimed alumnus, distinguished himself as a scholar, athlete and artist – but lived most deeply as an activist for civil rights and social justice. 
On Wednesday the university broke ground on the future Paul Robeson Plaza, which will open in April as part of a yearlong centennial celebration of Robeson's 1919 graduation. The plaza was conceived of and championed by the Class of 1971 for its 45th anniversary, with strong support from the Rutgers African-American Alumni Alliance.
Speaking at the groundbreaking ceremony, Rutgers University–New Brunswick interim chancellor Christopher J. Molloy noted that when he joined the university as a freshman in 1972, students knew Robeson as "a living legend who had no equal in accomplishment or authenticity as a Rutgers alum."
Rutgers' third African-American student and first football player, Robeson often found that success brought hardship and responsibility, but he continually created new opportunities to speak up for the rights of others, Molloy said.
Molloy noted that the Robeson Centennial will begin in January as "a year-long celebration of Robeson's achievement as a scholar, athlete, actor, singer and global activist" and will honor the civil rights leader by "weaving his vision into the fabric of our campus and community in ways that will echo and endure."
President Robert Barchi said the future plaza will be "part of the crossroads of the university, part of the center of the university," particularly following changes in the coming years that will establish it as an anchor of green space adjacent to the Voorhees Mall on the College Avenue campus of Rutgers-New Brunswick.
The son of a runaway slave, Robeson attended Rutgers College in New Brunswick on an academic scholarship.  An extraordinary athlete, he won 12 varsity letters in football, basketball, baseball and track. He was a two-time All-American in football who is in the College Football Hall of Fame. His scholarly accomplishments include being inducted to the Phi Beta Kappa Society and Rutgers' Cap & Skull Society. Fluent in many languages, he honed his oratory skills as a member of the Intercollegiate Debating Association. He delivered the commencement address to his graduating class.
After graduation, Robeson earned a law degree from Columbia Law School but decided to use his artistic talents in theater and music to promote African and African-American history and culture. Over nearly four decades, he achieved worldwide acclaim as a vocalist and actor on stage and screen. A towering figure in the African-American struggle for human dignity and democratic rights, Robeson connected that struggle with those of people around the world who were fighting for political rights, cultural recognition and economic justice.
Robeson's granddaughter, Susan Robeson, was unable to attend Wednesday's ceremony but provided remarks read by Felicia McGinty, Rutgers–New Brunswick's executive vice chancellor of administration and alanning. She said she hopes the Robeson Plaza will "shepherd generations of students to become global citizens who transcend boundaries and engage with the issues of peace and social justice in every corner of the globe."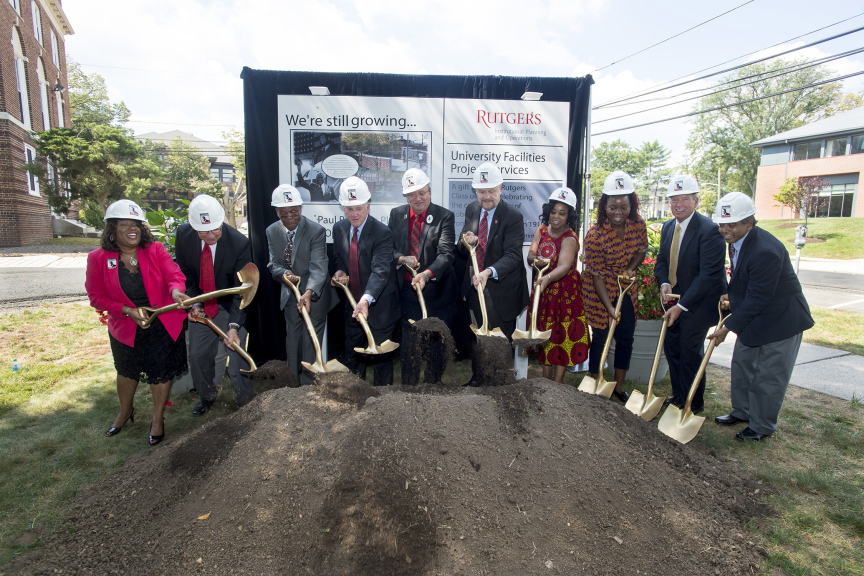 New Brunswick mayor James Cahill said at the ceremony that the city is launching its own Robeson centennial celebration with the opening this week of the renovated and expanded Paul Robeson Community School for the Arts. He also noted that city and community organizations are planning a new sculpture of Robeson that will stand at Feaster Park, and are initiating the public process of renaming Commercial Avenue as Paul Robeson Boulevard.
Barchi said he tells graduating seniors, "Don't just go out there and make a fortune. Make a difference." Robeson, he said, serves as an example.
"This is someone who could have made a fortune, someone who could have been celebrated in every aspect of his life, whether as a professional athlete or a singer or a scholar," Barchi said, "but he chose to be an activist, to stick up for causes that he believed in, although they were not popular at the time."