President Jonathan Holloway praises choice of Brian Bridges
Gov. Phil Murphy introduced Brian Bridges, the United Negro College Fund's vice president of research and member engagement, as his nominee to be New Jersey's new secretary of higher education during an event Friday at Rutgers University.
"Today marks the end of a nationwide search to find an individual who shares our vision, who is experienced and is fully committed to ensuring that a college education in New Jersey is not just available but accessible to all who want it," Murphy said.
At the United Negro College Fund (UNCF) in Washington, D.C., Bridges leads the Frederick D. Patterson Research Institute and the Institute for Capacity Building. He also leads the college fund's Career Pathways Initiative, a project funded by the Lilly Endowment, to improve job placement for graduates of historically Black colleges and universities and predominantly Black institutions. The UNCF is the nation's leading advocate for minority education, which provides scholarships and supports historically Black colleges and universities (HBCUs).
The governor said he made the announcement at Rutgers to signify the strong relationship Bridges will continue with the state's flagship university and colleges and universities across New Jersey.
Rutgers President Jonathan Holloway called Bridges a "fabulous choice" and said he is eager to work with him during these unprecedented times.
"These are critical days for New Jersey and for higher education, here and across the country," Holloway said, after welcoming the governor, Bridges and his family members to the physically distanced meeting at the Visitor Center on Busch campus. "I'm excited that Governor Murphy has selected a new partner for our institutions as we tackle the challenges we face both now and in a post-COVID world."
The appointment resonated personally with Holloway, who was excited to learn the state's likely next secretary of higher education was a key member of the UNCF leadership. Holloway's grandfather, William Trent Jr., was the first executive director of the United Negro College Fund. "This became a strange moment of ancestors speaking to me in really wonderful ways," Holloway said.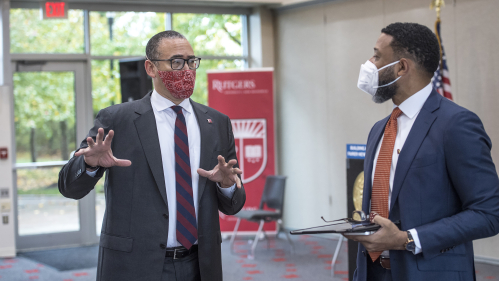 Before joining the United Negro College Fund, Bridges was vice provost for Diversity, Access, and Equity at Ohio University. Previously, he was associate director of the Center for Advancement of Racial and Ethnic Equity at the American Council on Education and has held various other roles, including associate director at the National Survey of Student Engagement. He will begin his new role on Nov. 16, pending confirmation by the state Senate.
Bridges talked about his grandmother, who instilled in him a love of learning and strong beliefs around education as a pathway to a better life. He said those beliefs also include a "commitment to facilitating equity on college campuses, a dedication to using evidence and data to drive institutional transformation and change and a dedication to mentoring students and enabling their success."
Bridges said he understands the pain students, their families and higher education institutions are experiencing throughout the pandemic, and he noted his experience helping HBCUs navigate the crisis will inform his role in New Jersey.
"I believe the lessons I bring with me from my prior experience will be instructive in helping institutions think through the coming months as they deliberate about how to best serve their students, keep them, faculty and staff safe, and chart a course toward the post-pandemic world."
Born in Brooklyn, N.Y., Bridges grew up in Beaufort, S.C. He earned his Ph.D. in higher education administration from Indiana University–Bloomington, a master of public administration degree from the University of North Carolina–Charlotte and a bachelor of arts in English language and literature from Francis Marion University.
"Making college affordable and accessible has been a hallmark of our mission," Murphy said. "And as we look to what New Jersey will look like post COVID-19, we know our institutions of higher education will play a huge role in making our state and our economy stronger, fairer and more resilient. Brian is just the leader we need to continue turning this vision into reality."