Ghana's President Speaks at Rutgers About Africa's Movement from Poverty to Prosperity
Pres. Akufo-Addo on Rutgers connections to Ghana and faculty efforts to tackle Africa's greatest challenges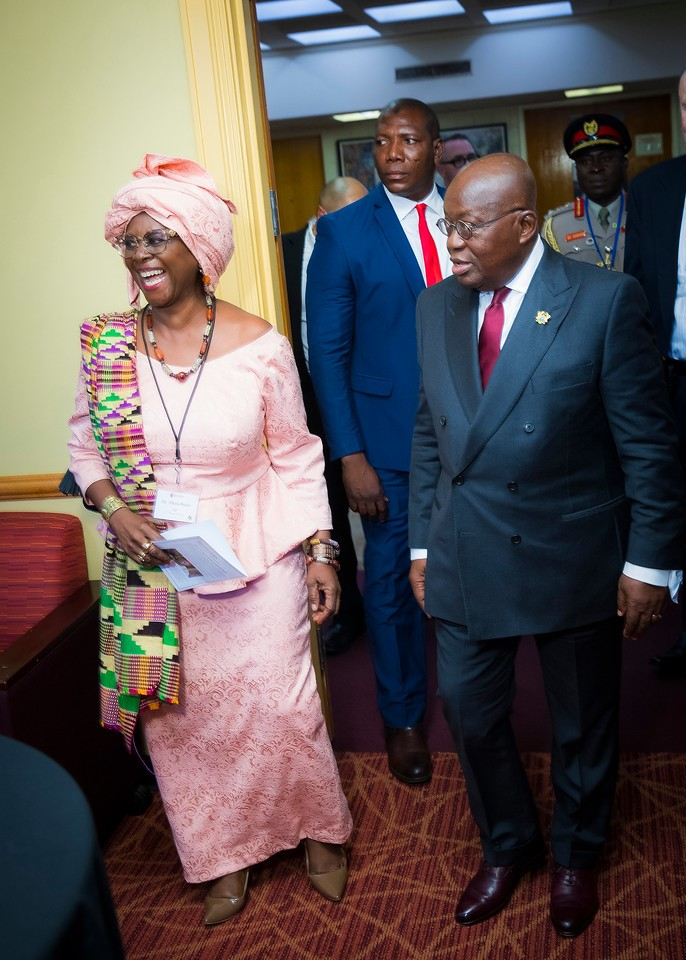 Although there is work to be done to address systemic social issues, it is time to focus on positive stories and celebrate Africans who have overcome great adversity, President Nana Akufo-Addo of Ghana said at the 2019 Chinua Achebe Leadership Forum at Rutgers.  
"We still need to build roads, lower unemployment, educate the population and provide clean water, but I also want people to see the beauty Africa has to offer," Akufo-Addo said during the event on Saturday hosted by The Center for African Studies, School of Arts and Sciences, Rutgers Global and the Christie and Chinua Achebe Foundation.
While calling 2019 the "year of the return," in which he invited people of the African diaspora to experience the continent firsthand, Akufo-Addo, on a visit to Rutgers University-New Brunswick, said discussions of Africa's challenges must also challenge the Western world's stereotypical image of Africa as a homogenous place of indistinguishable countries plagued by many problems.
"Africa has long (been subjected to) the narrative that all countries within it are masked together, and not as a whole continent filled with many separate countries, each with a different identity," Akufo-Addo said. "Throughout history in all cultures, the poor tended to be seen as a mass of people but rich are seen as individuals. Now is not a time to get angry at the images and videos of children in need in Africa. Now is a time to celebrate Africans who overcame great adversity."
Chidi Achebe, a founder of the Chinua Achebe Leadership Forum and son of Chinua Achebe, the acclaimed author and scholar whose novel Things Fall Apart is a milestone of modern and African literature, invited Rutgers to host this year's forum which honors the elder Achebe's life and work.
The speakers included Abena Busia, a Rutgers–New Brunswick professor of English and women's and gender studies, who is currently on leave while serving as Ghana's ambassador to Brazil, Kofi Appenteng, President and CEO of the Africa-America Institute, Hassana Alidou, Ambassador-at-large of Niger and Professor of International Education and Development, and Nana Marfo, a traditional Ghanaian Chief. Busia's father, Kofi Abresa Busia, served as Ghana's prime minister starting in 1969, helped restore civilian government following military rule, and was exiled in 1972 following a military overthrow.
Busia said that, following her father's exile, she and her mother sought safety in a hospital in Paris. There, for the first time, she met Akufo-Addo, then a 27-year-old human rights lawyer.
"I didn't know where my father was or if I would ever see him again, and all this sophisticated man did was invite me to lunch and it became a magical afternoon. He had the quality of great leader then, and he knew how to restore hope and to do so one funny story at a time," Busia said, noting that Akufo-Addo started out as its attorney general and minister of foreign affairs before becoming president. "Akufo-Addo was an advocate of democratic rule when there was no such thing."