Forbes Names Rutgers Among New Jersey's Best Employers
University is also a top 100 best large U.S. employer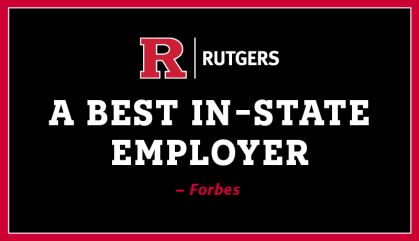 Forbes named Rutgers a top employer in New Jersey – alongside Apple, Johnson & Johnson, Wegmans, H&R Block, Princeton University and other major organizations operating in the Garden State – on its latest list of America's Best Employers by State.
As one of New Jersey's largest employers, Rutgers boasts a workforce of over 22,000 professionals. Rutgers employees work in nearly every area of expertise, from research and faculty scholarship to accounting, facilities management, marketing, dining services, event management, transportation and much more.   
Nationwide, Rutgers is also ranked #64 of 500 employers on Forbes' 2023 list of America's Best Large Employers.
"We are proud to once again be recognized by Forbes as one of New Jersey's – and the country's – premier employers," said Vivian Fernandez, the university's senior vice president for human resources. "Rutgers continues to be dedicated to workplace excellence. We have a highly skilled and experienced workforce that is committed to delivering on the promise of academic excellence, an outstanding student experience, and the highest quality of patient care to the communities we serve."
Fernandez noted the university continues to offer flexible work arrangements, competitive compensation, a rich benefits package, and many opportunities for career growth and development.
"We strive to make Rutgers a welcoming, inclusive and rewarding place to work by engaging and listening to our employees. We look forward to continuing our efforts to make Rutgers a top choice for existing and prospective employees."
To compile the list of the Best Employers by State 2023, Forbes and its partners surveyed full- or part-time employees in each of the 50 states and the District of Columbia who work at companies with more than 500 workers nationwide. The survey asked participants whether they would recommend their employer to others and to evaluate their employer on criteria including working conditions, diversity, compensation packages, potential for development and company image.
The final list ranks nearly 1,400 employers that received the most recommendations from the survey.