Working as a domestic violence prevention specialist, Mariam Salih saw her hours plummet when the COVID-19 pandemic struck and schools closed. The timing couldn't have been worse. She would soon start an unpaid internship for her master's degree at Rutgers School of Social Work, and she worried about covering basic expenses.
Then came welcome news: Salih was chosen to receive the Sheryl Lanman Nichols Memorial Fellowship with a stipend of $2,000. "The fellowship was a saving grace for me," said Salih, now a New Jersey licensed clinical social worker.
Salih graduated from the School of Social Work in 2021, the year the fellowship reached $100,000 and achieved endowment status. That means it will continue providing annual stipends in perpetuity from interest on the investment. More than 600 people have contributed to the fund.
"I think Sheryl would be thrilled," said Nichols' mother, Sandra Lanman. Nichols had struggled financially to put herself through graduate school, especially while doing unpaid fieldwork, Lanman said.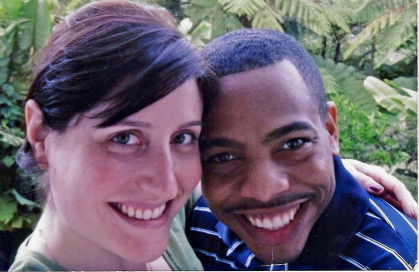 After earning her master of social work (MSW) from the School of Social Work at Rutgers-New Brunswick in 2010, Nichols devoted her career to counseling victims of domestic violence. Nichols was diagnosed with breast cancer in 2012, a month before her marriage to Justin Nichols. She had the BRCA gene mutation and died in 2015, at age 34.
The fellowship supports MSW students as they complete a yearlong internship in domestic violence counseling. Recipients are in the School of Social Work's Violence Against Women and Children certificate program.
"It makes me happy to empower students with the same type of heart and calling that Sheryl had," said her lifelong friend, Marissa Broman, who graduated from Rutgers-New Brunswick alongside Nichols in 2003 and has been a generous donor to the fund.
Broman whispered the idea for a fellowship in Nichols' ear as she went in and out of consciousness days before her death. "I hope she was comforted to know she would be remembered and the work she'd done would carry on," Broman said.

"Without the stipend, it would have been impossible for me to do my field placement," said Lia Stone, the first fellowship recipient. Stone is blind and had to take a train from New Brunswick to Hamilton, and then catch a ride with a colleague or pay for an Uber to get to Womanspace Inc. in Lawrenceville. "I was shelling out a lot of money, and I don't come from money," she said.  "The fellowship was incredibly helpful."
All five recipients have done their domestic violence counseling internships with Womanspace, where Nichols worked after earning her MSW. The Rev. Susan Victor, director of counseling and support services at Womanspace, said they have done excellent work. The internship runs an entire academic year, with the first month spent training and shadowing the six full-time counselors. Interns begin screening callers and then get their first client, chosen by Victor. They eventually manage a caseload of five clients during their three days a week, she said.
"The work requires a higher level of knowledge and skill because the clients have experienced trauma," Victor said. "Domestic violence is all about someone gaining power and control over someone else. We don't tell our clients what to do. Our primary goal throughout our work with them is to make sure they are safe."
Stone, who completed the internship during the 2016-17 school year, said she grew up in a home where abuse occurred and recalled how challenging it was to hold her tongue while working with her first client. She listened and helped the client develop a safety plan. Eventually the client decided to leave her abusive partner.
"It was so gratifying when the lightbulb would go off for a client, and they realized they deserve better," Stone said. The 32-year-old now works with blind and visually impaired high school and college students, helping them prepare for jobs and careers.
Salih, 31, had never done one-on-one counseling with a client before the internship. "It was amazing," she said, noting she got to use her native language, Farsi, because Mercer County is so diverse. Salih is applying for jobs in domestic violence counseling.
Nichols had worked at Women Aware, a domestic violence nonprofit serving Middlesex County, after college graduation. Fluent in Spanish, she started the nonprofit's first bilingual support group, Lanman noted. During graduate school, Nichols conducted research with the school's Center on Violence Against Women and Children (now the Center for Research on Ending Violence). She also volunteered with the Domestic Violence Response Team in New Brunswick, said Lanman, who retired as Rutgers University director of media relations in 2011.
Lanman credited Lavinia Boxill, now vice chancellor for advancement at Rutgers-New Brunswick, with setting up the fellowship so quickly. That allowed the family to request donations to the fellowship in lieu of flowers in Nichols' obituary, she noted.
"It is truly humbling that Sheryl's family and friends – in the midst of their grief – sought to honor Sheryl's legacy by providing financial support to students who share her commitment to survivors of domestic violence," Boxill said. "We are proud to partner with them in these efforts." 
"Sheryl's family and friends are making an impact that ripples throughout the Rutgers community: they're supporting survivors of domestic violence while also helping ease students' financial burdens," added Patricia Findley, director of the MSW program. "This is especially meaningful for social work students who often graduate with student loan debt that matches or exceeds their starting salaries."
Stone said she has kept in touch with Lanman since she received the fellowship. "I hope it's meaningful for her to see I am out here able to do all these cool things, and that all stemmed from the initial gift in her daughter's memory," Stone said.