Rutgers' first senior vice president for equity is uniquely prepared to inspire change across the university
Enobong (Anna) Branch can pinpoint the moment she decided to switch lanes from studying medicine to education.
She was a third-year biology major at Howard University with plans of becoming a doctor when she learned her old high school – a Christian school her father founded in the Bronx – was struggling.
"That school was a vehicle to show that children like us could succeed, despite the poor reputation of some public schools in the Bronx, where more kids went to jail than to college," said Branch, whose father emigrated from Nigeria and mother was born in the Bronx but whose family hails from Antigua. "I realized I knew tons of Black people I could call on who were going to be fabulous doctors and lawyers. But I didn't know as many who were going to be educators and would ensure kids like mine succeed."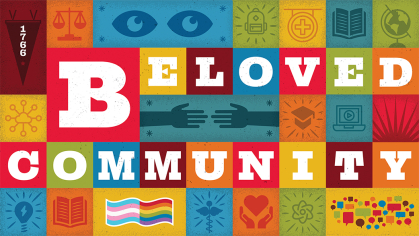 Nearly two decades later, that same sense of duty – to ensure others can access an equitable education similar to the one she received – drives Branch as Rutgers' first senior vice president for equity.
President Jonathan Holloway promoted the sociology scholar and author, who also manages the division of diversity, inclusion and community engagement at Rutgers University-New Brunswick, to her new role in August. Branch's first order of business: lead the University Equity Audit Holloway commissioned to identify areas for improvement and the next steps to make Rutgers a national leader in diversity, equity and inclusion. The results, published in the report "In Pursuit of Excellence," rated the university's efforts between fair and good when it comes to incorporating best practices.

There is work to do, said Branch. While Rutgers' attracts diverse students, that diversity is not represented in every lab, lecture hall and classroom. Boosting efforts to recruit, retain and promote diverse faculty and staff would help change that, she said, by ensuring different experiences and perspectives are represented and equally valued across the institution.
"Having diversity in and of itself is important. But for students, being a diverse university isn't enough if they experience injury or tokenization," she said. "It's not a judgment. It's more of an acknowledgement. Let's all recognize this is the start of the race. How do we want to run it?"
Branch brings a unique perspective to her role. Her scholarly focus on historical and contemporary racial inequality informs her day job as senior vice president, which she calls "applied sociology."
Further, unlike many Black and brown children in predominately white schools, she said she did not experience stereotyping, bias or tokenism as a student. Growing up going to a high-achieving private school that was almost exclusively Black and brown, then attending Howard University for her undergraduate study, excellence was expected. She was aware of and explicitly taught about racism in education, but it didn't characterize her academic experiences.
That changed when she taught as a graduate student at the University at Albany and later as a sociology professor at the University of Massachusetts Amherst, where she was associate chancellor for equity and inclusion and chief diversity officer.
"It wasn't until I became a faculty member when I thought, 'Oh, this is different,'" said Branch. "My students started bringing up situations and experiences to me."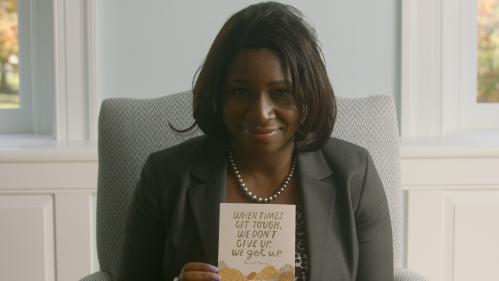 Anna Branch Shares Her Inspiration
As a mother, she strives to raise her daughters, ages 11 and 7, with a strong sense of self and worthiness to counteract the messages they receive from the world around them. Instead of bringing her girls along with her to a Black Lives Matter march on the New Brunswick campus this summer, they drew a brightly colored picture in her driveway. For now, she and her husband, a chief product officer for an AI startup, are keeping conversations with them about this historic social justice movement light.
"As a parent of Black girls, I decided they have the rest of their lives to be angry about how little their lives can be worth," said Branch. "I want to give them a rare moment of value and worth and centeredness. In my world, you are valued, you are seen and you are heard."
The totality of Branch's lived experiences – as a student who escaped bias, as a faculty member whose students did not and as a mother to children who will one day feel the weight of this global movement's origins – all shape her strategies for addressing inequities and changing perceptions at Rutgers.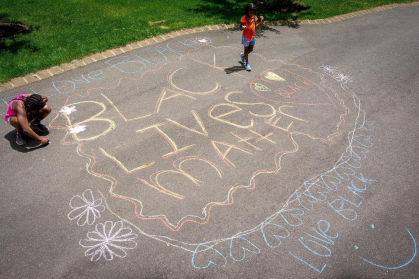 "There are frustrations at Rutgers. People see individual acts of commitment and think, 'The president is committed, but I don't know if Rutgers is committed. That coworker is focused, but is the institution?'" she said. "What would it take for people to believe Rutgers is committed to these ideals and that those instances where it is not working are the exception, not the rule? That is a very high charge, but that is the aspiration."

Rolling up her sleeves looks different during a pandemic. Right now, that means focusing on digital engagement, launching the new universitywide diversity website and social media accounts on Instagram, Facebook and Twitter to highlight the institutional commitment to diversity and showcase how that manifests across all campuses. She is planning group discussions with students, faculty and staff to inform the diversity strategic planning process, which the equity audit called for. But as much as social distancing presents obstacles, this moment of social reckoning provides clarity as she pushes the needle forward on advancing equity and minimizing bias at the university, whether implicit or unintentional.
"This moment is hard but really useful because I don't have to convince people we should be talking about this. I'm not saying something foreign," Branch said. "If you are alive and paying attention, you know we are in a fragmented and deeply divisive moment."
Inspiring institution-wide change across three very distinct locations can be an all-consuming and incredibly personal job. To stay balanced, Branch said she leans on her faith and focuses on "finding joy" every single day. That comes easiest when she is just being Mom.
"My kids are very centering. My oldest is more perceptive. She'll say, 'Mom, how was your day?' Whereas my younger one doesn't care how important you are or who you spoke to, she just wants me to know 'I'm hungry!'" laughed Branch. "It is grounding. The work can be daunting, but when I walk in the door and my little one says, 'Yeah, whatever, I need a shoe box for a school project,' it keeps work in perspective. She is always my invitation to let go and play."