Douglass Residential College Kicks Off 'The Power of 100 Years' Celebration
Beginning Monday, Douglass Residential College will celebrate a century of leadership in women's education at Rutgers-New Brunswick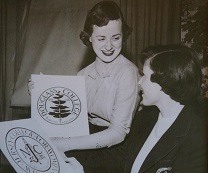 Douglass Residential College, a women's undergraduate program within Rutgers University-New Brunswick and America's only residential women's college housed within a comprehensive public research university, will kick off a yearlong centennial celebration on Monday, September 18.
Starting at 6:30 p.m., the event will offer a historical tour, food, games and exhibits, and an opportunity to help create the centennial banner with Douglass alumnae, students, friends, faculty and staff.  Rutgers University President Robert Barchi and Douglass Residential College Dean Jacquelyn Litt will give remarks on the schools success as a sustainable model for women's higher education.
"Women in the 21st century are poised to have unprecedented influence on the course of world affairs. Their education is essential to securing a future of peace, prosperity and well-being," Litt said. "The 100th Anniversary celebration of our college reminds us of this remarkable opportunity – to respect the legacy and to advance our history of creating women leaders."
Douglass was founded in 1918 as the New Jersey College for Women to stand alongside Rutgers College, which at the time was a men's only school. It was renamed Douglass College in 1955 to honor its founding Dean, Mabel Smith Douglass, and then became Douglass Residential College in 2007. 
Today, the college includes 2,400 women drawn from Rutgers-New Brunswick's undergraduate population, representing a wide variety of majors, career paths, and backgrounds.  Douglass prides itself on offering a "small college atmosphere and curricular and co-curricular programs that support students' success and leadership," Litt said.
The New Jersey State Senate and the New Jersey State Assembly celebrated Douglass with a Resolution this year, acknowledging the College's historic focus on supporting women in science, technology, engineering, and mathematics majors. Academic enhancements such as mentoring, leadership groups, and themed and language based housing, were also recognized for contributing to the intellectual growth of Douglass students.  
The "Douglass: The Power of 100 Years" centennial celebration will continue throughout the year with special events, speakers, art exhibits, film screenings, traditional events, and the release of a book on the college's history.
Through its 100th Anniversary website and social media accounts – Facebook (Douglass Residential College on Facebook and @RUDouglass on Instagram and Twitter – will be updated with  historic photos throughout the year. The centennial's official hashtag  is #Douglass100.