The Douglass experience gave Devin Ward access to programs and stipends that allowed her to expand her passion for archeology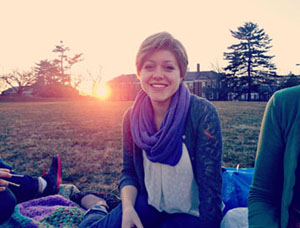 'We have so much to gain from studying these bone fragments. It can change the way we see ourselves.  It can help us understand who we are today.'

 

– Devin Ward
When Douglass Residential College student Devin Ward digs into a pile of bones, she does it with an appetite for understanding the human condition and the way we have evolved biologically and culturally.  Whether she is searching ancient ruins in Italy or in the woods behind her home in Greenville Junction, ME, Ward, an aspiring anthropologist, is eager to assemble the bones she uncovers and learn from them.
"We have so much to gain from studying these bone fragments," she says.  "It can change the way we see ourselves.  It can help us understand who we are today."
The honors graduate received her Bachelor of Science degree in Evolutionary Anthropology this May with a concentration in bio-archeology.  She is headed to graduate work at Cambridge University where she hopes to examine medical collections of human skeletal remains and possibly work in Malta.
"I came to Rutgers from a small high school," she says – The Maine School of Science and Mathematics, Limestone, ME, a magnet charter school for students gifted in the areas of mathematics and science.  "I realized immediately that I needed to find a niche that could give me the tools I needed to make myself at home," she recalls.  "I found it at Douglass."
The Douglass experience, she says, gave her access to programs and stipends that allowed her to expand her passion for archeology.  For example, freshman year, she assembled more than 1100 ancient animal bones and fragments, which led to an internship at the New Jersey State Museum and resulted in her paper Something Old , Something New: Analysis of the Faunal Remains from the Middle Woodland Site of Pennella, Ocean County, NJ published in the Rutgers Science Review.
In her senior year, she won a Douglass Project STEM Summer Stipend that paid her way to an archeological dig in Italy where she uncovered the grave of a 3 year old, buried hundreds of years ago in the corner of a Roman villa.  She assembled the bone fragments of the undersized child who died of an unknown cause.
That experience led to the development of a poster called Nobody Puts Baby in a Corner: Analysis of a Post-Occupation Juvenile Interment in a Roman Villa from Vacone, Italy, which Ward presented at the biennial meeting of the American Association of Physical Anthropology in Calgary, Canada this year and at Douglass' Poster Session last fall.
"At Douglass they tell us, 'If you want to do it, you can do it,''' she says.  "Then they practice what they preach."