University DanceWorks touring company moves online to expand recruitment efforts
"Zoom fatigue" is not a phrase in Kim Elliott's vocabulary.
In fact, Elliott, a member of the Mason Gross Dance Department faculty, has endless enthusiasm for the platform, and online teaching in general, as a way to inspire others.
"Ever since we started becoming this virtual world, I [have seen] that there's opportunity and lessons and blessings," says Elliott, who is completing her first year on the dance education faculty. "I felt like we had a major opportunity to promote what we do at Mason Gross Dance and change things up this year—breaking outside of our norms and using this beautiful virtual platform for something good."
Elliott is the co-director of University DanceWorks, the touring student dance company of Rutgers founded in 1985 by faculty members Margery Turner and Patricia Mayer. Until last year, when the pandemic halted in-person interactions, a group of juniors and seniors embarked on a tour each spring to area high schools—most with a dance or performing arts program—to perform and meet with students to talk about the Rutgers dance program.
This spring, however, Elliott and DanceWorks co-director Nathalie Jonas led the company on a 30-stop virtual tour that, in addition to visits in the tri-state area, took them to schools in Georgia, North Carolina, and Texas, thanks to Elliott's connections through her network of dance educators.
Because many of these high schools do not have a dedicated dance program, students may not be aware of the opportunities in dance education, Elliott says, especially the many options available at Rutgers, including a BFA major, BA major and minor, and studio and theoretical dance studies courses for non-major and non-minor students.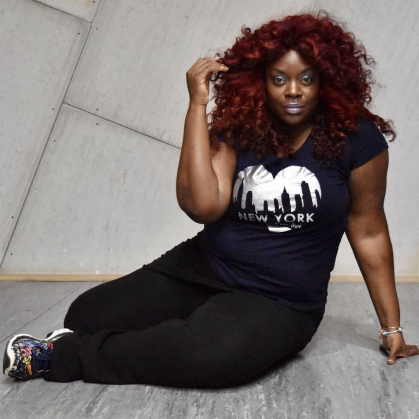 "There are students out there who want to dance, but they're not sure what that looks like," says Elliott. "Some kids don't know that they may not have to get a BFA degree [to] still dance. Maybe they major in something else, or double-major. Students may not recognize how far they can go in dance."
During the virtual visits, Mason Gross students presented films, known as screen dances, that included themselves performing choreography by Elliott and fellow faculty members Pam Tanowitz and Chien-Ying Wang. Students also led choreography master classes centered around themes including social justice, community engagement, gender identity, and hip-hop and other cultural dance forms.
José Lapaz-Rodriguez, a fourth-year BFA student, and his group created a lesson plan focused on practices to benefit mental and physical wellness, including yoga and meditation, journaling, and improvisation techniques. They also taught students about vogue, a modern American dance style with long-standing roots in the Black and Latinx LGBT community.
It's important for us to be a lot more open and see what comes our way and how that will benefit our students as well as the students coming to our school. If we're only targeting a specific type of student, we're missing out on all of this amazingness that's happening.

Kim Elliott
The goals of the lesson plan were to create a daily practice that younger students could use to improve their awareness of mind and body, as well as illuminate the ways that dance can "stretch out your frustrations and emotions, to truly feel where you are and who you are," says Lapaz-Rodriguez, who practices vogue in New York City.
"Dance is a tool that everyone can access [to] feel what freedom is," Lapaz-Rodriguez says. "There wasn't much self-reflection or practice for individuality when I was in high school…[so] I feel accomplished to teach practices that some of us have did not have access to."
Fourth-year BFA student Cassidy Rivas and her group presented on the theme of individuality, an idea that Rivas recognizes is not always popular in high school.
"We wanted students to find value in what they offer in a class and acknowledge all parts of who they are," Rivas says.
Adding in lesson plans this semester allowed Mason Gross students to think about educating and sharing their knowledge as dancers, scholars, and advocates, Elliott says, as well as strengthening the role of University DanceWorks as a recruitment tool.
"It's important to empower our students' voices so they can inspire other students to be empowered using their voices," Elliott says. "That's important for other, younger students to see, because they may be inspired and may say, 'Maybe I want to go to a school that allows me to do that.'"
Expanding visits to new schools and potential students is a personal mission for Elliott, a self-described advocate and ambassador for dance who grew up in the New York City public school system without access to formal dance education.
"If I had known about a program like Rutgers—where you may minor in dance, but you can major in something else, or major in dance and minor in business—I might have said, let me focus on this school," says Elliott, who earned her undergraduate degree in marketing and communications.
Even when recruitment visits return to more in-person interactions, Elliott sees the increased outreach that University DanceWorks has implemented as the standard moving forward.
"It's important for us to be a lot more open and see what comes our way and how that will benefit our students as well as the students coming to our school," Elliott says. "If we're only targeting a specific type of student, we're missing out on all of this amazingness that's happening."