Project is collaborative effort of Rutgers, Johnson & Johnson and city of New Brunswick
NEW BRUNSWICK, N.J. – A grassy acre of vacant land on the border of Rutgers' Cook Campus will be transformed into a two-times-weekly fresh produce market catering to the nutritional needs and tastes of residents in the surrounding neighborhoods, thanks to a collaborative effort by Rutgers, Johnson & Johnson and the city of New Brunswick.

The
New Brunswick Community Farmers Market
is being launched this week at the intersection of Jones Avenue and Sandford Street with the support of a grant to Rutgers by Johnson & Johnson. The health care products manufacturer, whose world headquarters are located in New Brunswick, has long been a supporter of community-based initiatives that help to improve the health and well-being of residents. A grand opening ceremony will be held at the market located at 178 Jones Ave. at 2 p.m., Friday, July 10.
Watch video of the market's grand opening.
The market, operated by Rutgers' School of Environmental and Biological Sciences and the New Jersey Agricultural Experiment Station, will provide local residents the opportunity to buy local, affordable and nutritious produce in a convenient location. The market also will provide programs on nutrition and food preparation, along with activities for children.
The effort embraces the mission of the university's Rutgers Against Hunger initiative, which was established by President Richard L. McCormick last fall to address the issues of hunger and food scarcity through education, research and civic engagement.
"Thanks to the generosity of Johnson & Johnson and the support of the city, this collaborative effort makes it possible to address multiple needs by providing local residents with access to fresh, healthful foods, as well as to nutrition information that can have long-term impacts on their health," McCormick said. "The market represents the positive role that public-private partnerships can play in their communities."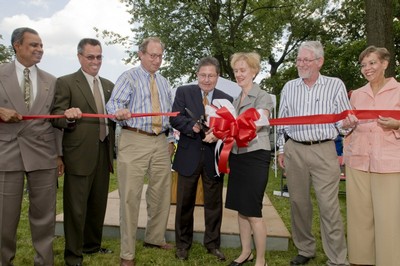 "One of the goals of the Farmers' Market is to provide affordable, culturally appropriate nutritious fruits and vegetables and nutrition education to help influence healthy lifestyle choices," said Colleen Goggins, worldwide chairman, Johnson & Johnson consumer group and executive committee member. "This initiative continues a long partnership Johnson & Johnson has had with Rutgers and the city of New Brunswick to assist the local community and its residents."
Speakers at Friday's grand opening will include Goggins and McCormick as well as Douglas Fisher, New Jersey secretary of agriculture; Yvette Jackson, Mid-Atlantic regional administrator, U.S. Department of Agriculture  Food and Nutrition Service; New Brunswick City Councilman Jimmie L. Cook Jr.; and Robert Goodman, executive dean of the School of Environmental and Biological Sciences. Free, reusable grocery bags will be offered to the first 500 customers who visit the market.
According to William Hallman, director of the Food Policy Institute, who spearheaded Rutgers' effort to create the market, the Community Farmers' Market was conceived to serve neighborhoods that have limited access to a variety of nutritious fresh foods and food education.
"It will be a place where people can buy both familiar "Jersey Fresh" fruits and vegetables as well as more exotic produce essential to the diverse cuisines enjoyed by city residents," said Hallman. "It will also be a family-friendly gathering place for the community, where local farmers, artisans, and craftspeople can sell their goods, and a place where people can taste new foods, learn new recipes, and buy the ingredients to make them at home."  For those who don't have time to cook for themselves, a variety of fresh ready-to-eat foods also will be available at the market.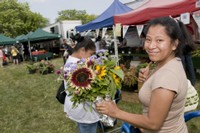 Consumer educators with Rutgers Cooperative Research and Extension will be on hand to provide information and instruction to reinforce healthy eating habits, economical food budgeting and food safety practices. The market also will connect with the newly formed New Brunswick 4-H Club and will offer cooking demonstrations by nutrition experts from the Department of Family and Consumer Sciences and graduates of the culinary program at Elijah's Promise. Recipes, printed materials and instruction will be in both Spanish and English.
The market will be open on Tuesdays from noon to 5 p.m. and Fridays from 2 to 7 p.m. through September. The market will accept SNAP (Food Stamps), WIC, and coupons from the Senior Farmers Market Nutrition Program (SFMNP).
#  #  #
About Rutgers, the State University of New Jersey
Established in 1766, Rutgers, The State University of New Jersey, is America's eighth oldest institution of higher learning and one of the nation's premier public research universities.  Serving more than 50,000 students on campuses in Camden,
Newark and New Brunswick, Rutgers offers more than 280 bachelor's, master's, doctoral and professional degree programs. The university is home to 27 degree-granting schools and colleges, and more than 150 specialized centers and institutes.
About Johnson & Johnson
Caring for the world, one person at a time…inspires and unites the people of Johnson & Johnson. We embrace research and science - bringing innovative ideas, products and services to advance the health and well-being of people. Our approximately 119,000 employees at more than 250 Johnson & Johnson companies work with partners in health care to touch the lives of over a billion people every day, throughout the world.
Media Contact: Sandra Lanman
732-932-7084, ext. 621
E-mail: slanman@ur.rutgers.edu