The last time Rutgers heard its name called during the NCAA tournament selection show in 1991, its current head coach Steve Pikiell was also watching as the senior team captain for the UConn Huskies. He and his teammates were poised to earn their second straight berth after an 11-year drought under Naismith Hall of Fame head coach Jim Calhoun.
To be the person to lead Rutgers men's basketball 30 years later, as the team ends its NCAA drought during a difficult chapter in history, adds weight to this special moment for Pikiell and the players. Not only did Rutgers compete in the toughest league in NCAA history per the metrics, but the Scarlet Knights have also spent the season navigating the COVID-19 pandemic, which led to the heartbreaking cancellation of the tournament last year.
"This has been a two-year journey," said Pikiell. "Last season simply stopped. This year has been so challenging in so many ways. I'm just happy for all our guys. They made the sacrifices and put in all of the work."
"That disappointment turned into hunger," said junior Ron Harper Jr. "It added fuel to the fire and made us want to do it again."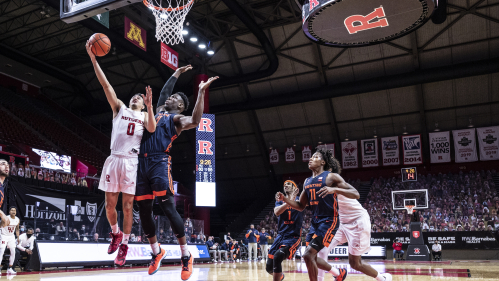 Pikiell remembers how it felt decades ago, when he was in the same position as the Scarlet Knights were on Sunday waiting to find out their standing in the tournament.
The Huskies had won six of its final eight regular season games to overcome a six-game losing streak and were confident the team would receive an at-large bid, but nothing is ever done until it is. Pikiell recalls a measure of relief when UConn finally saw its name displayed as the No. 11 seed in the Midwest Region. Its prize? A first-round match-up with an LSU team featuring Shaquille O'Neal in Minneapolis.
"We were really excited to see LSU's name paired with ours," said Pikiell. "The legend of Shaq was only just beginning, but everyone knew who he was. He was just huge. We were a big underdog and we welcomed that challenge."
O'Neal scored 27 points and grabbed 16 rebounds in the meeting at the Metrodome, but UConn shut down the rest of the LSU roster in a 79-62 win.
The Huskies parlayed that momentum into a victory over Xavier two days later to set up a Sweet 16 meeting with a legendary Duke team featuring Grant Hill and Christian Laettner in Detroit.
"Bobby Hurley guarded me and was absolutely relentless," said Pikiell. "It was a very physical game and we battled, but they were just loaded."
Duke advanced to beat previously undefeated UNLV in the Final Four before winning its first of consecutive NCAA titles.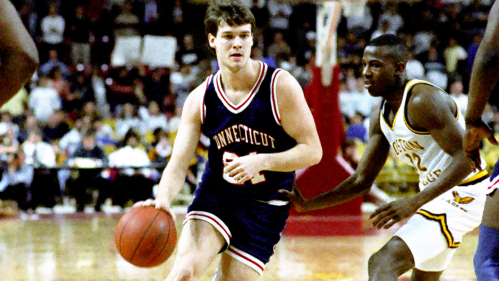 Despite the loss, and the one the season before to the Blue Devils in the NCAA Tournament, Pikiell regards the experiences as invaluable. Those mental illustrations underscore the positive impact college basketball can have and the effect he can have coaching it.
"Playing in those NCAA Tournaments were some of the greatest experiences of my life and I really wanted our players to have that. It creates lifelong memories and attachments. It's just special. I told our team that the more that you win, the better it gets."
Last year the coronavirus robbed the Scarlet Knights of their chance to make history with a first tournament appearance in decades. The team not only persevered since then, but it also often thrived. While many peer programs experienced shutdowns, the Scarlet Knights dutifully adhered to stringent guidelines to play all scheduled games. Rutgers earned its best Big Ten finish and rose to No. 11 in the national rankings playing a schedule that was the seventh most difficult nationally.
The social distancing measures were necessary, but difficult, and sometimes contributed to an isolated existence. In response, the team further invested itself academically and earned a 3.481 term grade point average in the fall to boost its overall cumulative GPA to 3.236. The year's senior class is poised to graduate as the most accomplished in program history, with 12 Big Ten All-Academic awards among them.
"Rutgers is an amazing university with great people and tremendous resources," said Pikiell. "You don't win in a league like this without a commitment from your leadership. I'm just proud that our team has represented the university the right way."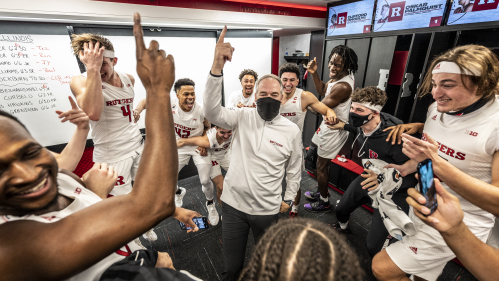 This past Sunday, the official team travel party of 34 people was situated in a suite at the Indianapolis Motor Speedway. Although every expert predicted that Rutgers was safely in the field, you're never in until you are. With his team seated and him standing, Pikiell watched his players emit the excitement and tension that was still so familiar from 30 years ago.
While announcing the third of four regions in the latter half of the show, the word "Rutgers" appeared. At that point, all were standing and cheering. Given the long and winding road it took to get to this point, the irony of experiencing it at the world's most famous racetrack only made sense.
"When we saw our name called it was everything we dreamed about, everything that we had been waiting for," said senior team captain Geo Baker. "Having all of your work finally pay off elicits a lot of emotion."
Rutgers is seeded No. 10 and plays No. 7 seed Clemson at 9:20 p.m. (ET) on Friday from Bankers Life Fieldhouse in a game to be televised nationally on TBS. The winner will advance to meet the winner of the No. 2 Houston and No. 15 Cleveland State game on Sunday.
"This team made history, but it certainly isn't done," said Pikiell. "The first thing I asked them was, now what are we going to do with this opportunity?"
During a virtual media availability shortly after the selection show, Baker, one of the team's five seniors, provided a response.
"We're all winners and we came here to win," he said. "Now we're in a tournament of winners."