Christopher Molloy Becomes Rutgers-New Brunswick Chancellor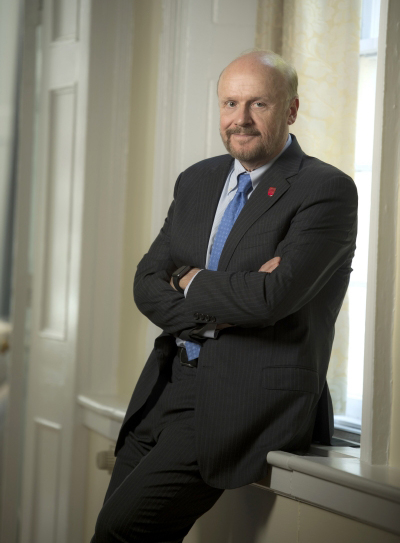 Christopher J. Molloy was appointed chancellor of Rutgers University–New Brunswick after having served since July as interim chancellor, University President Robert L. Barchi announced.
"Dr. Molloy is a strong and steady leader who brings a deep understanding of the institution to every discussion about its future," Barchi said. "He has embraced the challenges of the chancellorship and has expressed a forward-looking vision that will, among other things, increase Rutgers-New Brunswick's public prominence, provide a clear financial plan and expand internships and related opportunities for students."
Chancellor Molloy said, "I am humbled and honored to lead Rutgers University–New Brunswick and would like to thank President Barchi and the Board of Governors for entrusting me with the responsibility to lead an academic and research powerhouse. I am an alumnus who knows the value of a Rutgers education, and a scientist who is inspired every day by the transformative research and insight that comes from our faculty. I will do all I can to continue making the Rutgers flagship an example of what a 21st-century public university can be for the residents of New Jersey, the nation and the world."
Molloy discussed his varied perspectives of Rutgers – as a former student, faculty member, dean and administrator – in recent conversations with Rutgers Today and Rutgers Magazine.
From 2013 until his appointment as interim chancellor, Molloy served as the university's senior vice president for research and economic development. His responsibilities included oversight and strategic planning for the university's more than $700 million in annual research expenditures and management of the many institutional offices and resources that support Rutgers' research and economic development activities.
"Dr. Molloy has expressed a vision that will increase Rutgers-New Brunswick's public prominence, provide a clear financial plan and expand internships and related opportunities for students." - President Barchi
Under Molloy's leadership, the Rutgers Office of Research and Economic Development (ORED) expanded the university's research innovation through patents, start-ups and the transfer of technologies to industry, including advanced internal translational research support in the life sciences and other critical research areas. ORED also works closely with other New Jersey universities, as well as various state and county organizations, to promote economic development, increase public-private partnerships and attract new jobs to New Jersey.
Molloy joined Rutgers in 2007 as dean of the Ernest Mario School of Pharmacy in New Brunswick. In 2011 he was appointed interim provost for biomedical and health sciences and successfully led the complex integration of Rutgers with most of the former University of Medicine and Dentistry of New Jersey in 2013.  Molloy then served as interim chancellor of the newly created Rutgers Biomedical and Health Sciences until joining ORED.
Molloy earned his bachelor's degree in pharmacy from Rutgers and his doctoral degree from the joint Rutgers Graduate School of Biomedical Sciences at Robert Wood Johnson Medical School/Graduate School-New Brunswick. He was a postdoctoral fellow at the National Cancer Institute.
Prior to joining Rutgers, Molloy held senior research and management positions at Johnson & Johnson, 3-Dimensional Pharmaceuticals Inc. and Bristol-Myers Squibb Pharmaceutical Research Institute. At Rutgers he holds a faculty position as Distinguished Professor of Pharmacology and Toxicology and is a member of the Rutgers Cancer Institute of New Jersey, the American Association for Cancer Research, the American Society for Biochemistry and Molecular Biology, and the American Pharmacists Association. He was elected as a Fellow of the American Association for the Advancement of Science in 2016.