Graduates of the Classes of 2020 and 2021 endured unexpected challenges as they finished school during a global pandemic that transformed their lives and time at college. This weekend Rutgers University-New Brunswick and Rutgers Biomedical and Health Sciences welcomed recent graduates back to celebrate the success of this resilient group. Here are some highlights of the celebrations in pictures.
Doctoral Hooding Ceremony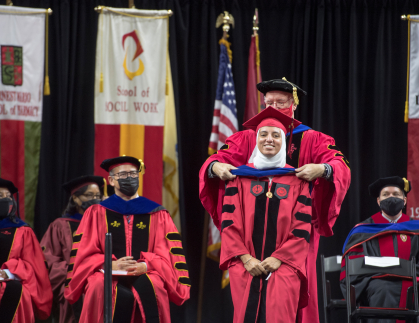 Mark Robson, Board of Governors Distinguished Service Professor and Distinguished Professor of Plant Biology in the School of Environmental and Biological Sciences, performs the hooding ceremony for doctoral graduates at the Rutgers Athletic Center.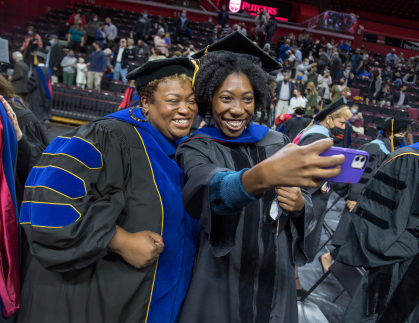 Brittney Cooper (left), associate professor in the Department of Women's, Gender, and Sexuality Studies in the School of Arts and Sciences, poses for a selfie with Alexandria Smith after the doctoral hooding ceremony.
Old Queens Welcome Reception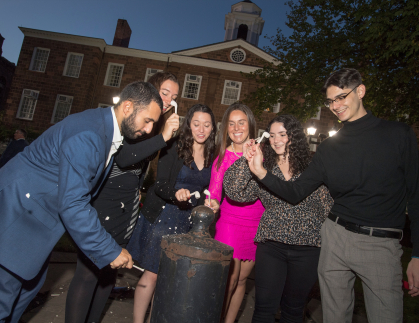 The Rutgers University Alumni Association held a welcome reception on the lawn of the historic Old Queens campus, giving graduates an opportunity to participate in some favorite traditions including the breaking of clay pipes over the Class of 1877 Cannon, symbolizing the breaking of ties with the university.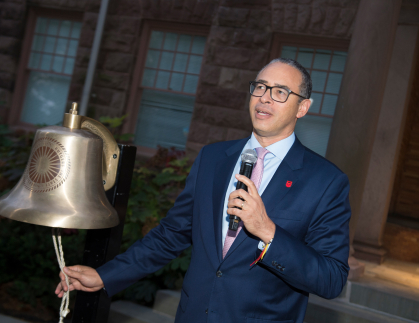 President Jonathan Holloway rings the Red Lion Bell, a replica of the original bell gifted by Rutgers' namesake, Colonel Henry Rutgers, during the welcome reception at Old Queens.
A Late Knight Celebration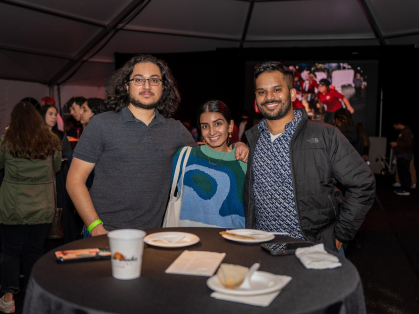 The Division of Student Affairs–New Brunswick held a special Senior Days Late Knight Event to give old friends a chance to reconnect.
What a Knight! We were excited to welcome back the Classes of 2020 and 2021 for a Late Knight full of friends and unforgettable memories. @RutgersSA (1/2) pic.twitter.com/C46RIfTuNB

— Rutgers University Student Centers and Activities (@RutgersUSCA) October 23, 2021
Graduate School of Education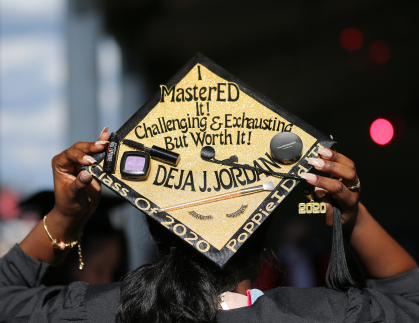 The weekend's events shared some similar traditions with the conventional commencement ceremonies including students showing off their creative mortarboards during the Graduate School of Education ceremony on Saturday. Here is Deja Jordan celebrating her success.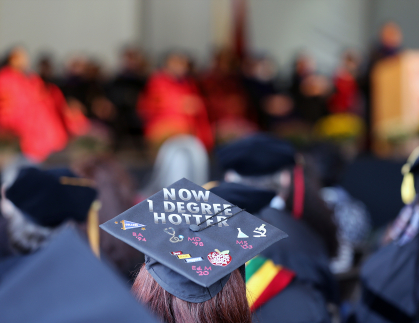 Some other creative mortarboards.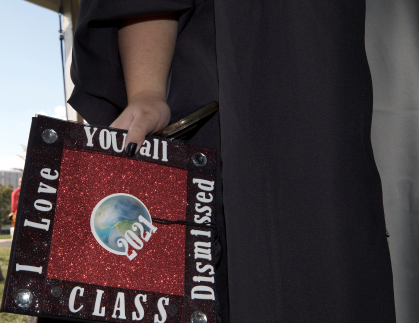 Edward J. Bloustein School of Planning and Public Policy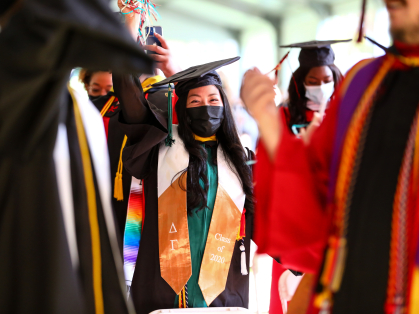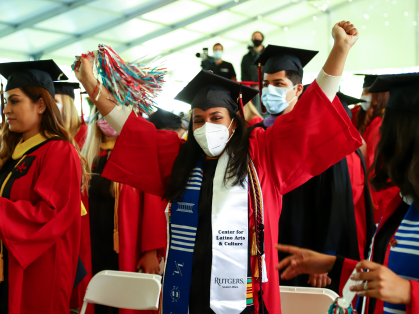 Students celebrate after degrees were conferred during the Bloustein School celebration.
School of Arts and Sciences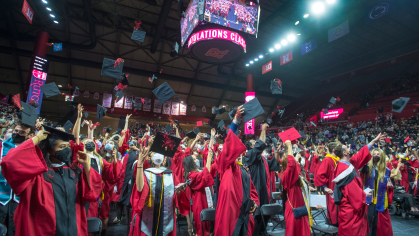 Graduates of the Classes of 2020 and 2021 tossed their caps at the conclusion of the School of Arts and Sciences ceremony at the Rutgers Athletic Center.
"We have a unique story that bonds us together. We have experienced our final semesters during a pandemic" ---- SAS Celebration Speaker Ngozi Okafor, speaking today at the RAC to @RutgersU classes of '20 and '21. pic.twitter.com/IgNIyIzBO4

— Rutgers SAS (@RutgersSAS) October 22, 2021
Snoop Dogg Joins the Celebration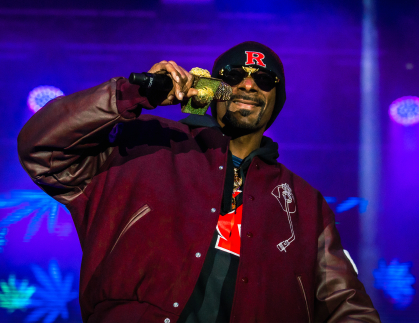 Snoop Dogg headlined a concert for recent grads and current students at SHI Stadium on Saturday night.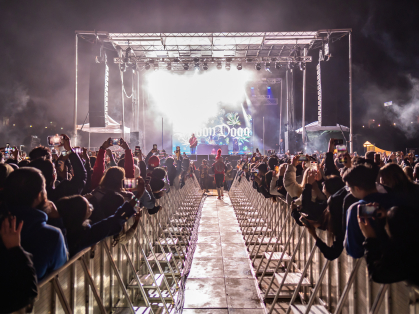 Excitement filled the stadium when Snoop Dogg appeared on stage.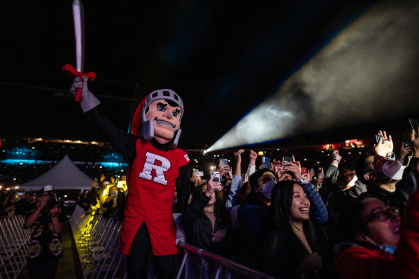 The Scarlet Knight joined in the celebration.
Look who got to meet Snoop Dogg:
Ain't nothin but a ☕️ thang babyyyy @SnoopDogg @LeGrandCoffee pic.twitter.com/RGj2Kbi7X1

— Eric LeGrand (@EricLeGrand52) October 24, 2021
School of Nursing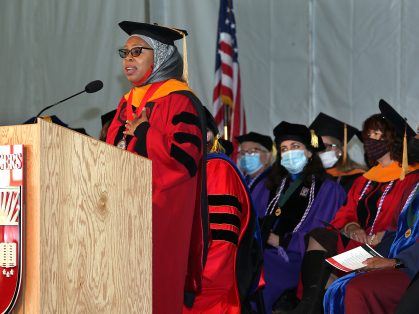 "In this particular moment, when nursing, medicine, and other health sciences are taking a critical look at how our practices perpetuate social inequality and lead to adverse health outcomes, we have to use every single tool in the box to ensure that we give our patients the care that is appropriate for their needs, regardless of race, sexual orientation, gender identity, socioeconomic status, education level, language, immigration status, zip code, or any other socially-constructed determinant of health,'' Candice Elam, recipient of the Stanley S. Bergen, Jr., MD, Medal of Excellence, said in an address to her fellow graduates during the School of Nursing Ceremony.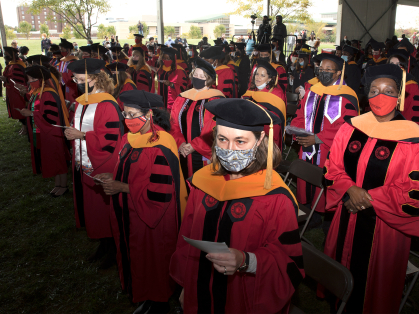 Recent graduates celebrated their achievement on the Livingston lawn on Sunday.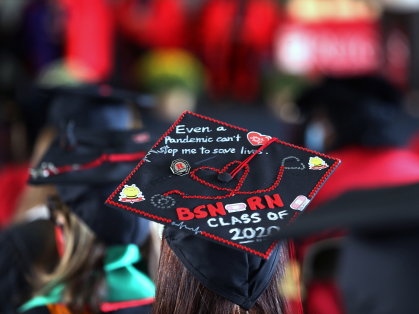 Nurses from the Classes of 2020 and 2021 shared their determination and love for their jobs during the ceremony.