Celebrating the Life of Paul Robeson
Rutgers is honoring Paul Robeson's legacy as a scholar, athlete, actor, singer and global activist in a yearlong celebration to mark the 100th anniversary of his graduation. Check back with Rutgers Today throughout the year as we present a special series chronicling Robeson's life and his influence on generations.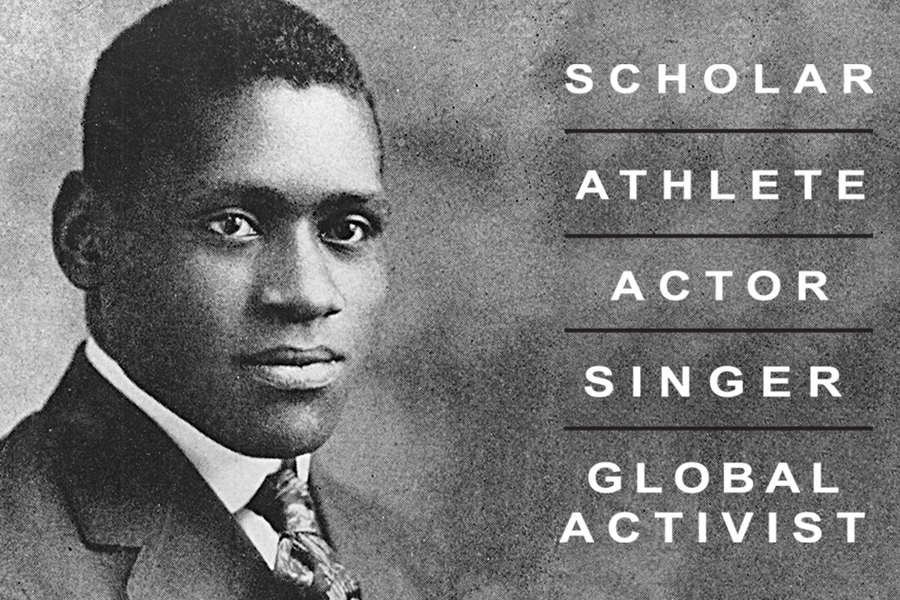 In June 1919, in his last public appearance at Rutgers College before graduating, Paul Robeson stood before the audience assembled at the Second Reformed Church in New Brunswick to deliver the farewell commencement address, which he had entitled "The New Idealism." Standing at 6'3", the 21-year-old opened his speech by thanking recent World War I veterans for forging a "new American spirit," one in which people of all backgrounds could succeed, so long as they worked hard.
The "less favored race," however, couldn't do it alone, Robeson added, speaking in the bass-baritone that would become world famous. He appealed to the more privileged to help "relieve the manifest distress of your fellows" so as to realize the primary "task of civilization – the achievement of happiness and the institution of community spirit."
Spoken decades before the civil rights movement, by only the third African American ever to attend Rutgers, which had recently celebrated its 150th anniversary, Robeson's words may have seemed naïve.
But his optimism had been buoyed by his experience at Rutgers where he thrived, despite facing overt and subtle racism, as student and athlete, relying, in no small part, on his exceptional charisma.
"I think he did have a goal of overcoming obstacles and barriers and building a better America – more multiracial and egalitarian and allowing opportunity for everyone," says Wayne Glasker, an associate professor of African-American and 20th-century U.S. history at Rutgers University-Camden.
What Robeson couldn't have imagined was just how difficult achieving that goal would be. Nor could he have envisioned, on the occasion of the centennial celebration of his graduation from Rutgers, that people worldwide would remember him as a pioneer of the stage and screen as well as a champion of civil and workers' rights – uncompromising convictions that would cost him personally and professionally.
Robeson was born on April 9, 1898, in Princeton to William, a pastor and former slave, and his wife, Maria, a teacher. The youngest of five children, he lost his mother to a house fire at age 5 and later moved to Somerville where William led the St. Thomas A.M.E. Zion Church. Robeson often sang there, revealing his innate talent, but it was at Somerville High School that he blossomed as a student and athlete.
"I think he did have a goal of overcoming obstacles and barriers and building a better America – more multiracial and egalitarian and allowing opportunity for everyone." – Wayne Glasker
In 1915, he enrolled at Rutgers after acing a statewide written exam entitling him to a four-year scholarship to the college. Over the next four years, Robeson earned more than a dozen varsity letters in four sports, most notably football, where he was Rutgers' first African-American player and first All-American. He also sang solos with the glee club, excelled at debate, and was admitted to both Phi Beta Kappa and Cap and Skull for his exceptional academic achievement. He even found time to make money by singing in private concerts off campus.
But his college years were also marred by racism. Robeson was often brutalized by white players on the gridiron, by his own teammates initially and by opponents throughout his career, and he was denied access, Jim Crow-style, to social events. Still, his attitude, at least publicly, was one of congeniality and humility, attributes that made him popular. In 1919, the Rutgers "class prophecy" predicted he would be elected New Jersey's governor by 1940 and become "the leader of the colored race in America."
Robeson headed in that direction by earning a law degree at Columbia University and then joining a white law firm. But after a stenographer refused to take dictation from Robeson, he turned instead to performing, which he'd been doing part time while living in Harlem. Beginning in the 1920s – a time when he married Eslanda Goode, with whom he had a son – Robeson embarked on a decades-long career in which he traveled the world to sing Negro spirituals and folk songs and to act on stage and in films. Among professional milestones were his performances, for both stage and screen, in Show Boat, playing Joe, the stevedore who famously sings "Ol' Man River," and in Eugene O'Neill's Emperor Jones. He also packed theaters, in England and the United States, as Othello, opposite all-white supporting casts – which was a source of controversy.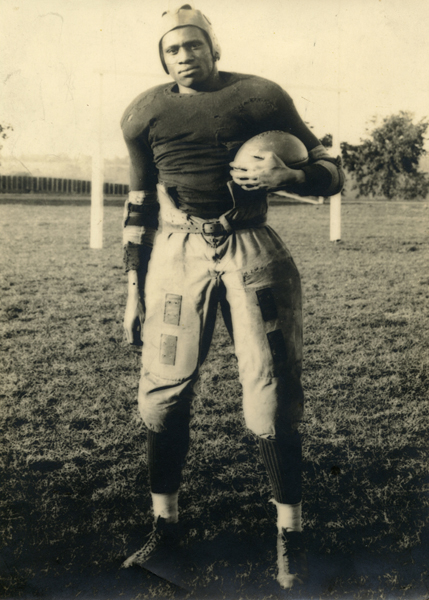 Paul Robeson was Rutgers' first African-American player and first All-American.
(Photo: Special Collections and University Archives)
---
Even more so were Robeson's politics. In the early 1930s, he joined the chorus of socialists and progressives who were fighting for causes of justice and equality. He also visited the Soviet Union and found it devoid of racism. Robeson, whose favorable attitude toward the nation led to suspicions that he was a Communist, stepped up his agitation for pro-minority policies as he grew increasingly impatient with the slow pace of change. During World War II, he called for integrating military personnel and, following the war, ending the heinous practice of lynchings.
His activism eventually cost him his livelihood. During the 1950s, work in the States dried up for Robeson, and his passport was revoked, cutting off previously reliable revenue abroad. The sticking point, as noted by the U.S. Department of State and the House Un-American Activities Committee, was that he refused to sign an affidavit stating he was not a Communist. Political party affiliation, Robeson argued, was irrelevant and asking for it was unconstitutional. In 1958, the Supreme Court concurred and finally, after eight long years, he was able to renew his passport and earn something of a living.
By then, Robeson's health was waning and his reputation stateside was ruined. After his wife died in 1965, he moved into his sister Marian's house in Philadelphia, where he lived as a virtual recluse until his death in 1976. Ironically, articles in Sports Illustrated and Ebony magazines were helping to restore his reputation at the time by spotlighting his considerable achievements. And Rutgers was beginning a tradition of naming facilities and programs after him.
Even before his death, prominent black artists such as Sidney Poitier and Harry Belafonte credited Robeson with paving the way for their careers. And the risky change agent role he undertook in the '50s became de rigueur in the '60s and '70s, when causes he championed, such as civil rights, were becoming law. Glasker believes Rutgers helped shape the man Robeson became. If he were a student at the university today, "I can imagine him aspiring to be the attorney general of the United States or a justice on the Supreme Court," he says.
As a man of his time, Robeson exceeded expectations. "I don't want to sound trite or trivial," Glasker says, "but Oprah keeps telling us that we should be the change that we want to see. And I think that is what Robeson was trying to do – be the change that he wanted to see." 
---
 Check back in February for the next in our series on Paul Robeson's upbringing in Princeton.