Biden Selects Board of Governors Vice Chair for President's Intelligence Advisory Board
Angelson to join small team providing independent voice on U.S. intelligence matters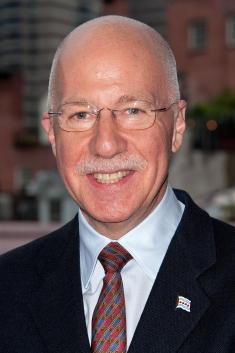 President Joseph R. Biden has announced his intention to appoint Mark A. Angelson, vice chair of the Rutgers University Board of Governors, to the President's Intelligence Advisory Board (PIAB).
The PIAB is an independent element within the Executive Office of the President. For nearly seven decades, the PIAB has acted as a nonpartisan body, offering the president advice on the conduct of U.S. intelligence, according to the White House announcement. 
Its members have been distinguished citizens from outside the current government and, historically, have been chosen on the basis of achievement, experience, independence and integrity. They have included some of the most notable and significant figures in American diplomacy, defense and policymaking. Previous members include former Secretary of State Henry Kissinger, former national security advisers Brent Snowcroft and Zbigniew Brzezinski, former Ambassador Jeanne Kirkpatrick, former Speaker of the House of Representatives Tom Foley, generals Omar Bradley and Jimmy Doolittle, former defense secretaries Les Aspin and Chuck Hagel, former U.S. senators Warren Rudman, Chuck Robb and John Tower and former Vice President Nelson Rockefeller. 
Current PIAB members, in addition to Angelson, include its chairman, former Vice Chairman of the Joint Chiefs of Staff Admiral Sandy Winnefeld (U.S. Navy Retired); former Secretary of Homeland Security Janet Napolitano; former Ambassador Richard Verma and former U.S. Sen. Evan Bayh, among others.
Angelson is immediate past chair of the Rutgers Board of Governors and currently serves as the board's vice chair and chair of its Committee on Intercollegiate Athletics. He is the chairman of the Institute of International Education, the nonpartisan world leader in international education and scholar rescue, which administers the Fulbright Scholarships for the U.S. Department of State and hundreds of other programs from offices around the globe. Angelson served as the deputy mayor of the City of Chicago, CEO of RR Donnelley, chairman and CEO of two prominent Canadian public companies, chairman of MidOcean Partners, an international investment firm, and vice chair of the Biden Foundation. He previously had a lengthy and distinguished career as an international lawyer in Singapore, New York and London.

Angelson is a member of the Council on Foreign Relations and its membership committee, the Pilgrims (New York and London), the Royal Society for the Encouragement of Arts, Manufactures and Commerce and the Economic Club of New York. He is a life trustee of Northwestern University and adjunct professor of mergers and acquisitions at Northwestern's Kellogg School of Management. 
Angelson is a graduate of Rutgers College, where he was elected to Phi Beta Kappa, and Rutgers Law School. He is a member of the Rutgers Hall of Distinguished Alumni and was the inaugural recipient of the Rutgers Law School Alumni Service Award. He received an honorary Doctor of Laws degree from the John Marshall Law School and the Harold H. Hines Award from the United Negro College Fund.