Battlefield Classroom: A New Way to Help Teachers Deal with Disruptive Students
Rutgers psychologist to create a video game to sharpen teachers' classroom management skills and slow the exodus of educators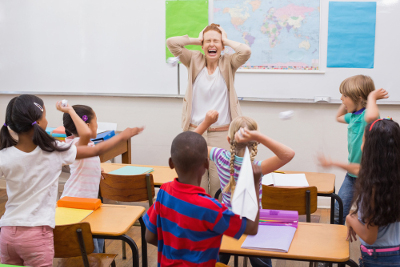 'We don't let novice pilots go up in the air with passengers in the back without simulated practice. Surgeons do simulations before they operate. Yet teachers have a critical job and often use trial-and-error approaches when faced with challenging behaviors.'

 

– Elisa Shernoff
Elementary school classrooms can be nurturing places for children to grow and learn. But they can also be educational minefields, filled with some youngsters who struggle academically, don't pay attention, talk, disrupt the lesson and even fight. This sort of behavior burns teachers out.
"New teachers talk about the reality shock of the classroom," says Elisa Shernoff, who joined Rutgers in 2012 as an assistant professor in the Graduate School of Applied and Professional Psychology, "They can't believe how unprepared they are for dealing with unruly behavior. It's one reason many new teachers decide to leave teaching."
Shernoff has long studied this problem, which can result in a loss of nearly 50 percent of the teachers in some poor districts. Hoping to find a way to reduce the numbers, she approached the U.S. Department of Education's Institute of Education Sciences with a proposal to create an innovative video game that will help new teachers gain confidence in managing challenging students. In July, the institute gave her a $1.5 million grant to see if her idea will work.
Through a web-based virtual classroom, young teachers who have grown up in the gamer culture will be able to comfortably practice responding to the disruptive actions of virtual students. That way they can learn how to calmly tame the flesh and blood ones inhabiting their classrooms, and make sure that the only thing that ends is a game and not a career.
"We don't let novice pilots go up in the air with passengers in the back without simulated practice. Surgeons do simulations before they operate," Shernoff says. "Yet teachers have a critical job and often use trial-and-error approaches when faced with challenging behaviors. This virtual training will allow them to practice and explore different ways to deal with these situations and get feedback. And if they make the wrong choice nothing bad happens."
Using Interactive Virtual Training (IVT), Shernoff will create both a first- and a fifth- grade classroom filled with 15 virtual students.
Most students in the classroom will be reading, studying and engaging in constructive discussions. But also in the room will loom either one or two "disruptive avatars" – one child who cannot sit still or pay attention, another who is argumentative, aggressive or even violent.
The training offers teachers a wide range of scenarios for dealing with disruptive or off-task characters. If the avatar, for example, isn't reading along with the rest of the class, a dialogue box pops up and asks the teacher to make a decision. The teacher may choose to ask the child to take out his book, or give him more time to look for it, or inquire if he simply did not hear what she said. Based on the teachers' choice, the character could either become more off task, or he would join in with the assignment. The scene continues to unfold, with each decision leading to a different outcome.
"Based on what the teacher picks, it allows them to explore what happens when they do different things and be very intentional about their decisions," Shernoff says.
According to the Department of Education's National Center for Education Statistics, the United States has 3.1 million full-time elementary and secondary public school teachers. Trying to slow the exodus has become a passion of Shernoff's. "Attrition causes instability and can become a revolving door," says Shernoff, whose father worked as a social studies teacher and psychologist in inner city Philadelphia and mother taught art and math in the nearby suburbs.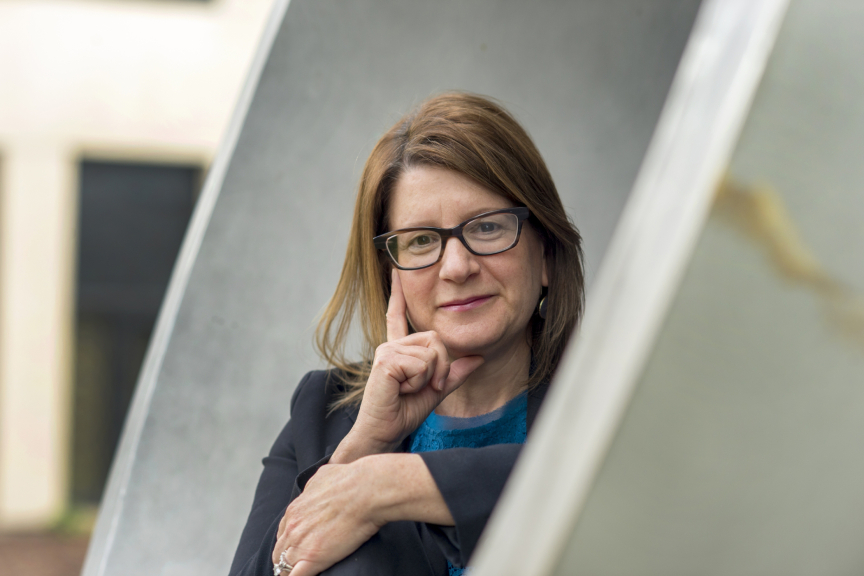 The virtual training model is an outgrowth of a $1.4 million grant that Shernoff received in 2009 from the U.S. Department of Education while she worked as a research assistant professor at the Institute for Juvenile Research at the University of Illinois at Chicago. For that earlier study, she interviewed teachers, held training seminars and helped those just starting out network with more seasoned peers.
"What teachers need is not only mentoring, but also support, and Elisa saw this connectiveness as important," says University of Illinois at Chicago Professor Marc Atkins, who worked with Shernoff on that study and will be involved with the current one. "It is a problem that I don't know anyone has addressed."
Under the new grant, Shernoff has amassed a team of 10 faculty members and graduate students with backgrounds in psychology, computer science, human-computer interaction and engineering. The group will spend two years constructing the virtual training model.
There will also be an "instant playback," a feature that enables teachers to study their choices and interactions. Teachers will be videotaped, so they can watch their expressions, and notes that appear on the screen will highlight why outcomes may have led to certain results.
Shernoff expects to have data on the quality of the IVT next year. She has already signed up high-poverty schools in nearby Elizabeth and Jersey City, and in 2017 expects to start working with 25 teachers to study its feasibility.
During the final year of the study she will work with 40 early career teachers and 140 students in a randomized controlled trial.
"We have high hopes that the skills teachers gain virtually can be transferred to real classrooms and impact real students," she says.
---
For media inquiries, contact Carla Cantor at 848-932-0555 or ccantor@ucm.rutgers.edu.