More than a dozen students, faculty and staff were honored during the Committee to Advance Our Common Purposes Awards Ceremony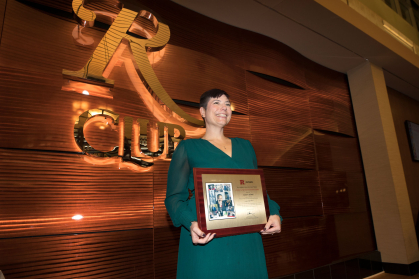 Laura Luciano, associate director at the Office for Violence Prevention and Victim Assistance and Marcy Schwartz, a professor of Spanish and Portuguese, were presented with 2023 Clement A. Price Human Dignity Awards that recognize those who have demonstrated extraordinary achievement and commitment to promoting diversity, inclusion and equity within the university or with community organizations.
"Recognition is an important element of university culture, and these awards recognize the extraordinary achievement and commitment of people from across Rutgers to ongoing efforts to promote access and practice equity, diversity, and inclusion," said Joan Collier, assistant vice president for equity and inclusion.
The two long-time Rutgers employees were among more than a dozen students, staff and faculty honored for their achievements in promoting institutional diversity goals during a ceremony held on the Rutgers University-New Brunswick campus.
The Clement A. Price Human Dignity Awards are named after the late Rutgers Board of Governors Distinguished Service Professor who died in 2014. Price was a revered voice, the official City Historian of Newark and a renowned scholar of African American history at Rutgers-Newark. A former CACP chair, he was the founding director of the Price Institute on Ethnicity, Culture and the Modern Experience, which was named posthumously in his honor. In 2021, this long-standing award was modified to emphasize a person's body of work and proven history, recognizing accomplishments befitting a lifetime achievement award.
For the last two decades, Luciano has been a sexual assault advocate and has helped thousands of students overcome trauma. Students know her as the person who shows up, listens, learns and cares. She escorts students to police stations, advocates for them during court proceedings, helps students with difficult conversations with family and is there to guide them as they navigate their lives. Over the years, Luciano, described as a clinician, researcher and programmer all-in-one, has provided expert testimony through the governor's council on sexual assault. Her materials developed for K-12 and higher education have been used by similar programs across the nation to shed light on an often-taboo topic and provide the skills needed to engage in healthy relationships and safe bystander intervention.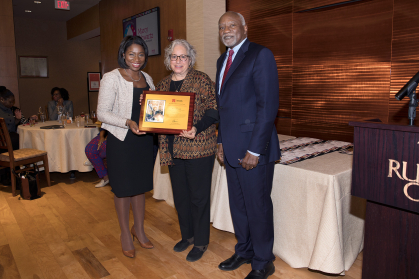 A role model for students and a leader in the development of service learning and community-engaged initiatives, Schwartz, has demonstrated a relentless determination to make a lasting difference beyond the university's borders. A prominent scholar in urban public cultures in Latin America, she has contributed significantly to the promotion, locally and internationally, of the program People and Stories/Gente y Cuentos – connecting lives to literature through vibrant reading and discussion programs in diverse settings, including residential treatment facilities, prisons and reentry centers, homeless shelters, adult education programs, libraries, and senior residences. She has also been instrumental in bringing the program to Argentina, Chile, Colombia, Costa Rica, Mexico and Portugal.
This year, the remaining Committee to Advance Our Common Purposes Awards were revised to align with the University Diversity Strategic Plan, serving as a vehicle to recognize and reward students, staff, and faculty whose work supports the achievement of institutional diversity goals. 
Three other categories of awards were announced at the event:
Torchbearer Award
Recognizing the achievements of faculty and staff
Ashaki Rouff, professor, Department of Earth and Environmental Sciences, Rutgers-Newark

Tynisha Coleman, assistant vice chancellor for diversity, inclusion and development, Rutgers Biomedical and Health Sciences

Cara Cuite, associate professor Department of Human Ecology, School of Environmental and Biological Sciences, Rutgers-New Brunswick

Stephanie Brescia, assistant professor of practice and program coordinator for college student affairs program at Rutgers Graduate School of Education, Rutgers-New Brunswick

Anne Gregory, professor school of psychology at the Graduate School of Applied and Professional Psychology, Rutgers-New Brunswick

Tobias Schulze-Cleven, associate professor, School of Management and Labor Relations, Rutgers-New Brunswick

Kwangwon Lee, professor, Department of Biology, Rutgers-Camden

Julia Baumanis, assistant director of bands, Mason Gross School of the Arts, Rutgers-New Brunswick
Impact Award
Recognizing students and student organizations
Hamza Choudhry, undergraduate student

Kayalyn Kibbe, graduate student

Sarah McClure, undergraduate student

Julia Katz, undergraduate student

Rachel Tavani, graduate student

American Preventive Screening and Education Association

Homeless and Indigent Population Health Outreach Project (HIPHOP)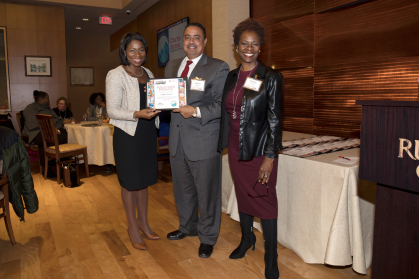 Public Good Pinnacle Award
Recognizing outstanding university collaborations in partnership with, and for the benefit of the community
Charles Senteio, associate professor of Library and Information Science, School of Communication and Information, Rutgers-New Brunswick