Award-Winning Microbiome, Immunity Expert to Join Rutgers Faculty
Nicholas

Bessman was recently granted the NIH's new innovator award
Nicholas J. Bessman, a well-known researcher in immunity and inflammation, is joining the inter-departmental Center for Immunity and inflammation and the Department of Medicine at the Rutgers New Jersey Medical School as a tenure-track assistant professor and chancellor scholar.
Bessman recently received the National Institutes of Health's New Innovator and Mentored Research Scientist Development Award, which provided over $2 million to establish his independent laboratory.  He will study how iron and the microbiome in the intestine impact diseases like cancer and inflammatory bowel disease. He will also assist in overseeing development of a germ-free gnotobiotic facility, critical for microbiome research, at the medical school.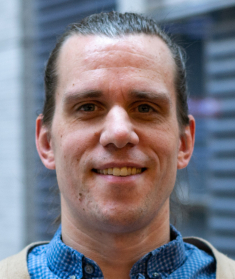 'I'm thrilled to be joining the Rutgers Center for Immunity and Inflammation, and I'm confident that the environment and resources at Rutgers NJMS will provide an outstanding opportunity to translate basic biological discoveries into new therapeutic strategies for patients," said Bessman. "My laboratory will work hand in hand with other researchers to help save lives with our research."
Bessman comes to Rutgers from Weill Cornell Medicine, where he served as a post-doctoral associate. He recently published his findings in a first authored paper in the prestigious journal, Science.  He obtained his doctorate degree in biochemistry and molecular biophysics at the University of Pennsylvania. 
"We're excited that Dr. Bessman, who is a rising star at the interface of immunity, nutrition, and the microbiome, has chosen Rutgers to start his independent laboratory and to develop his program," said William Gause, a professor, senior associate dean of research and director of the RBHS Institute for Infectious and Inflammatory diseases (i3D).   "We can't wait to see all the remarkable findings his research studies will bring."
The new laboratory under Bessman will strive to understand the molecular basis of health and disease.