Billy Murphy is preparing Houston Astros pitching staff for World Series against the Philadelphia Phillies
Billy Murphy's journey to major league baseball began in the Garden State, was nurtured at Rutgers University and the minor leagues, and has now landed him in the World Series as Co-Pitching Coach of the Houston Astros.
A native of Cranford, New Jersey, Murphy was a standout shortstop and relief pitcher at Roselle Catholic High School before signing a national letter of intent to attend Rutgers and play baseball for Hall of Fame Head Coach Fred "Moose" Hill. He pitched three seasons out of the bullpen for the Scarlet Knights from 2008-10.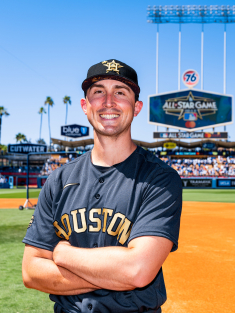 "I remember pitching against the University of Iowa in my first college game and that was pretty fun," said Murphy when asked to recall some experiences from the diamond. "But, more than anything, I remember the people."
One member of Rutgers' baseball community who had the greatest impact on Murphy was Glen "Beef" Gardner, a two-time All-America player at Rutgers who later worked 29 seasons as an assistant on Hill's staff.
"Beef was there to help with anything I needed," Murphy said. "I remember calling him at any point in time, late on a Saturday night, it didn't matter, he answered. He was always there to help and that was truly special to me. He's a big part of why I'm a coach and why I'm here today. I wanted to be for others what he was for me."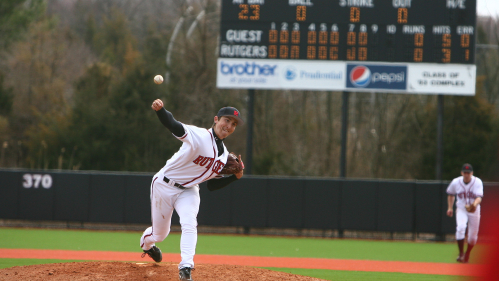 At age 32, Murphy is one of the youngest coaches in Major League Baseball. He is in his second season with the Houston Astros and serves as the American League Champion's co-pitching coach with Josh Miller. In the role, Murphy helps support and prepare an accomplished staff that includes first-ballot hall famer Justin Verlander.
Miller worked out of the dugout and Murphy out of the bullpen in helping Astros pitchers post a 1.88 earned run average entering the World Series, which begins Friday night at Minute Maid Park in Houston. The top seed in the American League with a 106-56 regular season record, the Astros are a perfect 7-0 this postseason entering the Fall Classic against the upstart Philadelphia Phillies.
"Josh is a fantastic person and a fantastic coach to work with and learn from," said Murphy. "We have a great group of guys who are incredibly fun to be around. I'm just enjoying the ride."
Murphy's approach involves a great deal of personal investment but is based on a simple principle.
"Treat people the way that you want to be treated," said Murphy. "If you mess up, tell somebody that you messed up and try to make it better. Ultimately, it's caring about the individual that you're working with, whether it's another coach, another employee or the player."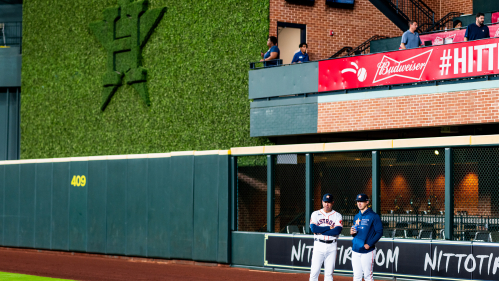 Murphy's perspective was formed at many stops. The son of Division I athletes – his father played soccer at Seton Hall and his mother tennis at Lafayette - he graduated a semester early from Rutgers University-New Brunswick with a degree in psychology and minor in history. Murphy then utilized his final season of competitive eligibility at Wagner College, where he earned his MBA in management and played first base for the Seahawks.
After college, Murphy knew his career path belonged between the basepaths. He first served as an assistant at his high school alma mater and coached in the Cal Ripken League before accepting a volunteer position at Georgetown University and then landing an assistant coaching position at Brown University. While in Providence (Rhode Island), he applied for a position with the Astros after seeing the posting on Twitter.
Murphy rose quickly in the organization, spending the 2016 season with Greenville in the rookie level Appalachian League before coaching with Tri-City in the Single A level New York-Penn League. In 2018, he was named pitching coach at AA level Corpus Christi in the Texas League. He then succeeded Miller as the organization's minor-league pitching coordinator in 2019, working his way onto the Astros' staff in 2021.
Murphy's ascent in the professional ranks might have appeared quick to some, but it made perfect sense to a former Rutgers mentor.
"Billy is more impressive each time you see him," said Gardner, who retired in 2019 and had his No. 49 jersey enshrined by Rutgers baseball in 2021. "He is very knowledgeable about pitching and all aspects of his job. He's also a great listener, which is the other half of coaching. Billy developed a mastery of skills at a young age, so I understand why the Astros are so high on him."
There's not a day that goes by that I'm not incredibly thankful for the opportunities that I've been given. I don't take it for granted, not for one second.

Billy Murphy

Houston Astros Co-Pitching Coach
Not surprisingly, the progress of others is what Murphy cites as the most rewarding aspect of his job.
"The thing that I love the most is that you get to see people develop, whether it's as a person or as a player," said Murphy. "Watching guys transition from the lower level of the minor leaguers into major league pitchers is one of the coolest things that I've ever experienced."
As far as "taking it all in" when the World Series begins, Murphy plans to focus on the task at hand, but is quick to acknowledge his good fortune, something he makes a point to do daily.
"You're definitely locked in, but there's not a day that goes by that I'm not incredibly thankful for the opportunities that I've been given,'' Murphy said. "I don't take it for granted, not for one second."