Alumna and Founder of Huntington Learning Center Helps Children Succeed
After graduation Eileen Huntington went on to build Huntington Learning Center from the ground up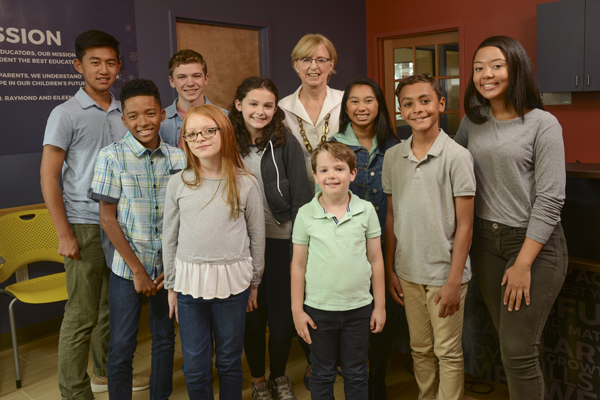 When Rutgers University School of Communication and Information (SC&I) alumna Eileen Huntington decided to start Huntington Learning Center, a company that provides tutoring and test prep services, she was inspired by the importance that she, as a first-generation college student, placed on education.
"Although my parents were immigrants who lived through the Great Depression, they instilled the importance of education in me from a very young age. I studied hard in college and landed a job as a New York City teacher, later moving to New Jersey," Huntington said. "In both school districts, I witnessed firsthand many students struggling because of a lack of the basic skills necessary to succeed academically and in life. That was my "aha" moment - I realized I could help students and build a successful business at the same time."
Her dedication to founding and expanding the growth of Huntington Learning Center was recently recognized nationally when she was awarded the prestigious  IFA (International Franchise Association) Entrepreneur of the Year Award.
According to the IFA website, the Entrepreneur of the Year Award "is designed to give recognition to those individuals who have the vision to see what might be, are willing to take the risks that traditionally accompany any new endeavor, and possess the management skills to create a successful business enterprise through franchising."
In 1977, Huntington and her husband, Raymond Huntington, also a Rutgers alumnus (Ph.D. in Statistics, 1974), established the first Huntington Learning Center. They proceeded to grow this now pioneer of education companies with little initial business experience and no tutoring business model to follow. When they founded Huntington Learning Center, the now $4 billion tutoring industry did not yet exist. Thus, their company was one of the first tutoring centers of its kind. By 2017, Huntington had 300 centers across the U.S.
The general need for better educational resources outside of the classroom became even more evident to Huntington when she and her husband opened their first center and were immediately met with an influx of enrollees.
Huntington and her husband decided to leave their full-time jobs once they realized the intensity of the unmet need they had just discovered. The pair then dedicated themselves fully to growing Huntington Learning Center.
"The business was feeding our passion for improving the academic lives of our students and providing us a good income and living. That was a fabulous reward," Huntington said.
Within just eight years, Huntington and her husband had opened 18 centers using only money they had earned and without the help of loans or outside investors.
Huntington told SC&I that many of the skills she used to become a successful entrepreneur she learned as a graduate student at SC&I.
"The curriculum challenged me to think analytically and research a topic thoroughly. Rutgers honed my communication skills, which have been a critical component of my success," Huntington said. "The faculty was highly engaging and they inspired me to excel and take risks. I also met and shared ideas with many wonderful people from different walks of life and who helped me grow and become a more well-rounded person."
For Huntington, founding her company has been very rewarding for a number of reasons. In addition to knowing that she and her husband pioneered an industry, the greatest reward for Huntington is the impact of the company on the lives of children struggling in school.
"Huntington employees and franchisees perform miracles every day. Imagine the child who is struggling in school and says, 'I'm so dumb' – it breaks your heart. And, in just a few months, he comes home with an 'A.'  Or what could be more fulfilling than a 43-year-old man calling to say 'Thank you. Huntington changed my life 30 years ago,'" Huntington said. "That's what we do. We change lives and make miracles every day."