A new Rutgers program paves the way for economically disadvantaged students to attend medical school and pursue careers in primary care and service to underserved urban communities
A new Rutgers program that will help low-income students become physicians is aimed at improving the economic disparity and health care services in these communities.
The Office of Primary Care and Community Initiatives (OPCCI) at Rutgers New Jersey Medical School, which launched in 2020, provides 20 students from underserved communities with financial scholarships to become primary care physicians in underserved communities in Newark and surrounding towns. The program seeks to diversify the health care physician workforce, increase minority representation in medicine and improve health quality and equity in primary care and medically underserved areas. The OPCCI has a bidirectional responsibility to connect community organizations and the medical school and to create opportunities for students, residents and faculty members to participate in community engagement. 
"Primary care is not just runny noses, earaches and sore throats. We are dealing with incredibly complex care, particularly in underserved communities. The role of a primary care doctor is also to advocate for those in need and to be their main medical point of contact," says Ana Natale-Pereira, assistant dean of primary care and community initiatives, pointing to the importance of deconstructing assumptions and beliefs about primary care. "Unfortunately, the shortage of primary care physicians in urban areas forces many residents to seek health care from the emergency department or community health fairs, leaving them with no continuity of care. Students are educated and encouraged to engage in the care and advocacy needed in today's primary care."
New Jersey is one of a dozen states throughout the country slated to have the biggest need. The Health Resources and Services Administration projects that 37 states will have a shortage of primary care physicians by 2025, with 12 of them, including New Jersey, having a deficit of 1,000 or more physicians, due to the aging American population and the number of doctors nearing retirement.
"This program will substantially impact the growth of primary care and contribute to the elimination of health disparities for our most vulnerable populations," says Natale-Pereira.
The NJMS-Reducing Barriers to Success Scholarship (RBSS) Program is funded by a five-year, $3.25-million grant from the Health Resources and Services Administration (HRSA). Each year, the HRSA supports 20 students with financial need who are interested in working in primary care fields — including general internal medicine, family medicine and pediatrics — in a medically underserved community.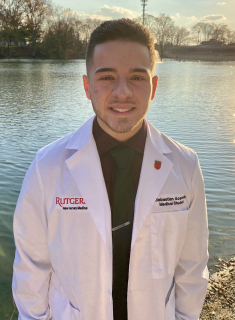 The program enlists community partners to connect students to primary care clinical and community outreach opportunities. In partnership with University Hospital, students are exposed to complex primary care, including a behavioral health integrated model of care.  During the early days of the pandemic, students worked in the COVID-19 call center and supported the clinical operation of COVID testing by reporting test results and educating patients about COVID-19 protection and resources in multiple languages. To date, the students have reached over 1,000 people, and collaborated with community organizations distributing food to the elderly.  As the community opens up, students hold health education webinars on topics ranging from COVID-19 to colorectal cancer screening and provide primary care education at homeless shelters, apartment complexes and health fairs.
Sebastian Acevedo, a second-year medical student from Ventnor City, and Angelica Maria Lopez, a fourth-year medical student from the Bronx, are scholarship recipients who began working in primary care through the program during the pandemic.
Acevedo, whose mother previously was undocumented, grew up seeing health care disparities in underserved communities first-hand. Often, he served as a translator for physicians.
"Realizing the disparity within the physician workforce is what pushed me into medicine," says Acevedo. "This program allowed me to go to medical school and influenced me to broaden my horizons and consider other career opportunities such as an integrative approach and psychiatry and primary care."
During the pandemic, Acevedo worked in the medical school's satellite clinics, which serve, among other locations, two shelters in Newark that help people at risk for homelessness. He also serves as a mentor for urban high school students interested in a career in medicine.
The program has allowed Lopez to follow her dream of pursuing a career in primary care and reduce her overall financial burden.
"I was concerned about the amount of loans that I would need to borrow for my medical education and my ability to pay back these loans in a timely manner as a future primary care physician," Lopez said. "This program allowed me to confidently know that pursuing primary care is now much more feasible from a financial standpoint."
During the pandemic, she staffed the COVID-19 call center, calling patients in the Newark area who had participated in a COVID-19 screening program, educating them on the virus and learning their concerns. Many had language barriers and were isolated or uninsured.
"This allowed me to learn about many of the myths that were going around about the virus," she said. "As a student, I had the time to talk to patients, often in Spanish, to dispel those myths and to give them resources if they did not have food or shelter or needed a COVID-19 test. These were likely the people who otherwise might have slipped through the cracks."
Lopez is thankful she can soon provide primary care to a community like where she was raised.
"It's essential to have physicians who can directly relate to patients," she says. "The students in this program come from underserved backgrounds, and one day we can return to the community and be uniquely able to understand the population's social issues and the socio-economic disparities that affect their health care."