Access Week, Rutgers-New Brunswick's Celebration of Equity and Inclusion, Kicks Off Feb. 20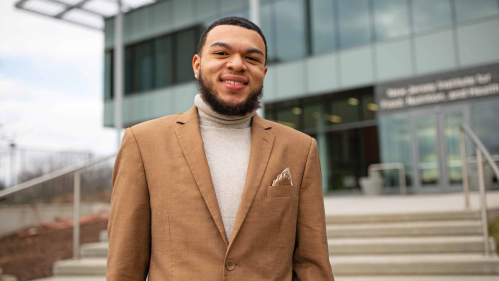 Lectures, workshops and other events aim to bolster awareness as well as highlight programs and services that help underserved students succeed 
As a freshman, Travis Anane found the resources provided by the Division of Diversity, Inclusion and Community Engagement (DICE) to be both helpful and meaningful – so much so he decided to join the team and help his fellow first-generation students. 
Anane, a sophomore majoring in kinesiology and exercise science at the Rutgers School of Environmental and Biological Sciences, is a peer mentor for Thrive Student Support Services, a federally funded program through DICE that helps first-generation and low-income students by providing resources such as tutoring, workshops and career coaching. 
"Thrive helped guide me through my first year in college," said Anane, whose interests include bachata, a style of dance originating from the Dominican Republic, and playing basketball. "The program gave me a support network that guided my way to my first classes, my first semester, my first year. It allowed me to create relationships that I wouldn't have had if I wasn't involved with the program." 
Anane, a member of the SEBS General Honors Program who is on the premedical track, will facilitate a lecture and lead an interactive workshop with other peer mentors when Rutgers University-New Brunswick hosts its 10th annual Access Week, a series of events aimed at highlighting programs and initiatives that help first-generation, low-income and other underserved students succeed at college. 
We're highlighting events and opportunities for students, faculty and staff.

Tiffiny Butler

associate vice chancellor for educational equity at DICE
The five-day initiative – which begins Monday, Feb. 20, and concludes Friday, Feb. 24 – features lectures as well as workshops for students, faculty and staff.  
The goal of Access Week, organized by Rutgers-New Brunswick's Division of Diversity, Inclusion and Community Engagement is "to broaden awareness and amplify the equity and access programs and initiatives that exist on the New Brunswick campus," said Tiffiny Butler, the associate vice chancellor for educational equity at DICE. 
"At Rutgers–New Brunswick our primary focus – our entire reason for being – is to provide our brilliant and motivated students with the tools for success," said Rutgers–New Brunswick Chancellor-Provost Francine Conway. "The higher education journey is challenging for all students, including those who are the first in their families to attend college or are from under-represented backgrounds. Knowing that, we invest in their success with student support services that help our qualified students stay on track to graduate on time and with minimal cost." 
Organizers said Access Week isn't just for students. 
 
"It's really for the entire New Brunswick community," said Jason Brandon, a senior media specialist for University Equity and Inclusion.  
"We're highlighting events and opportunities for students, faculty and staff," Butler said. "Within that context, our primary objective is to be able to broaden awareness about what exists related to equity and access around Rutgers-New Brunswick." 
"I think there's something to be said about intentionally reflecting and taking a collective look at what opportunities and support services we've got across our campus and spending time to celebrate what we've done, to think about equity with fresh eyes and then come together as a community to imagine how we move forward together for more collective impact," said Butler. 
This year's Access Week features several key events:
I Am College Bound:
College Fair & Youth Summit
8:00 a.m. to 2:30 p.m. Monday, Feb. 20
College Avenue Student Center, 126 College Ave., New Brunswick, N.J. 
This summit features speakers and training sessions led by Rutgers undergraduates to help students (including participants of pre-college outreach and Upward Bound Math-Science programs) prepare for college.
There also will be a college fair featuring 20 institutions and workshops led by community partners and Rutgers student organizations. The event concludes with a student leadership day party. Register here. 
Student Success Forum 
10 a.m. to 12 p.m. Tuesday, Feb. 21
College Avenue Student Center 
Presented by DICE and Undergraduate Education, this forum will bring together faculty and staff throughout Rutgers–New Brunswick who engage in student-support programming for an equity data walk illustrating the outcomes of first-generation, limited-income and underrepresented students.
After the walk, staff and faculty are encouraged to connect with fellow student-support colleagues for networking and community building. Register here. 
James Dickson Carr Lecture Series:
Torie Weiston-Serdan 
5 p.m.-6:30 p.m. Tuesday, Feb. 21 
College Avenue Student Center 
Torie Weiston-Serdan will be the featured speaker of this annual public lecture named in honor of James Dickson Carr, the first African American graduate of Rutgers University.
Weiston-Serdan – who runs the nonprofit Youth Mentoring Action Network and is the author of "Critical Mentoring: A Practical Guide" – will deliver the talk, entitled "It's the Action Fa' Me." Register here. 
Alumni Mixer With McNair Research Symposium 
6 p.m. to 8:30 p.m. Wednesday, Feb. 22 
Zimmerli Art Museum, 71 Hamilton St., New Brunswick, N.J. 
Alumni and current students of Rutgers–New Brunswick are invited to attend this free event presented by DICE, the Office of Career Exploration and Success and the Ronald E. McNair Postbaccalaureate Program. Ryan Webb, a recent Rutgers alum, will talk about her journey as a student who persevered through the pandemic to finish strong and be successful following graduation. Two workshops will follow a question-and-answer session:  
Tools to Engage in Professional Self-Discovery 
Transformational Skills: Campus Leader to Workplace Boss 
After the workshops, participants may meet with representatives of employers for interviews and information about job and internship opportunities in Exhibitor Hall. Register here. 
Thrive SSS: Empowerment Hour –
"Rescript Your Story"
5 p.m. to 7 p.m. Thursday, Feb. 23 
College Avenue Student Center 
Colleen Georges, a positive psychology coach, speaker, educator and author, will lead this two-hour, interactive workshop hosted by the Thrive Student Support Services team.
The workshop is focused on empowering students to rescript the narratives they tell about themselves. Register here. 
Equity Mindset Workshop 
1:30 p.m. to 3:30 p.m. Thursday, Feb. 23, 2023 
Red Lion Café, College Avenue Student Center 
Attendees will learn about best practices and gain skills in building an equity mindset in the service of student success.
The workshop will be headed by Crystal Bedley, senior director of the Tyler Clementi Center for Diversity Education and Bias Prevention at Rutgers–New Brunswick. Register here. 
Speaking Up: Bias Awareness
& Intervention in the Workplace 
9 a.m. to 12 p.m. Friday, Feb. 24 
College Avenue Student Center 
This bias and intervention training features: 
PowerPlay Interactive Development, a theater company sponsored by the University of New Hampshire that engages participants in challenging conversations around bias, harassment, communication, collaboration and leadership 
Stephanie Goodwin, founder of Incluxion Works Inc., a consultancy focused on improving diversity, equity and inclusion at academic and scientific organizations 
Register here.