Herbert C. Klein, a Rutgers alumnus, longtime donor and former U.S. congressman, and his family have made a $5 million gift to the university to support Rutgers' leadership in the fight against Alzheimer's disease and other devastating neurodegenerative conditions. This generous donation has transformative implications for Rutgers' ability to find a cure for Alzheimer's disease.
Klein RC'51 made the gift in memory of his wife, Jacqueline Krieger Klein, who died in 2017 after battling Alzheimer's disease. The funds will be used to create the Jacqueline Krieger Klein Endowed Director's Chair in Neurodegeneration Research. The gift also will establish the Herbert and Jacqueline Krieger Klein Alzheimer's and Dementia Clinical Research and Treatment Center at the Brain Health Institute, which is affiliated with Rutgers Biomedical and Health Sciences (RBHS).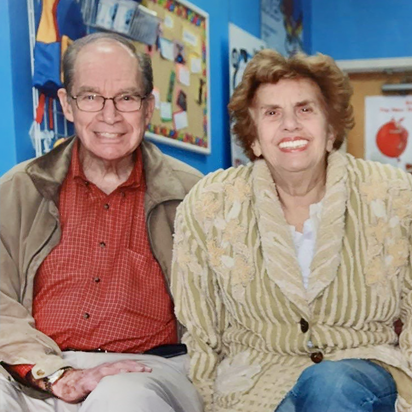 "My wife was a wonderful woman whose life was cut down by this disease," Klein says. "She suffered for nine years. Sadly, there was really nothing that could be done to treat her. It feels wonderful to associate her with Rutgers' efforts to defeat this dreadful disease, and I'm very proud of that."
Klein's son, Roger Klein, says he is happy to see the family's name connected to the university's efforts in this field because his mother had a keen intellect and was committed to community service and philanthropy. "I'm so grateful for the scientists at Rutgers who are working on these important areas that will add to our knowledge of Alzheimer's and have an impact on society," he adds.
The holder of the endowed chair will be a leading clinical researcher in the field of Alzheimer's disease and neurodegeneration and will direct the new research and treatment center. The Kleins' gift also will fund equipment and personnel for the center, and RBHS will provide an additional $2 million to support the new chair.
An estimated 6 million Americans live with Alzheimer's disease or dementia. By 2050, that number is expected to rise to nearly 14 million. Alzheimer's is the sixth-leading cause of death in the United States.
"Mr. Klein's leadership gift, made in loving memory of his late wife, will transform the study of Alzheimer's and dementia at the university," says Rutgers President Jonathan Holloway. "The Rutgers community and I are deeply grateful for this gift and for Herb's continuing commitment to expanding our impact in this vital research."
"The clinical scientist that Rutgers recruits to fill this chair will bring new ideas and new approaches to understanding and eradicating Alzheimer's disease and dementia," says Brian Strom, chancellor of RBHS. "Mr. Klein's vision and generosity, combined with the expertise and dedication of Rutgers' researchers, can help return patients and their families to the lives that these conditions steal from them."
Klein, an attorney, was a New Jersey assemblyman for two terms before being elected to the U.S. House of Representatives in 1993, where he served one term. He has been a member of Rutgers' Board of Trustees and is an emeritus member of Rutgers University Foundation's Board of Overseers. He was named a Loyal Son of Rutgers in 2001. He and his wife supported many areas of Rutgers, including the Allen and Joan Bildner Center for the Study of Jewish Life and the Eagleton Institute of Politics.
He has made other gifts to Rutgers with the goal of taking the university in bold new directions to discover insights about and treatments for Alzheimer's and dementia. Luciano D'Adamio, an internationally known expert on Alzheimer's disease, holds the Krieger Klein Endowed Chair in Alzheimer's Disease and Neurodegeneration Research, a chair funded by a $1.5 million gift from Klein and an equal amount from an anonymous donor. D'Adamio's team has created new, unique models of Alzheimer's and dementia, which are critical for understanding the biology of the disease, as well as identifying and testing new therapies.
In 2018, Klein committed $750,000 to recruit a junior faculty member, Hyung Jin Ahn, to expand research into the cerebrovascular dysfunction commonly associated with Alzheimer's disease and dementia.
Rutgers' promising work in neurodegeneration research has led to substantial federal funding, including a $29 million grant from the National Institutes of Health. With that grant, Rutgers will lead a multi-university team that will expand clinical trials and seek out new therapies. 
Rutgers Biomedical and Health Sciences is an academic health leader that is shaping the future of human health, pioneering breakthroughs, and integrating care to make the world well.
Rutgers, The State University of New Jersey, is a leading national research university and the state of New Jersey's pre-eminent, comprehensive public institution of higher education. Established in 1766, the university is the eighth-oldest higher education institution in the United States. More than 70,000 students and 23,000 faculty and staff learn, work, and serve the public at Rutgers University–New Brunswick, Rutgers University–Newark, Rutgers University–Camden, and Rutgers Biomedical and Health Sciences and at additional locations across New Jersey and around the world.